Delhi: Coming as a relief to Kashmir activist Shehla Rashid, a Delhi Court on Monday granted her interim protection from arrest in the sedition case over her tweets on the Kashmir situation and for alleging that the Armed Forces were 'torturing' civilians.
The Additional Session's Judge, Pawan Kumar Jain granted interim relief from arrest to Shehla and posted the matter for the next hearing on November 5 as police are yet to issue any notice to Shehla.
The Judge at Patiala House Courts said that "Considering all the facts, I am of the view that the matter requires investigation in details…till then the accused shall not be arrested, however, she shall join the investigation as and when called by the IO."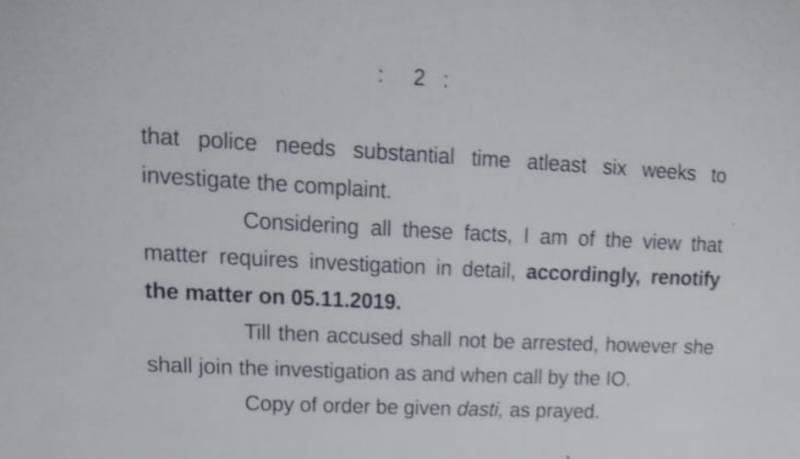 The Public Prosecutor of the Court submitted that the police have yet to receive any complaint from the army. He further added that the police needs a substantial time of at least six weeks to investigate the complaint.
Earlier, Shehla was booked under sedition by the Special Cell of Delhi Police, for her tweets on alleged human rights violation in Kashmir, based on a criminal complaint filed by a Supreme Court lawyer.
The FIR against Shehla is registered under Sections 124A (sedition), 153A (promoting enmity between different groups on ground of religion), 153 (wantonly giving provocation with intention to cause riot), 504 (intentional insult with intent to provoke breach of peace), 505 (spreading rumours) of the Indian Penal Code.
'IT IS NOT ABOUT MYSELF, IT IS ABOUT KASHMIR'
On Tuesday, Shehla posted a series of tweets in which she refused to make any further comments on her sedition case and wrote, "I don't want to make this about myself. This is about Kashmir." In the thread, she also posted 30 media reports, describing the current situation in Valley and the torturing of civilians by the Armed Forces.
Shehla has maintained that she is ready to give proof to the Army. In her statement released on Friday, Ms Shehla wrote: "In my tweets, I have mentioned that these are based on information received from people in the state."