Hyderabad: Following shortage of N95 masks and Personal Protective Equipment for doctors treating COVID-19 patients in Telangana, the Junior Doctors Association (JUDA) has come forward seeking donations, the JUDA has set up at SBI Bank account, where common people can donate.
The statement released by JUDA, said , "Though the Government is showcasing substantial efforts to provide safety gear for us, at the ground level, there are issues in having adequate access to basic equipment,including but not limited to, Hand Sanitizers, N95 Masks and Eyewear/Face Shields. We are in dire need of safety gear as we are at greatest risk to contract Covid-19 from suspected cases."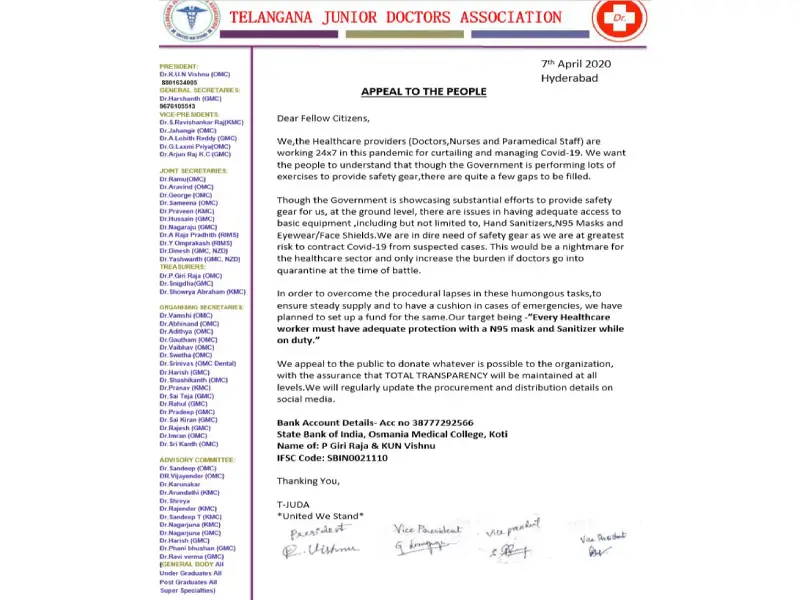 Presidnt of JUDA Dr KUN Vishnu explained , "Doctors are at the frontline in Telangana fighting against the COVID-19 outbreak. There is serious scarcity of protection gears, mainly N95 masks and PPE, which are very important for the doctors working in order to protect themselves from the virus."
The JUDA has appealed to the public to donate whatever is in their means to the organization, with the assurance that total transparency will be maintained at all levels. We will regularly update the procurement and distribution details on social media."
It is to be noted that almost 40 nurses from Kerala working in a private hospital in Mumbai were tested positive for coronavirus on April 6. As of now a total of 53 medical staff from the hospital have been tested positive for the virus.
The JUDA has issued the following bank details for donors:
The bank details are, Account no- 38777292566
Branch: State Bank of India, Osmania Medical College, Koti
Name of Account Holder: P Giri Raja & KUN Vishnu
IFSC Code: SBIN0021110