Hyderabad: A cocktail of stench and smoke from Jawahar Nagar dump yard and nearby Ramky's power plant is giving sleepless nights to people of 30 villages and colonies in Hyderabad. Plus the inability of Greater Hyderabad Municipal Corporation (GHMC) to address the issue has left people fuming.
"The situation is getting worse with every passing day. For about 15 days, there was an unbearable smell last month. After people called up the pollution board and spoke to the municipality chairperson in Dammaigudam, the stench ebbed to some extent. Now the smoke has started billowing from the power plant near the dump yard," said Vishwa, a resident.
GHMC area generates 5,500 to 6,000 Metric Tonnes of waste per day. It is dumped at 135-acre Jawahar Nagar unit, which is surrounded by around 30 villages and colonies.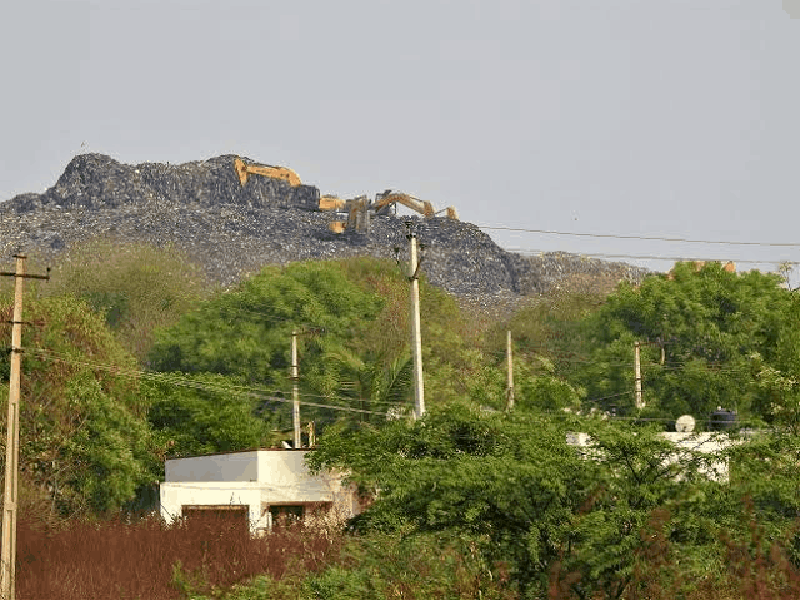 The corporation in association with a private agency had taken up the capping works in March last year and 130 acres of the dump yard was covered with seven different layers. These included geosynthetic clay liner, waste shifting, bottom soil, profiling, geocomposite, and HDPE liners to generate power through the 100 vents dug up into the garbage.
"The NGT had issued directions to the state government that the dump yard should be moved from its current location to somewhere outside the city limits. The waste to power plant exercise was also frowned upon. All this happened in 2016. It is 2020 now and the directive is still blatantly flouted," said another resident.
Four years on, residents of Malkajgiri, Kapra, ECIL, Sainikpuri, Yapral, Dammaiguda, and a few other surrounding areas have no option but to live with the pungent stench emanating from the mounds of garbage.
Thakur Rajkumar Singh, founder of Human Rights and Consumer Protection Cell said neither the Telangana government nor GHMC has implemented Solid Waste Management Rules, 2016.
The 2016 Solid Waste Management Rules mandate at-source segregation of waste. As per the rule, waste generators should segregate it into three streams — bio-degradables, dry (paper, plastic, wood, metal, etc.), and domestic hazardous waste (napkins, diapers, mosquito repellents) — before handing them over to collectors.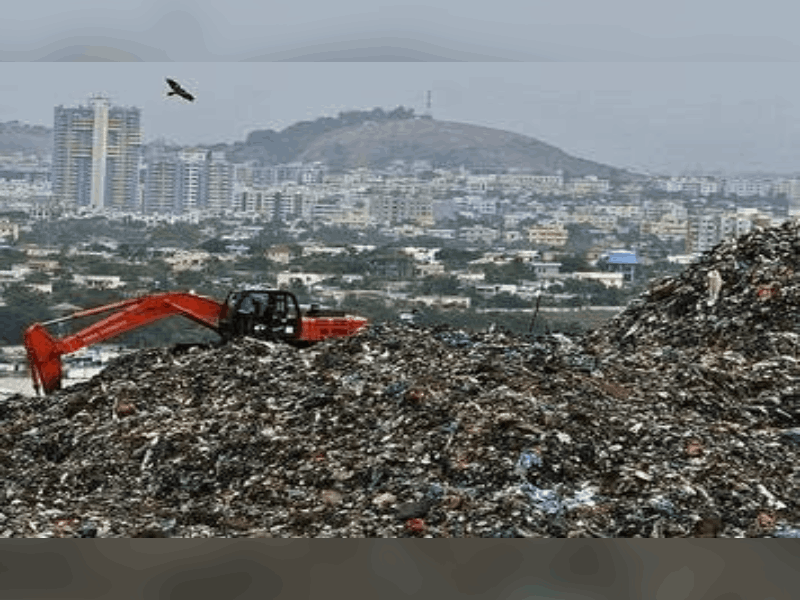 "Most of the time, non-segregated waste is burned which releases hazardous carbon smoke. In many instances, the waste also contains bio-medical substances which can cause health hazards. GHMC has to come up with some concrete ideas. Capping dump-yards is like handling them at the end-point. Instead, we need to deal with them at the starting point," said Rajkumar.
In October last year, Arvind Kumar, Principal Secretary of Municipal Administration, said the collection and final processing of garbage is fraught with challenges.
Scientific management of waste management in a standardized mechanism is a need of the hour, he had said.
"Construction and demolition (C&D) waste remain a challenge, and the gap between the present capacity to process C&D waste and what GHMC currently generates is huge. One needs to work out a sustainable mechanism for processing C&D waste," he said.