Hyderabad: The most obvious reason when anyone thinks about Army personnel dying would be due to the conflict at the border and while fighting with the terrorist. After these, suicide is one of the major causes for the Indian Armed Forces personnel to end their lives.
From 2010 to 2019, over 1,123 Indian Armed Forces personnel died by suicide. Out of the, 901 are Army personnel, 180 Air Force personnel and 40 Navy personnel, Minister of State for Defence Shripad Naik told the Lok Sabha in reply to a query.
In 2019, 73 Army personnel, 20 Air Force personnel and 2 Navy personnel died by suicide. In the same year, 107 Army personnel died in
causality at the border and in fights with terrorists.
In 2018, 107 Indian Armed Forces personnel died by suicide, of whom 83 were from the Army, 16 from Navy and 8 from the Army.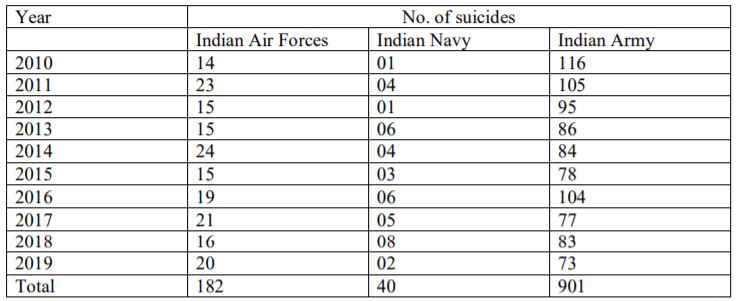 The Defence Institute of Psychological Research (DIPR), since 2006, had conducted a number of studies in which they have listed domestic and personal problems, marital discord, stress and financial trouble as the major causes of suicide by the Armed Forces personnel.
The government has taken several steps towards stress amelioration amongst the troops, which include the deployment of trained psychological counsellors, improvement in the quality of food and clothing, training in stress management, provision of recreational facilities, buddy the system, leave concessions, approachability of seniors, facilities for the movement of troops from border areas and establishing a grievance redressal the mechanism at various levels, the minister said.