Learning by playing: IIIT Hyderabad designs videogame to help children learn pandemic diplomacy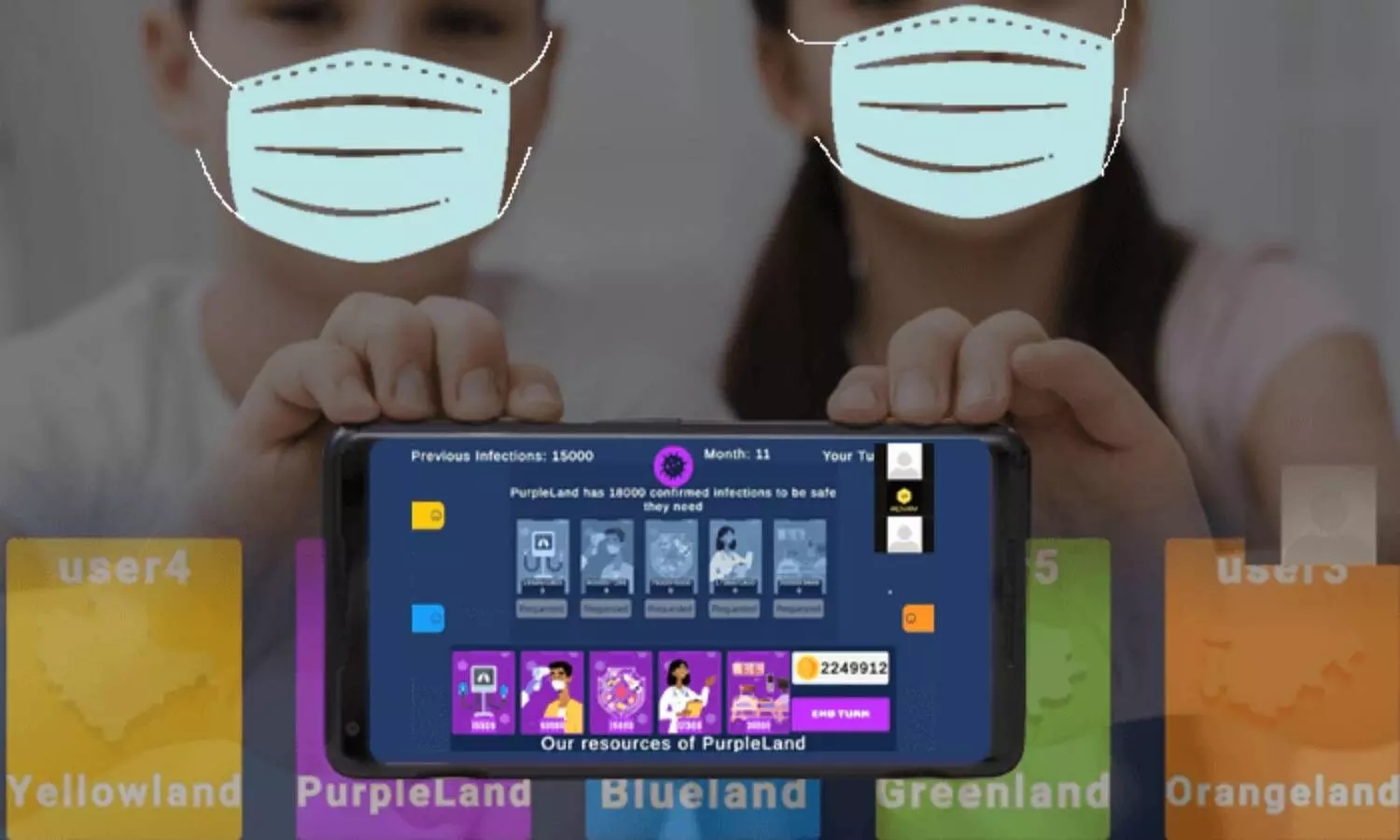 Hyderabad: Around 20 children are huddled over their screens across various locations in southern India, deliberating and strategizing for a few hours. They have logged in to play a tradegame based on the pandemic. It has five fictitious countries, each possessing a set number of resources such as test kits, doctors, medicines, ICU beds, and ventilators. Countries are randomly assigned to teams consisting of three-four members.

Over the course of 12 rounds representing 12 months of a year, the teams work together to beat the coronavirus. Talk of creating allies, cooperation, and empathy flies about. In the end, a winner is declared based on the maximum trade indulged in as well as the number of rounds survived and not on the profits made. For example, if a country does not trade at all – that is, share its resources – it gets fewer trade points.
The game is designed by IIIT Hyderabad professor Dr. Kavita Vemuri along with an alumni start-up GoLive, as per requirements from Agastya Foundation. It mirrors international pandemic diplomacy and sparks creative dialogue among exceptionally talented high school children.
Game part of COVID-19 online course
The trade game itself was a culmination of a 15-module multi-disciplinary online course on COVID-19 conceptualized and curated by Agastya Foundation, a non-profit organization whose mission is to develop scientific temper and ignite curiosity in young minds.
The premise of the course has its genesis in the Pradhan Mantri Innovative Learning Programme, named Dhruv Tara (after the pole star), that seeks to identify and encourage exceptionally talented children to reach their full potential under the mentorship of renowned experts.
When the pandemic struck and in-person activities scheduled to be held at excellence centres across the country were halted, Agastya Foundation decided to continue its efforts albeit in the virtual mode. "There are many other organizations such as Raising a Mathematician (RAM) Foundation, the Indian Institute of Science Education and Research (IISER), Tirupati, the Jnana Prabodhini Prashala and others who are working in their own way to identify exceptional talent among children. Thanks to our association with them, we found such students for our own programme broadly from the 9th to 11th grades drawn from a mix of urban and rural schools," said M.G. Subramanian, senior education consultant and advisor at Agastya.
Besides modules on logical reasoning and critical thinking, the course includes a hands-on component where children design software. Students are exposed to the Biology of the virus – from basics of evolution to basics of the evolution of viruses - and then they are taught the Mathematics behind the virus – pandemic modelling to determine how the virus spreads, and to estimate mortality rates and so on.
Work and play
As a self-confessed "long-term industry person" who has played quality games at the executive level, Subramanian has conviction in the power of games to teach and learn from. "At Agastya, we have quite a few physical games, for instance, there's a game on evolution on our campus. We knew of Kavita's work in the gaming area and approached her. I was looking for elements of cooperation as well as competition in the game," he said.
According to him, for any learning to take place, the right environment ought to be set up. In this case, it was over a Zoom call that children who had never met in person came together to spontaneously collaborate. "The point is that the experience of playing a particular game did not simply teach how to control the pandemic, it taught a lot of other things, and most importantly it set them thinking," he added.
Going by the childrens' testimonials, the game seems to have hit the nail on its head. For R. Hiranmayi a 15-year-old from Chennai, the game served as an eye-opener. "It was after playing the game that I realized how complicated the situation actually is. Because we don't know much about the virus, we have to work with what we have. There are multiple stages of COVID-19. To determine who to prioritize in this kind of situation is a very difficult process especially for a country like India with a population of 1.3 bn," said Hiranmayi sagely.
Omkaar Nerurkar, an 8th grader who was probably one of the youngest to play this game has a suggestion for educationists framing the school curriculum. "When there's a lecture, it's a bit boring; you're just sitting there and doing nothing. When there's a game though, you are a part of it. Maybe in schools, they could include one or two sessions a week where there are games," said Omkaar.
Such wisdom beyond their years is not uncommon among these students. "The preliminary analysis of the game as played by these children showed a certain sense of maturity that could help the older policymakers of the countries," said Dr. Kavita Vemuri.