Highlights
Warangal, Yadadri, Wanaparthy declared COVID free

Karimnagar, KamaReddy, Mahabubnagar, Medak and Bhupally recorded zero COVID cases in last 14 days

Siddipet, Mancherial, Mancherial, Narayanpet, Peddapally, Bhadradri, Nagarkurnool , Mulugu, Sanga Reddy and Jagityal - have zero COVID cases.

Telangana: Total positive cases- 1038, Active case- 568, Deaths - 28, cured - 442
Hyderabad : Three COVID deaths were reported in Telangana on the last day of April, taking the tally to 28. With 22 new positive for coronavirus patients, being admitted to Gandhi Hospital on Thursday, the month ends with 1038 COVID cases.
Following the spike in cases, Chief Minister K ChandraShekar Rao called for a meeting to take stock of the situation. The state-head has directed the officials to demarcate new containment zones and barricades them immediately.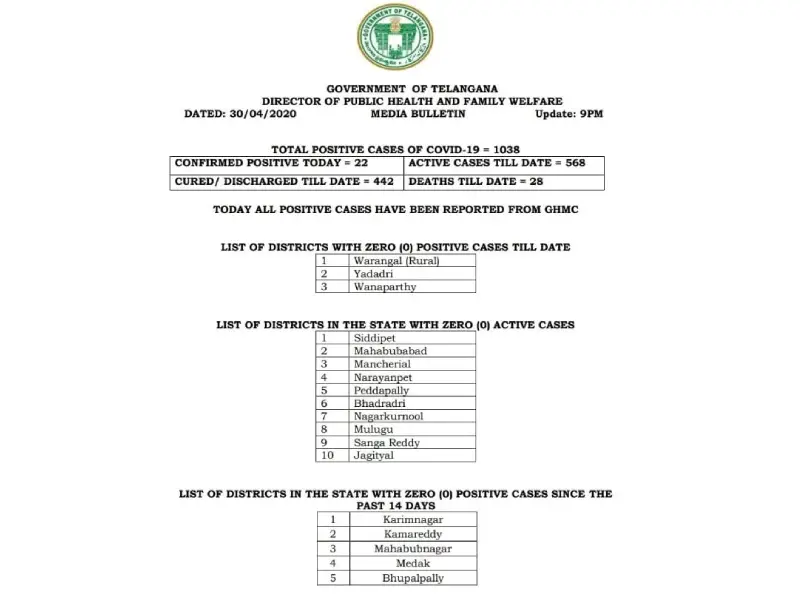 According to the Telangana health officials, the three who couldn't survive the virus, were suffering from pre-existing health complications. Among them, was a 48-year-old male from Ramantapur. He died within 12 hours of his admission to Gandhi Hospital. The patient was reportedly suffering from diabetes, blood pressure and obesity. Doctors at the nodal center claimed that the man died of pneumonia.
"A 76 year old, male patient from Vanasthalipuram was admitted with heart and kidney ailments, he died 24 hours within admission. While another 44 year old male of Durganagar, Jiyaguda arrived at Gandhi hospital on a ventilator support, on Wednesday. The patient who was suffering from blood pressure , diabetes died within hours of arrival', a statement from Telangana health department said.
In what has put the government on edge, the virus has spread to Malakpet-Ganj, one of the busiest whole-sale and retail markets in Hyderabad's old city. An official statement said, 'A shopkeeper from Pahadi Sharif area, who works in Malakpet Ganj, said two people from Jalpalli had spread the coronavirus to three shop owners and their families. All the primary contacts have been shifted to quarantine centers. The Ganj and Pahadisharif area have been declared as 'containment areas'.
However, the silver lining of the Medical bulletin is, 33 people have been discharged, the number of cured climbs to 442. Among the 33 who returned home today, is a 50-year-old doctor . He was admitted to Gandhi 20 days ago with serious symptoms however he survived the virus and returned home cured.