Hyderabad: Telangana, yet again, has shown the highest positivity rate of testing in the state- a whopping 21.5%. It is nearly three times the national average of 7.2.
The medical bulletin released by the Department of Public Health and Family Welfare, Telangana, on 7th July 2020, informed that another 1,879 citizens were tested positive for coronavirus. The total number of tests conducted were 6,220, a number lower than the tests conducted on the previous day.
Telangana, instead of moving upwards in the testing graph, is moving lower. The comparatively lower number of tests done, paired with a high number of citizens being tested positive, has made Telangana top the charts of test positivity rate. Since July 3rd, the positivity rate of daily tests has dwindled between 28-31 percent.
As per experts, the high positivity rate, high growth rate, and an urban area with a rich concentration of cases are the amalgamations needed to make a state a COVID hotspot. These signs can be seen in the current COVID hotspots of the country- Tamil Nadu, Maharashtra, and Delhi. The urban city of Hyderabad has 21,440 active cases.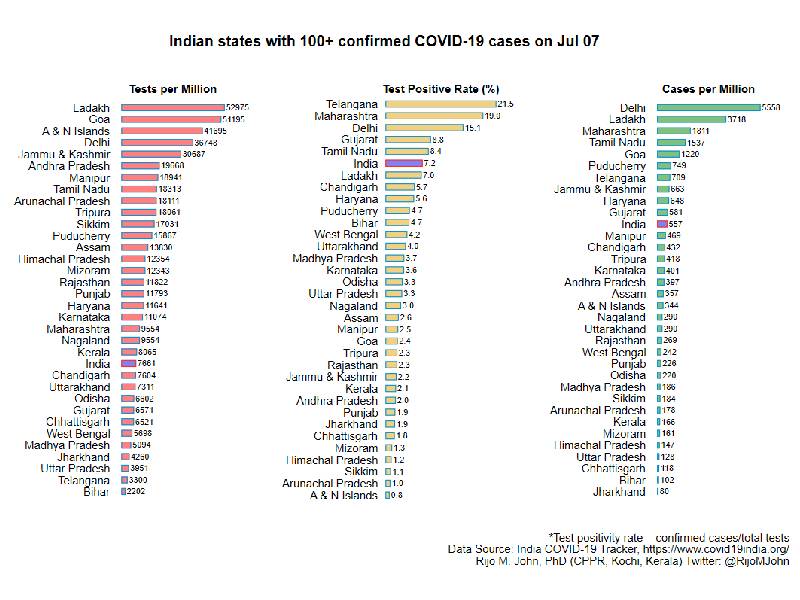 Dr Rijo M. John on Twitter released data pertaining to tests per million, test positivity rate, and cases per million till July 7th. One can see that Telangana, as of the date, has the second-lowest testing rate - only 3300 per million. It has the highest test positivity rate of 21.5. While the cases per million are significantly lower (709), but it is still higher than the national average of 557.
The extremely high average number of cases daily has made Telangana the sixth most affected state nationally. The doubling rate of cases in the state has also been affected.
While India itself has the fastest rate of doubling of cases (20 days as of July 5th), Telangana has seen the rate of cases double two times faster than the national average. Standing one below Karnataka, Telangana has a doubling rate of 9.5 days, which also contributes to it becoming a probable hotspot of COVID cases.
Source for the data:
Covid19india.org
Twitter.com/ RioMJohn
HowIndiaLives.com