Telangana government directs schools to have 'water bell', but where is the drinking water ?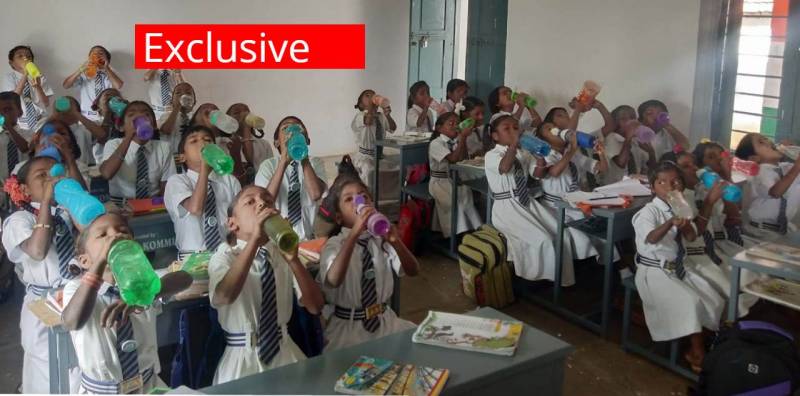 Highlights
Statistics provided by Telangana Student Unique Card Data

Activists urge govt to abide by Right to Education Act
Hyderabad: On the face of it, the Right to Education Act makes it mandatory to provide drinking water facility in each and every school. However, the ground reality across Telangana State makes it woefully disgusting given that as many as 7,372 schools lack provision for the elixir of life. It makes for a sad commentary as it constitutes a mindboggling percentage considering that the State boasts of 29,918 schools overall.
What makes it more authentic is that these are statistics from Telangana Student Unique Card Data. These originate from infrastructure details uploaded in the Mobile app. Only 23,620 schools uploaded the infrastructure data and from among those only 16,248 schools have drinking water facility.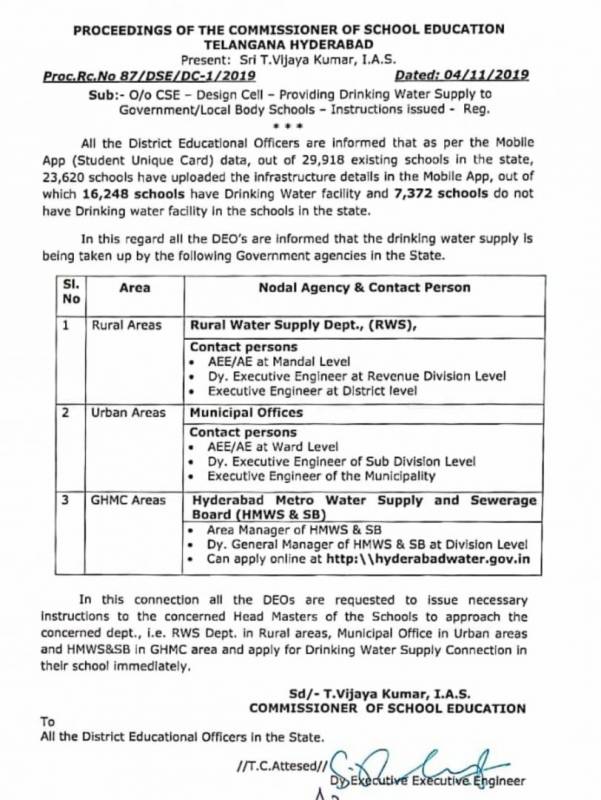 Under Section 19 of the Right of Children to Free and Compulsory Education (RTE) Act, 2009, governments have the responsibility and mandate to provide school infrastructure, including drinking water facilities and toilets in schools in accordance with the norms prescribed in the Schedule to the RTE Act, 2009 and respective State RTE Rules.
All States and Union Territories(UTs) have been advised to comply with the provision of the RTE Act, 2009 which inter-alia states that every school building should have safe and adequate drinking water facilities to all children; and separate toilets for boys and girls.
In a GO released on November 4, Commissioner of School Education in Telangana has instructed all District Education Officers (DEOs) in the state to issue necessary instructions to all school Head Masters to approach concerned department in Rural Water Supply Department (RWS) in rural areas, municipal office in urban areas and Hyderabad Metro Water Supply and Sewerage Board(HMWS & SB) in GHMC jurisdiction for drinking water supply connections immediately.
Mr N. Narayana Chairman, Centre for Educational Studies, and an education activist, told Newsmeter, "Orders cannot produce water, of their own. The Commissioner of School Education (CSEs) proceedings can't provide drinking water to government schools. CAG report 2018 reveals that 45 percent schools do not have drinking water facility. In rural schools also they carry water to drink for consumption after having mid-day meal. It is sad that some residential schools are also not providing sufficient water to hostellers. Unlike in Kerala, where government schools provide drinking water thrice in a day, not many institutions quench the thirst of students in Telangana. The government should grant sufficient funds to make available drinking water."
Mr MRSK Chaitanya, CEO Teach For Change and Right To Education activist told Newsmeter, "Right to Education Act mandates that the government should ensure that every school has safe drinking water facility besides toilets. It is shocking to look at the official data that a large number of schools in Telangana still do not have access to drinking water. I urge the State Government to take immediate steps to ensure every school has access to safe drinking water facility".
Another Mr R Venkat Reddy, National Convenor- MV Foundation that looks into issues of education , told Newsmeter, "The RTE Act, 2009 schedule 2, says that the State shall provide 'Safe and adequate drinking water facility'. For the first time since independence, school infrastructure and adequate facility have been defined. But it is saddening to see the situation that is prevalent."
Mr Chava Ravi, Chava Ravi from Telangana United Teachers Federation (TUTF) added , "No action has been initiated on drinking water facilities in Telangana schools despite school education department has issued a circular on November 4,2019".
Despite reaching the Commissioner of School Education he was unavailable to comment on the same.