This Mahabubnagar school is home to national sports stars, but they need water and better washrooms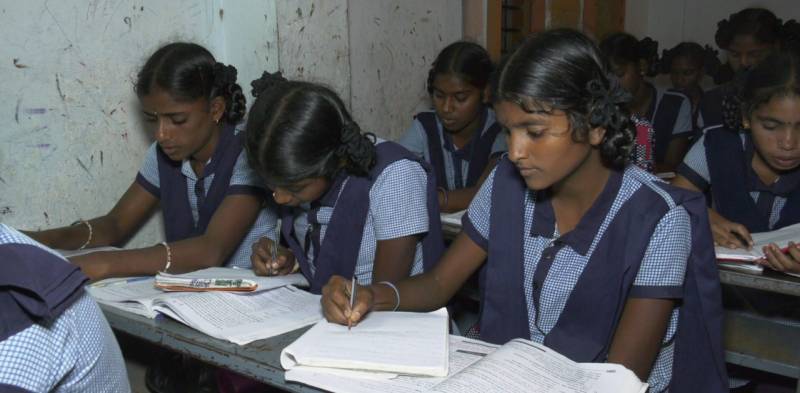 Highlights
Students of Mahabubnagar KBGV face caste, marriage and lack of resources in their educational journey
Mahabubnagar: Ask someone in Hyderabad what Mahabubnagar is famous for and in a heartbeat, they will reply, "For its backwardness". As harsh as it might seem, it is from this very same district that national-level sports players, in handball and boxing, are moulded into champions, at the Nawabpet Kasturba Gandhi Balika Vidyalaya (KGBV) Sports Academy.
However, as the nation celebrates its National Education Day today, some introspection is needed. The question is whether there are enough facilities in rural schools, which deserve it the most?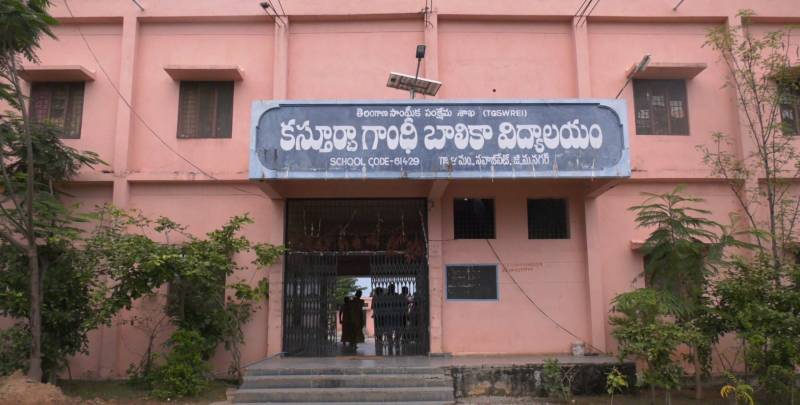 Consider the case of KGBV residential school in Nawabpet, Mahabubnagar district. The school has been doing commendable work in terms of enrolling girl students from the most underprivileged backgrounds, including those who have lost their parents or are from financially backward situations — all free of cost. It has been only two years since a sports academy was established in the very same school. It has been reaping results since then, with girls bagging accolades in state and national level championships. These initiatives are especially relevant in a district known for its prevalence of child marriages.
However, as of now, the school is running out of space for its students. In a building, which has a maximum capacity of around 200-250 students, almost 400 students are being housed, said Bhavani, one of the teachers at the school. "The building can hold only up to 200 -250 people. The government had asked us to stay here temporarily until the new building is done. However, by now, we have almost twice our capacity and thereby lesser space. Also, around 400 students make do with ten washrooms here, that is one bathroom for 40 girls," she told NewsMeter.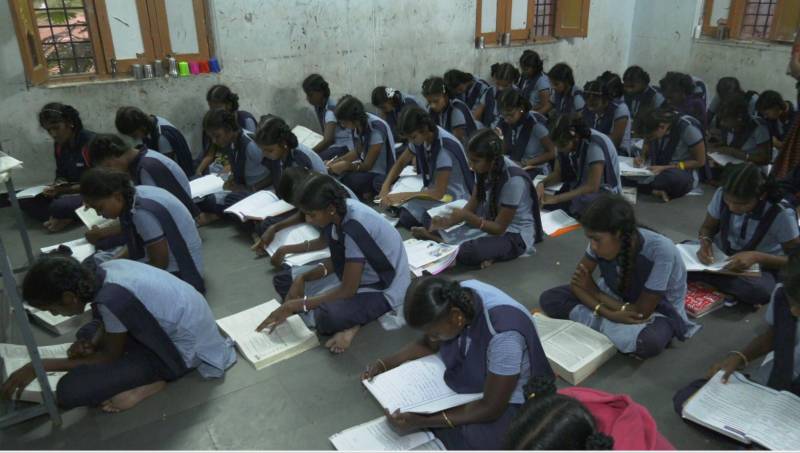 It is understood that the water crisis in drought-prone Mahabubnagar also affects the school. Sometimes girls end up going to sleep thirsty, waiting for drinking water cans to be distributed. A proper water purifier, benches to sit are just a few among the various facilities that the school desperately needs, notes the teacher.
Fighting early marriage, caste and poverty
In a district that is marred by drought, migration and poverty, early marriages seem to be the only way out for the girl's family to achieve an illusion of monetary security. This crisis is revealed further in the reports published by the National Family Health Survey (NFHS-4) in 2018. The data obtained for the year 2015-16 shows that more than one-fourth (26%) of women (age 20-24) years got married before the legal minimum age of 18, indicating that early marriage is still quite common in Telangana. Equally distressing is the fact that 33 per cent of Telangana women have never been to school.Therefore, the onus lies on schools like KGBV to send their teachers to spread awareness and enrol their girls in schools.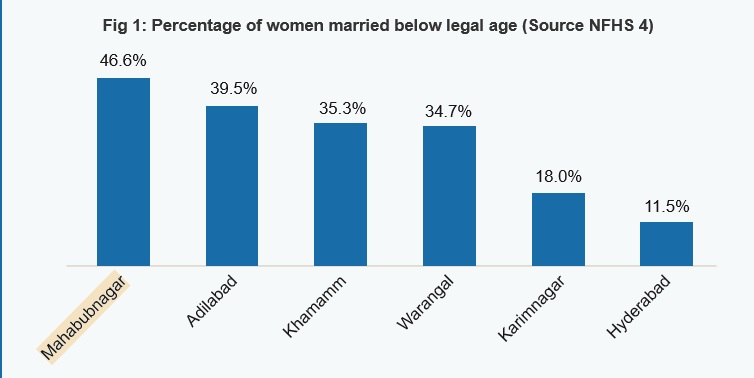 Data from CESS, Mahita, Plan India Report (2018)
Madhavi, the principal of KGBV, says, "It is tough for these girls to come out of their village after they complete class X. Usually, what happens is that they would go back to their village and get married. Now, we teachers try to convince their parents to send them for higher education."
Ingrained notions around caste endogamy also ensure that girls are married early. To avoid facing the wrath of caste councils, parents succumb to the diktats issued by the community — to marry within the same caste. A quote by a caste council member in a 2018 report jointly published by CESS (Centre for Economic and Social Studies) and Mahita (NGO) aptly describes this situation. The member, who belongs to the SC community says, "Due to low social status, our girls are often physically abused by the youth from other communities. It often leads to conflict and unrest within the villages. Though upper castes consider us as untouchables, we too have our traditions and customs. We also believe that girls should get married soon after attaining puberty, thereby protecting the dignity of our community."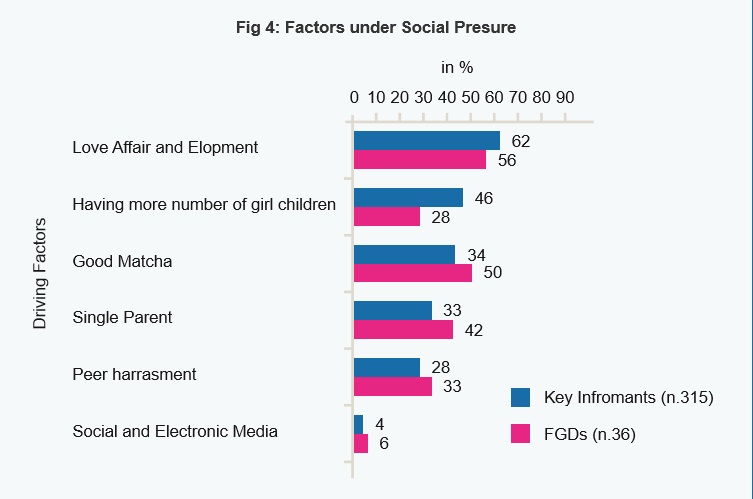 Societal factors that push for early marriage: Data from CESS, Mahita, Plan India Report (2018)
The nexus between caste leaders and the bride/groom's family, and their subsequent negotiations over money is a common sight in early marriages, says Mamata Raghuveer Achanta, activist and founder of NGO Tharuni. "In one case, we had stopped the marriage of a nine-year-old girl. Her brother gave us the information. Her parents had given Rs 25,000 as dowry to the other party, but they didn't return it after the marriage stopped. Caste leaders had taken some from the amount. It turned into debt, and the brother committed suicide out of helplessness and pressure from the family. Just stopping the marriage doesn't help. We need to think about mitigating economic problems as well," she said.
This, coupled with the lack of access to secondary education in rural areas, leads to problems for the girls. Added to this are the issues of financial insecurity, debt traps and parents' hopes of their kid getting a better life at least the in-laws' place.
The data and such stories are proof that Telangana has a long way to go better its education levels. It is important to note that these issues shouldn't be addressed in isolation, but via the many challenges that connect the problem at hand. We might prefer to listen to under-dog stories for inspiration, but they may not work every time. Efforts need to be taken in the field of education, and soon.