Hyderabad: The junior doctors' association (JUDA) in Telangana has decided to boycott their duties from 31 March until they are provided protective gear as per the guidelines of the directorate general of health services(DGHS) and the ministry of health and family welfare(MHFW).
Members of JUDA took this decision in the interest of the common people because a doctor can act as a carrier of Corona virus and spread it to hundreds of patients as happened in Bhilwara, Rajasthan.
The boycott comes after a three-year-old baby tested positive for COVID-19 four days after being admitted to Niloufer Hospital. Many postgraduate medical students and even faculty members were exposed to the virus as they had no proper personal protective equipment (PPE) and protective gear like N-95 masks. According to the JUDA members, many students are showing mild symptoms of COVID-19. Their throat swabs were collected and sent for diagnosis and the students put under home quarantine.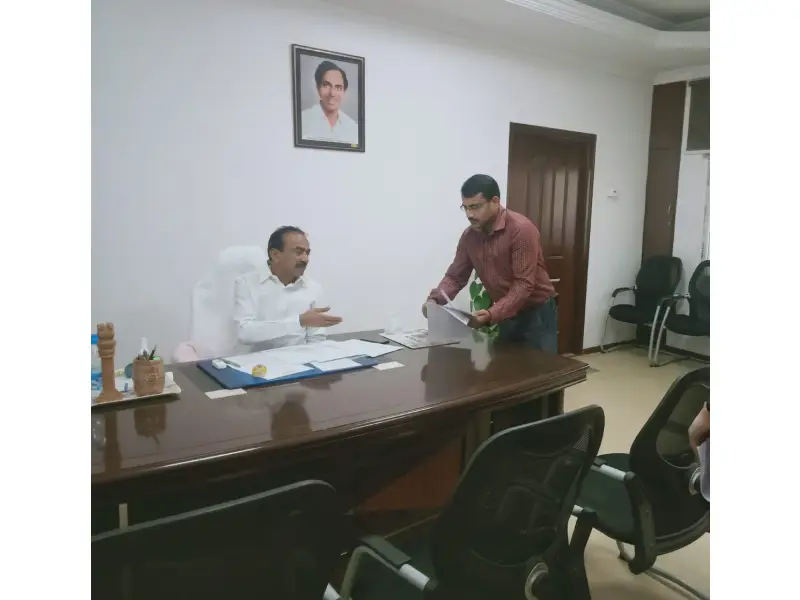 Dr G. Srinivas, Resident doctor's association president told NewsMeter, "We already submitted a representation to the state health minister and health secretary regarding safety measures for junior doctors. But so far no safety gears have been provided to us due to which this unfortunate incident occurred at Niloufer Hospital in Hyderabad. The government should supply PPEs and N-95 masks to all health care providers and juniors doctors in teaching hospitals in the state."
Dr. K.U.N Vishnu, president of the state junior doctors' association, said, "We are losing critical care providers into quarantine or isolation before the chances of peak rise in cases because of unavailability of safety gears for doctors. That's why we have decided to call a silent boycott of duties i.e we will come to our respective departments but will not attend duties from Tuesday unless protective gears are provided. We also urge the DME and health minister to provide accommodation for healthcare providers working in isolation wards in nearby hostels or hotels as their families may get exposed to the virus."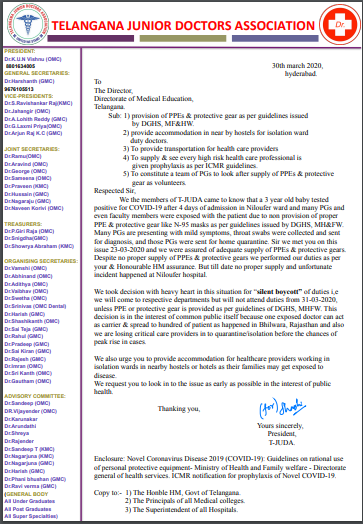 The association members met the director of the directorate of medical education, Telangana, on 23 March to discuss the issue where they were assured that PPEs and protective gear would be provided to them. However, no protective equipment has been provided and the doctors are performing their duties without them.
The junior doctors are demanding PPEs and protective gear, accommodation in nearby hostels for doctors working in isolation wards, transportation for health care providers, prophylaxis for every health care professional, and the formation of a team of postgraduate medical students to look after the supply of PPEs and protective gear.