Hyderabad: The wife of a migrant labourer from Telangana stranded in Dubai sough the Jagtial district collector's help and requested him to coordinate with the Indian Consulate in Dubai and the ministry of external affairs to help issue an emergency certificate to bring her husband home.
Mulkala Sathyam, a resident of Nakkalapet village under the Dharmapuri mandal in Jagtial district, went to Muscat in July 2016. He was working for Al-Turki Company as a construction worker. In August of the same year, he was transferred to Dubai.
"The contractor forced him to cross the border illegally. He has been living and working in Dubai for the past four years as an irregular immigrant worker," said Mulkala Jyothi, Sathyam's wife.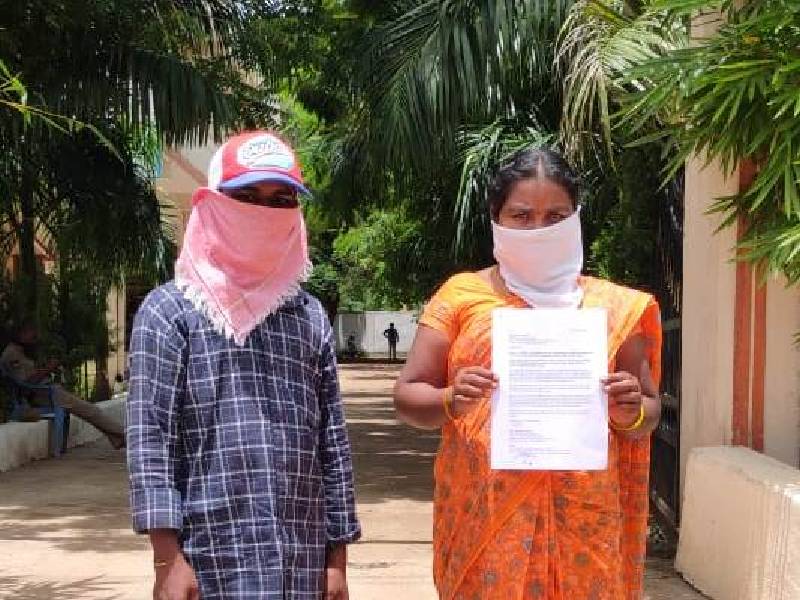 Mulkala Jyothi wife of Sathyam carrying the letter
The COVID-19 crisis has left low-paid migrant workers, and unskilled and semiskilled labourers mainly employed in the tourism, hospitality, and construction sectors without jobs. They survive on the ration provided by welfare organisations. Their passports are in the possession of the companies they work for.
Sathyam does not have a passport. To verify his citizenship the consulate needs clearance from the Indian ministry of external affairs which can be done only through the local authorities.
"In view of the pandemic, he would like to come back to India but he does not have a passport. He needs an emergency certificate which should be issued by the consulate general of India, Dubai," said Jyothi.
"Like Sathyam, hundreds of cross-border Indian emigrants from Telangana and Andhra Pradesh including women domestic workers are languishing in Dubai, Sharjah and Ajman in UAE who came from Oman illegally," said Swadesh Parkipandla, President, Pravasi Mithra Labour Union.
UAE Government declared a short term amnesty in view of the Corona pandemic situation. The amnesty includes all illegal residents and visitors who wish to exit the UAE. If he does not get his passport within a week, then he might have to go to prison or live as an illegal migrant on the roads of Dubai as UAE Amnesty for people stranded in the country ends on 18 August.
Swadesh Parkipandla requested the Government of India to negotiate with all Gulf nations regarding safe repatriation of irregular and regular migrants.