Hyderabad: Telangana has ranked fifth among 17 states assessed in the country on e-governance, according to a national report. In the report titled 'National e-Governance Service Delivery Assessment 2019', the south-Indian state of Kerala has bagged the first position, followed by Goa, and Haryana. Andhra Pradesh ranked 13th among the 17 states assessed, excluding the north-eastern states and Union territories.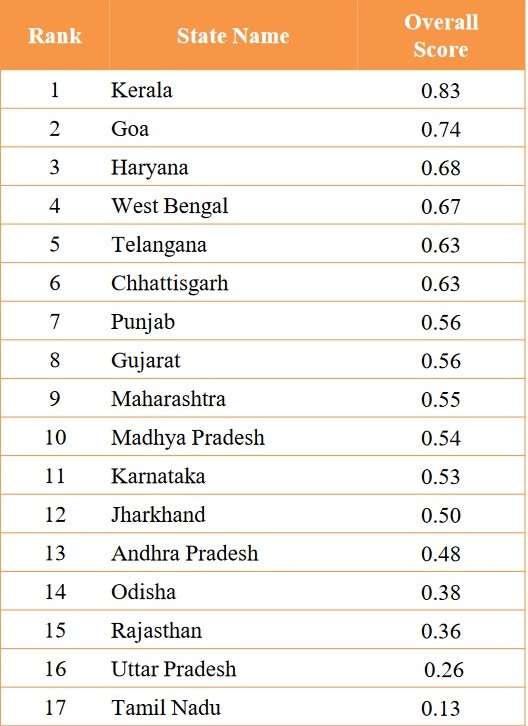 The report released by the ministry of personnel, public grievances and pensions had selected seven basic parameters to measure the efficiency of e-governance in the states. The parameters included accessibility, content availability, ease of use, information security and privacy, end service delivery, status and request tracking, and integrated service delivery.
During the assessment, questions regarding the seven parameters were given with respect to six focus sectors, following which an overall score was given. The six focus sectors include finance, labour and employment, local governance and utility services, social welfare, including health and agriculture, education, and environment.
Telangana third in providing online services in the education sector
With an overall score of 0.48, Telangana ranked third in respect of mandatory e-services provided within the education sector. The top two states were Haryana and Punjab with a score of 0.58 and 0.53, respectively. Andhra Pradesh ranked 11th.

In the social welfare category, which includes health and agriculture, Telangana was in second position with an assessment score of 0.68. While Haryana again topped the list with a score of 0.69, while Rajasthan came third with a score of 0.66.
Telangana was also recognised for providing all the mandatory services regarding local governance and utility services online, along with states like Madhya Pradesh and West Bengal. However, in terms of score, Telangana ranked 11th in the list which likely means that while digital services with regard to local governance are provided online, their performance has not been at par in comparison with other states that topped the list. The same can be said with regard to the environment sector. While Telangana provided all the four mandatory online services in the sector, its ranking was again low.
Telangana among top states which provided 80 per cent mandatory services
Among the 53 mandatory services identified across all six focus sectors, Telangana was among the six states which delivered more than 80 per cent of the mandatory services online. The other states were Gujarat, Madhya Pradesh, Rajasthan, Haryana, and Karnataka.
Also, in terms of providing integrated service delivery, Rajasthan, Haryana, and Telangana were the leading states with their service portals having average compliance of more than 50 per cent to the criteria assessed under this parameter.