Hyderabad: According to the latest report by the National Crime Records Bureau (NCRB), Telangana ranked fourth among Indian states in terms of the number of fatalities due to driving under the influence (DUI) of drugs and alcohol in 2019 with 455 deaths.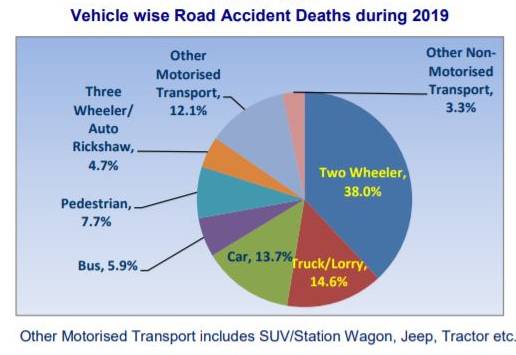 The NCRB data showed that in 2019 Telangana reported 21,570 traffic accidents while Andhra Pradesh reported 20,677. Telangana saw 6,964 deaths due to traffic accidents, while AP reported 7,894 deaths. The number of people injured in road accidents was 21,999 for Telangana and 24,619 for Andhra Pradesh.
Meanwhile, DUI deaths for Andhra Pradesh stood at 41 last year. Uttar Pradesh reported the highest number of DUI fatalities (28.6%) followed by Jharkhand (13.9%), Madhya Pradesh (6.7%), and Telangana (6.0%). Driving under the influence of drug/alcohol contributed to 1.7 per cent of the total accidents which resulted in injuries to 6,675 persons and 2,972 deaths in the country.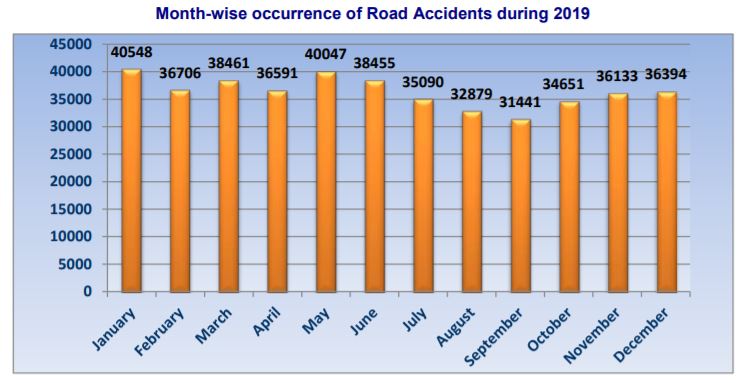 In Andhra Pradesh, over 51 per cent of road accident deaths last year occurred due to overspeeding which caused 12,866 road accidents and claimed 5,123 lives. Over 14,570 people were injured due to overspeeding last year. Around 5,899 road accidents were caused due to dangerous, careless driving, or over-taking. It resulted in the death of 1,277 persons and injured 6,807.
Cause-wise analysis of road accidents revealed that most of the road accidents were due to overspeeding, accounting for 59.6 per cent of total accidents (2,60,898 out of 4,37,443 cases) which caused 86,241 deaths and injured 2,71,581 persons. Dangerous or careless driving or overtaking caused 1,12,519 accidents (25.7% of total accidents) which resulted in 42,557 deaths and injuries to 1,06,555 persons in 2019 in the country.
Most road accidents in 2019 were reported between 6 o'clock to 9 o'clock at night.
The month-wise distribution of road accidents showed that most of the road accidents were reported in January (40,508), accounting for 9.3 per cent of the total road accidents.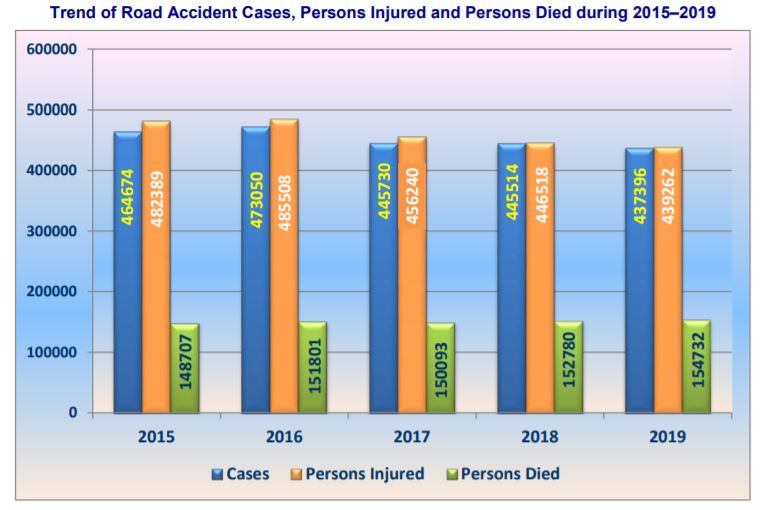 S. Adishankar who runs the NGO Roadkraft told NewsMeter, "It is very difficult to monitor drunk drivers. The only way is to increase the number of drunken driving checks. You will be surprised to see the number of vehicles that are parked outside a bar or a pub in the night. How will those people go home after consuming alcohol? Only the rich might have a chauffeur or a driver."