Hyderabad: 'Media allowed at war zones why not at the Secretariat demolition site' was the observation of the High Court while hearing a Public Litigation Interest (PIL). Days after, the Telangana government on 27th July opened the en-route leading to the old secretariat building for journalists.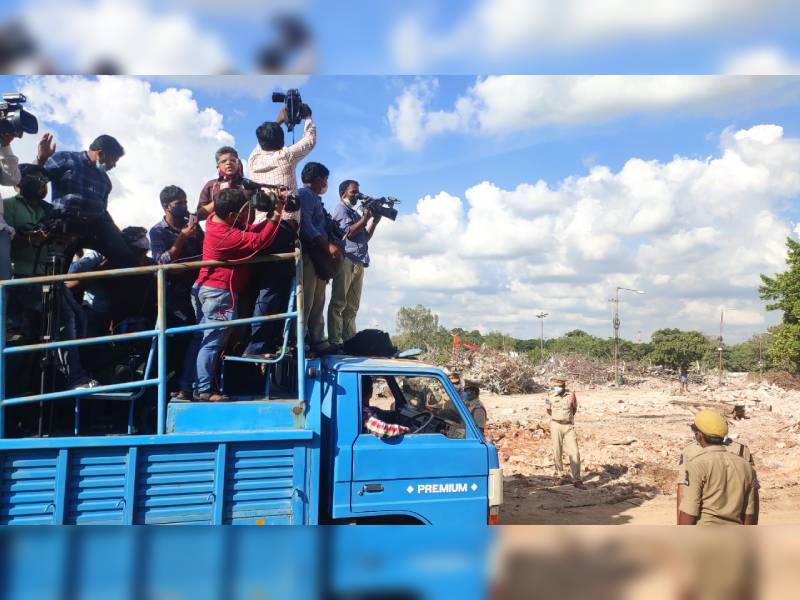 Over 100 including photo and video journalists were cramped into mini bus, a truck with social distancing norms thrown to the wind. "At the site, no media person was allowed to get down from the vehicle. We were asked to click photographs and take videos on the go. Hundreds of labourer were busy cutting the iron rods and concrete while ten big cranes were seen demolishing the last part of the building and removing the remains. Around 50 trucks were stationed at the site to transport the debris. Few media people tried to jump from the open truck to shoot the site but were forcefully sent back to the vehicle. Police personnel in dozens ensured none move around freely" this correspondent observed.
A look inside the demolished Secretariat. The Telangana Government on 27th July allowed Media persons inside the Secretariat premises.

Picture credit: @sumitjha__ pic.twitter.com/UfqaNCrteC

— NewsMeter (@NewsMeter_In) July 27, 2020
[amp-tweet tweetid="https://twitter.com/NewsMeter_In/status/1287707331271122945"]
At G Block where a Masjid was standing, now apart from the concrete and rods, the entire structure has been razed. Hundreds of pyres of debris were standing tall. A hundred feet long wall of iron rods are built alongside the debris.
Around 90 percent of demolition of the Old Telangana Secretariat has been completed as on 27th July, except for a building which will be razed soon.

Here is a peek into the premises. @sumitjha__ @priyali_dhingra pic.twitter.com/eTrz60ZVVH

— NewsMeter (@NewsMeter_In) July 27, 2020
[amp-tweet tweetid="https://twitter.com/NewsMeter_In/status/1287741993372667904"]
Except for a single block, the entire Secretariat has been razed to debris. The government claimed that 90 percent of the demolition is completed. 'Around 4500 truckloads of debris have been expected to be generated from the demolition. Two thousand trucks of debris have been already removed from the site' authorities said.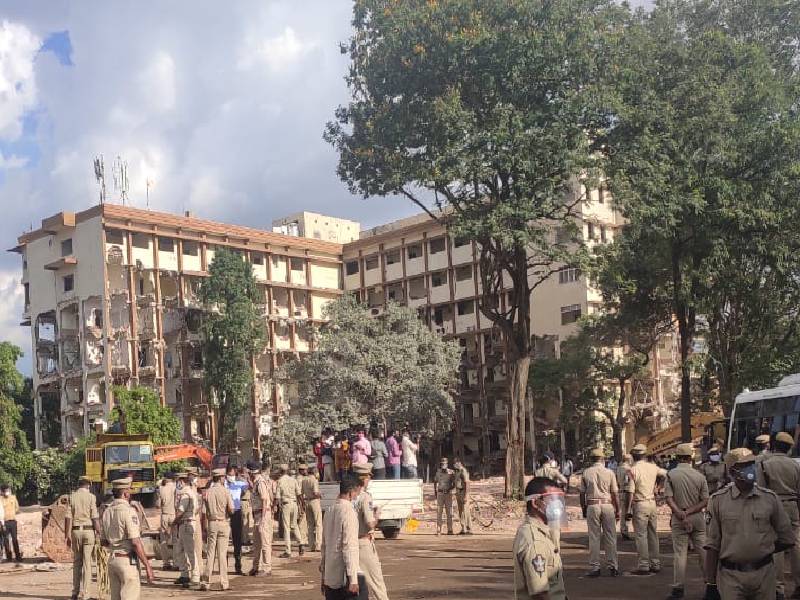 Telangana Chief Minister K Chandrashekhar Rao led government ordered the old secretariat building to be demolished on July 7, a week after High Court gave dismissed 10 PIL's challenging government's decision to demolish and build a new secretariat.
The government on July 27 said, "As a preventive measure, the government did not allow anyone into the premises, as there is a danger of accidents happening while demolishing the high-rise buildings,"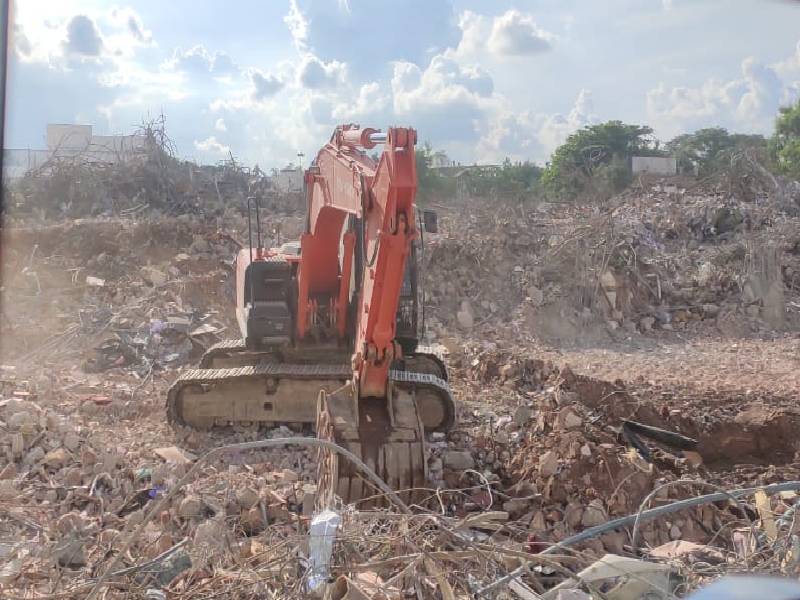 Roads and Buildings Minister Sri Vemula Prashanth said "by taking all precautions, the Government will take media representatives to cover the demolition and removal of the debris works, as there are chances of any accident happening during the demolition works,"