Tahsildar Vijaya Reddy's driver Gurunatham succumbed to burn injuries .The drive was admitted to DRDO Hospital with 80 percent burns, he breath his last on early Tuesday. The 27- year old native of Garidepally village of Suryapet is survived by 8- month pregnant wife and a two-year old son.
Gurunatham worked as Tahsildar Vijaya Reddy's personal driver. On Monday, while the aggrieved father K. Suresh attacked the officer, Gurnatham in a bid to save the Vijaya Reddy , stepped in. He sustained severe burns and was admitted to the hospital.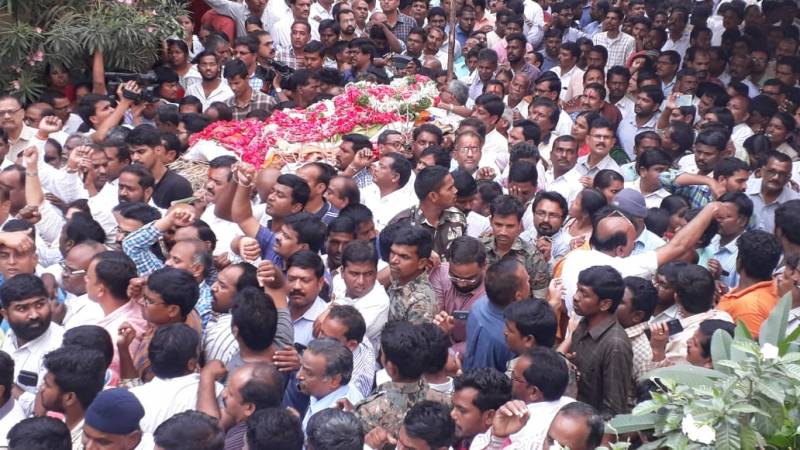 Meanwhile thousands gathered at the residence of Tahsildar Vijaya Reddy to bid her abeau. The family remains consonsoable. The entire revenue department observed a bandh on Tuesday, all administrative works came to a halt .
The revenue officers association has demanded for tight security at all the offices of Tahsildars, VROs and at MRO's.
Slain tahsildar Vijaya Reddy rose from a teacher to civil servant through sheer hard work, recall kin, colleague
c She was the first tahsildar of Abdullapurmet mandal when it was formed in 2016 during the reorganisation of mandals in Telangana.
Following the footsteps of her father and elder sister, Vijaya Reddy took to teaching in 2006, though she always aimed higher. During her stint with the chalk and blackboard, she prepared well to clear the government's Group II entrance test and became a deputy tahsildar in 2009.
Vijaya Reddy was posted in the Sangareddy in erstwhile Medak district and after being promoted as tahsildar, she took charge at Malkajgiri in Hyderabad. She was given the 'Best Tahsildar' award in Rangareddy district two years ago.
Surabhi Gowri Vatsala, who succeeded her as the Malkajgiri tahsildar and currently posted at Balanagar, recollected her memories with Vijaya Reddy. "I remember taking charge from her on October 11, 2016. Though that was the only personal interaction with her and that too for a brief period, I learnt that she was a cool and good-natured officer. She also maintained excellent relations with all employees. It is very sad that she is no more," recalled Gowri Vatsala.
On Monday afternoon, a tenant farmer doused Vijaya Reddy with kerosene in her office chamber and set her afire. He was reportedly upset with her for not settling a land dispute in his favour.
Vijaya Reddy's relatives said theirs is a family of teachers and to her luck, she got Subhash Reddy, a teacher, as her husband in 2006. "She was studious from her childhood and dreamt of becoming a civil servant. We are now more worried about Subhash and their children," said a relative. Their kids, Saicharita and Bhuvan Saketh, are studying in Std V and Std I respectively at private school in LB Nagar.