Huzurabad by-poll: Eatala Rajender's wife among 12 withdraw nomination, 30 candidates in fray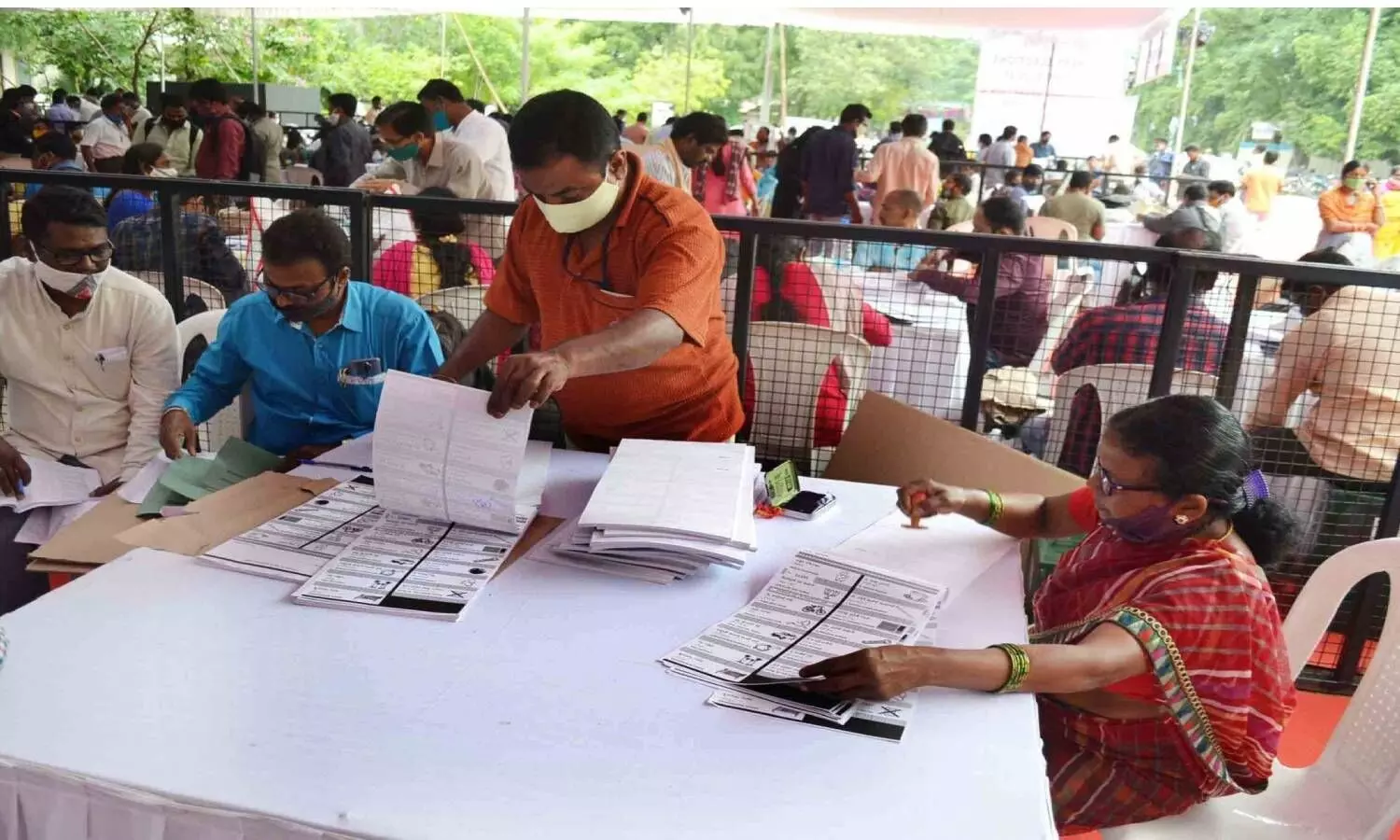 Hyderabad: As many as 30 candidates are in the fray for the Huzurabad Assembly by-election in Telangana.

On Wednesday, 12 candidates including BJP candidate Eatala Rajender's wife Jamuna withdrew their nomination papers.
Earlier, election authorities had rejected the nomination of 19 candidates from the Huzurabad Assembly constituency.
AIMIM leader Taher Kamal Khundiri was one of 19 candidates whose nominations were rejected. Others whose nominations were rejected were associated with Indian Praja Congress, Indian Praja Bandhu Party, Mana Telangana Rashtra Samithi Party, All India BC, OBC Party, New India Party, and Republic Party of India.
The remaining rejected candidates had filed nominations as independents. Among the rejected were three candidates whose names were similar to BJP nominee Eatala Rajender. Their names were Eppalapelli Rajender, Esampally Rajender, and Emmadi Rajender.
Nomination papers of 42 candidates including Gellu Srinivas Yadav (TRS), Eatala Rajender (BJP), Venkat Narsing Rao Balmoor (Congress) were found valid. On Monday 12 candidates withdrew from the contest.
On September 28, the Election Commission of India (ECI) had announced that the Huzurabad Assembly by-poll will be held on October 30. The counting of votes will be held on November 2.
Huzurabad seat had fallen vacant after former TRS minister Eatala Rajender resigned on June 12. He was removed from the cabinet on the charges of land encroachment. Later, he joined the BJP.
Meanwhile, NewsMeter has accessed the affidavits of the three candidates and discovered that the former health minister, Mr. Rajender, is the richest among them.
A look into their assets revealed that Mr. Rajender's income for the financial year 2019-2020 was Rs. 30.16 lakhs. However, his wife Jamuna's income was higher at Rs. 1.33 crore. His movable assets are worth Rs. 6.20 lakh while his wife owns assets worth Rs. 28.68 crore. Meanwhile, he has immovable assets worth Rs. 12.50 crore and his wife worth Rs. 14.78 crore. The couple together is worth Rs. 60 crore.
The affidavit revealed that Eatala is facing 19 criminal cases and has been convicted in two. While he has not been in judicial custody, he has paid a fine.
Interestingly, his wife Jamuna also filed nomination papers sans the B-form on 4 October. The word going around is that she will contest the by-elections if her husband who is currently facing cases of land encroachment and corruption is arrested just before the elections.
Given the high possibility of Mr. Rajender facing an arrest during the campaigning, Jamuna, in her affidavit, has mentioned that she is the candidate "set up" by the BJP.
Gellu Srinivas Yadav:
The TRS party's candidate owns wealth worth Rs. 22.82 lakh. He holds a degree in MA political science from Osmania University and identifies himself as a businessman.
"Gella Srinivas Yadav, who was the president of the TRSV department at Osmania University, was arrested and jailed several times during the movement. Recognizing Gellu Srinivas' disciplined personality, sense of service, and commitment, CM KCR finalized his candidature," the party said.
Venkat Narsing Rao Balmoor:
The young student leader represents the student wing of the Indian National Congress. He is facing 24 criminal cases and owns wealth worth Rs. 59. 51 lakhs.