`OxyFlow PSA system': Meet Hyderabad ISB buddies who developed indigenous oxygen plant for COVID patients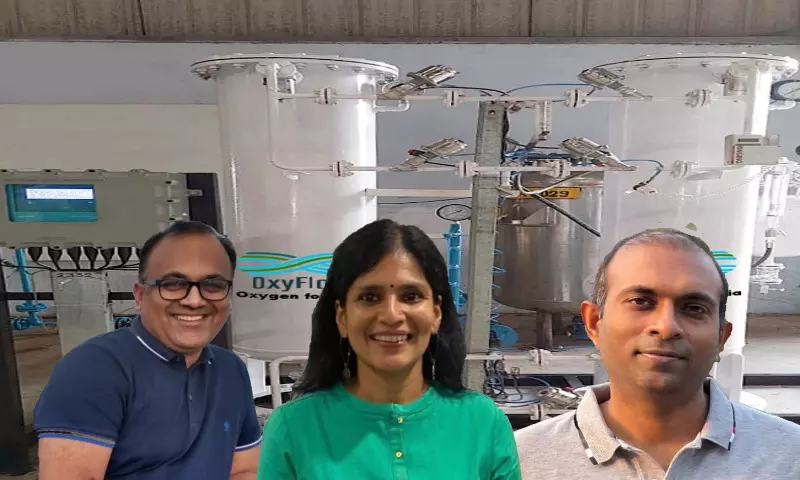 Hyderabad: A group of friends from the Indian School of Business (ISB) Hyderabad, have developed fully indigenous Pressure Swing Adsorption (PSA) oxygen plant to mitigate the sufferings of COVID 19 patients in Telangana.

Prashant Manne, Sireesha Yadlapalli, and Ashish Naredi, all classmates of ISB, have used local technology and machinery to create 'Made in Telangana' oxygen plant. The plant is being donated to a charitable hospital in two to three weeks' time.
OxyFlow PSA system is designed to generate Oxygen from Air by Pressure Swing Adsorption system. The system is designed to provide the flow of Oxygen that is suitable for medical usage in hospitals. The system is developed by a team of ISB Alumni in collaboration with IIT Tirupati.

The system has been developed to comply with the regulatory requirements of the Government of India with materials that can be sourced at scale. That means Oxyflow is one of the very few systems that can offer installation within 3-4 weeks across India.
The system is robust which can be easily installed and maintained. All parts are easily serviceable. Oxyflow will offer AMC service to the end customers.
"We have various models available. These can be tailored as per the capacity of the hospital. We received a lot of support from other ISB alumni. Without whose support this would not have been possible," said Ashish.
He said they initially thought of procuring Oxygen Plants and donate them to hospitals. "However, all existing suppliers were asking for a lead time of at least 6 weeks. That's when we did a bit of research and found that the plant was not very complex and can be assembled locally," he said.
The team sought help from Dr. Sasidhar Gumma, from IIT Tirupati. Under his tutelage, they successfully assembled the plant in Hyderabad.
In fact, Dr. Sasidhar Gumma, from IIT Tirupati, was the one who supplied the main design and technical support. "The plant has the capacity to generate oxygen between 60 liters per minute and 1000 liters per minute," Ashish said.
Prashant Manne was the main person and technical lead for the project. "Due to the inherent modular nature of our design, our system is easily manufactured and maintained. We want to develop a network of partners who will work with us to enhance the availability of the system. With our existing network, we can deliver over 20 systems per month. To further increase capacity, we are looking to develop partners for manufacturing, maintenance, installation, and marketing "he said.
With the current situation, there are many hospitals and care settings that are looking for Oxygen plants. "We have tied up with `Give India Foundation' to enable prospective donors to donate a PSA plant to an organization of their choice," he said.
How does the plant works: Explains Ashish Naredi
The process of manufacturing oxygen in the plant is actually pretty simple and has three critical steps.

Capturing atmospheric air with the aid of an Air compressor.

Then passing the air over a mineral called zeolite, wherein the atmospheric air is separated into nitrogen and oxygen vide a process called adsorption (different to absorption).

Once nitrogen and oxygen are separated, the nitrogen is released back into the air and the oxygen is cleaned, purified and stored for supply & use.
Thus, you would note that the process does not involve the manufacturing of oxygen as such. Oxygen is available in plenty in the air and the process only helps capture the oxygen in a usable form in the required quantity.
Key bottleneck
A key bottleneck in manufacturing these plants is the availability of zeolite.
The type of zeolite used in most, if not all, PSA plants are Lithium based zeolite which is in great demand and hence difficult to procure.

On the other hand, another variety of zeolite, which is sodium-based, is relatively easily available.

However, this is not used in the PSA Plants as it is less efficient.
So, we had a choice, either to wait 6 weeks (the time to procure lithium-based zeolite) or try and find ways of using sodium-based zeolite more efficiently. Thankfully, we chose the latter and with the help of Dr Sasidhar Gamma from IIT Tirupati, we succeeded in our efforts.
Now, we have our plants using sodium-based zeolite, which is not only available more widely but which also has a longer shelf life. Thus, reducing not only the initial costs of the plant but also the long term maintenance cost of the plant.
It took us around 30 days to get this right but having achieved the breakthrough, it feels really worth the wait. The other satisfaction is of having made this plant with all the parts (other than the mineral zeolite) sourced locally from Hyderabad.