Komaram Bheem: Tribal women starts peanut chikki processing unit to beat malnutrition, earn livelihood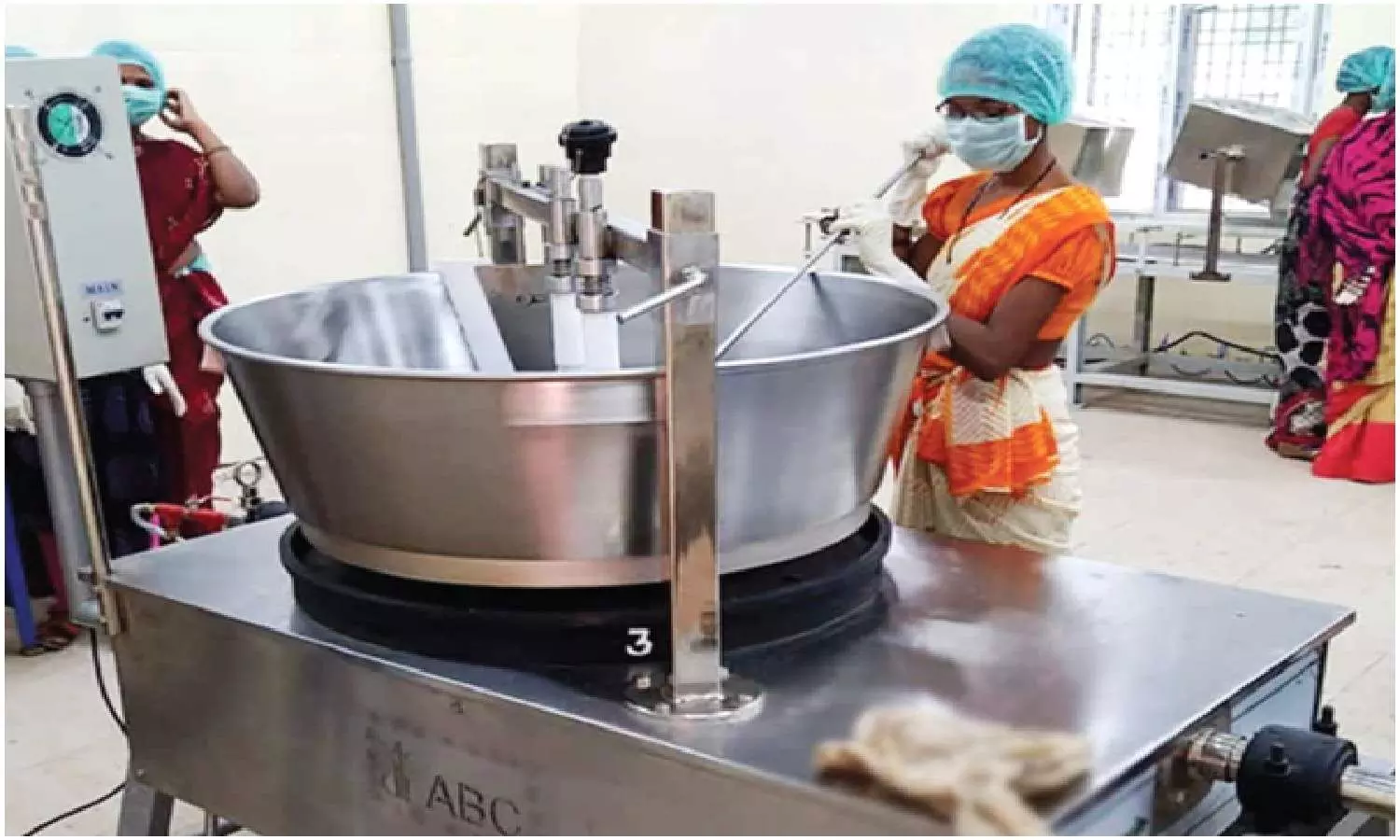 Adilabad: Shunning inhibitions, tribal women in Utnoor, Adilabad have started a peanut chikki processing unit to beat malnutrition and earn a livelihood.
The peanut chikki processing unit has been facilitated by the Tribal Welfare Department in collaboration with International Crops Research Institute for the Semi-Arid Tropics (ICRISAT).
The peanut processing unit is named after Komaram Bheem, a tribal leader from the state who fought against the Asaf Jahi dynasty for the liberation of Hyderabad.
The chikki processing unit is run by Eight women Joint Liability Group, a legal entity brought by ICRISAT and Tribal Welfare Department. ICRISAT provided guidance to the women in handling material, maintaining hygiene, and other safety measures. The unit has got certification from FSSAI.
The startup was launched after the Telangana government's National Family Health Survey revealed that tribal children, adolescent girls, and women are suffering from malnutrition.
Tribal Welfare Department collaborated with ICRISAT, a United Nation organization that conducts agricultural research for rural development, for launching the startup so that people not only could beat malnutrition but earn livelihood also. Under this, Nutri-Food basket programme started in March 2017, Giri Poshana started in September 2018 and establishment of 8 MSME processing units started in 2019.
"The key component of this project is to transform tribal women into 'nutrition entrepreneurs'. With training from ICRISAT they will be able to procure local farm produce, prepare nutritious ready-to-cook/eat products, finance their venture, maintain accounts, supply their products to childcare centres (anganwadis) and market the rest through a co-operative," said ICRISAT in the statement.
"We found out that the livelihood of the tribal population is dependent on the local crop. They consume their food from their local crops," added Dr Saikat Datta Mazumdar, Chief Operating Officer (COO), NutriPlus Knowledge Program (NPK), ICRISAT. ICRISAT then developed food products from local crops such as millets, pulses etc. After that, ICRISAT started three different projects. Under the Innovation and partnership platform, ICRISAT started NutriPlus Knowledge Program.
"In nutriplus knowledge programme, the ICRISAT started giving tips to the local tribal how to develop food products that are nutritious," said Dr. Saikat Datta Mazumdar.
The programme was designed in such a manner that it would be more inclusive and sustainable. ICRISAT started chikki processing unit after getting funds from Dr. Christina Z Chongthu, Secretary Department of Tribal Welfare and Commissioner of Tribal Welfare under Telangana Scheduled Tribes Cooperative Finance Corporation Limited (TRICOR).
The products will be packaged under the existing GCC brands and included in food intervention schemes of the Department Tribal Welfare, Government of Telangana or other departments of the state Government or also sold in the open market. In addition, each woman-led JLG run units will also have the opportunity to independently produce and sell in the open market under their own brand name.

ICRISAT also decided to help the local communities to develop the right product so that it helps them in developing a business model. The food produced by the processing units in Utnoor cater to 68,856 people (approximately 11, 476 families) in Utnoor