Vizianagaram: The tiny and sleepy village Bheemali under L Kota Mandal in Vizianagaram district of Andhra Pradesh was popular not only in Andhra Pradesh but also in Odisha, Telangana and also Karnataka for its ethnic sweet called Mango Jelly.
The mango jelly makers in Bheemali village have been producing the lip-smacking mango jelly for past six decades. The Bheemali's mango jelly has gained much popular for its ethnic sweet and aroma as the makers prepare the jelly without adding any artificial flavours and artificial sugars.
However, the manjo jelly makers are not getting bitter returns for their ethnic sweet in spite of the demand for the sweet. Adding woes to the jelly makers, the Covid-19 has hit hard to the mango jelly production and the livelihood of the mango jelly makers at Bheemali and surrounding areas this year.
Gullipalli Ramnaidu, a jelly maker and native of Bheemali village said that summer is the best season for them as the summer (April to June) keeps more than 1,200 families in Bheemali and Alamanda, L Kota and Bhimasingi villages engaged in preparing the lip-smacking mango jelly.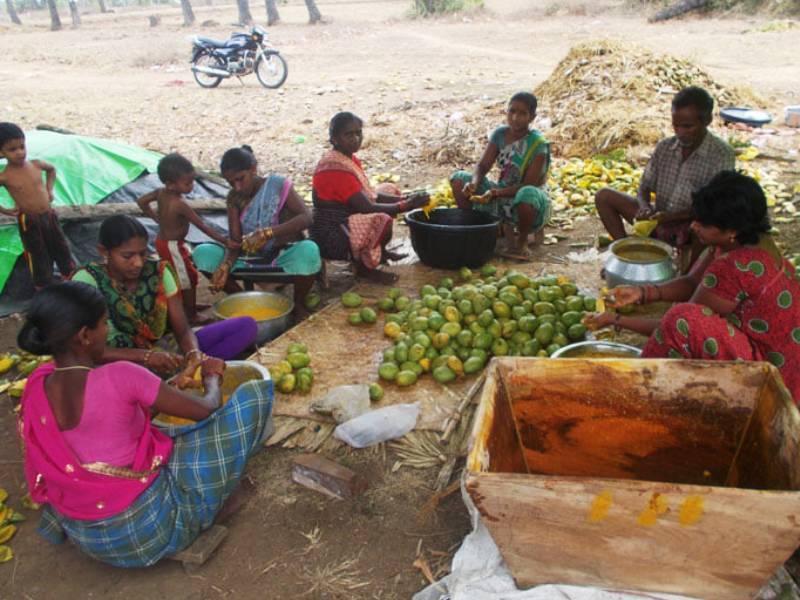 Every year, jelly makers in Bheemali and surrounding villages makeover 6,000 quintals of mango jelly. As, the Covid-19 lockdown added woes in procurement of mangoes from other district due to restrictions in transport, we managed to produce only 2,000 quintals in the summer (2020). Ramnaidu added.
Since we use thick juicy mangoes such as Kolam Gova, Collector and Thotapuri varieties and use only sugar, people love to relish the Bheemali mango jelly. After extracting juice from mangoes, we will add sugar into the juice and will past the pulp on mats till the jelly reaches a thickness of 2.5 to 3.5 inches and should be dried for at least four weeks , said G Suresh Kumar, a young jelly maker in Bheemali.
Every year, we expect good price for our jelly, but we have no other option except to sell our produce as price fixed by the traders. We expected to get at least Rs130 per kg mango jelly, but the traders offered only Rs100 a kg citing various reasons, said Ramnaidu. We can't sell our produce in the retail market so that we forced to sell the jelly at low prices to traders, who managed to get more prices, he added.
Though we have been making mango jelly for decades, we are getting least profits only. It is difficult for us to continue this seasonal business as the input cost has increased while the traders are offering fewer prices. We are appealing the AP government to rescue the legacy of Bheemali mango jelly by sanctioning loans fix the prices of our produces and set up a cold-storage in our region, the jelly makers added.