Hyderabad: This tribal hamlet in Mulugu district now has a pre-primary school to teach kids who would otherwise be illiterate or drop-outs, all thanks to Santhosh Esram, a student at Osmania University. But how this cyber-law student managed to set up this little school right in the middle of a forest is a story in itself. "One has to cross two rivers, and travel at least 5-6 kilometres on foot, from Bayyakkapet, the nearest village, to reach this place. There are no roads to travel, no proper buildings to set up a school here. But something had to be done," explains Santhosh.
Located near the Neellam Thogu river, coming under Bayyakkapet village, around 20 kms from Medaram in Mulugu district, this pre-primary school houses around 40 children, all below six years of age. Schools in the state are still under a lockdown due to the COVID-19 pandemic. "It is always some kind of a lockdown here, because people are not much educated. Without work, without kids going to school, they cannot live a life being stuck in this place," says Santhosh, talking about the hardships the families face.
Most of the families living in the hamlet belong to Guttikoya tribal community, with many migrating from Chhattisgarh in search of a livelihood and working as daily wage labourers. However, the COVID-19 lockdown had only made matters worse for them. That was when Santhosh noticed the plight of the children living with the families. "They are completely cut-off from the rest of the world. During the lockdown, I happened to distribute some supplies to the families, since they have no work, no food, and nothing to survive on. The kids were roaming around in the forest, all are malnourished," observed the Osmania student.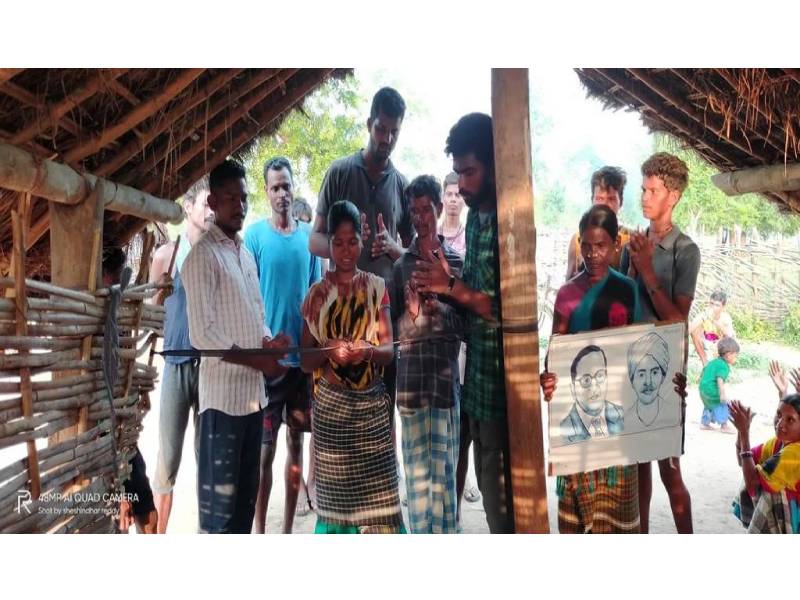 After multiple visits to the place, Santhosh finally decided to begin a school for the small kids, along with the help of two of his friends, Veerelli Sheshinder Reddy and Gunmantha Rao, who are teachers. After taking permission from the forest department and the village elders, and crowdfunding with the help of a few friends and NGOs to renovate the hut, the school was inaugurated on June 25.
While the school teaches basic English, Telugu, numbers, rhymes and stories, Santhosh says there's a lot of play involved. The school also ensures proper nutrition for the kids, by giving them protein supplements. "We don't want to arrest them in a particular time. But kids start coming from 8 in the morning and return home at around 3 or 4 pm. If they want, they can sleep in the school also. The goal is to ensure a learning environment for the kids, and get them ready to survive an actual school, where there will be many kids," the student explained.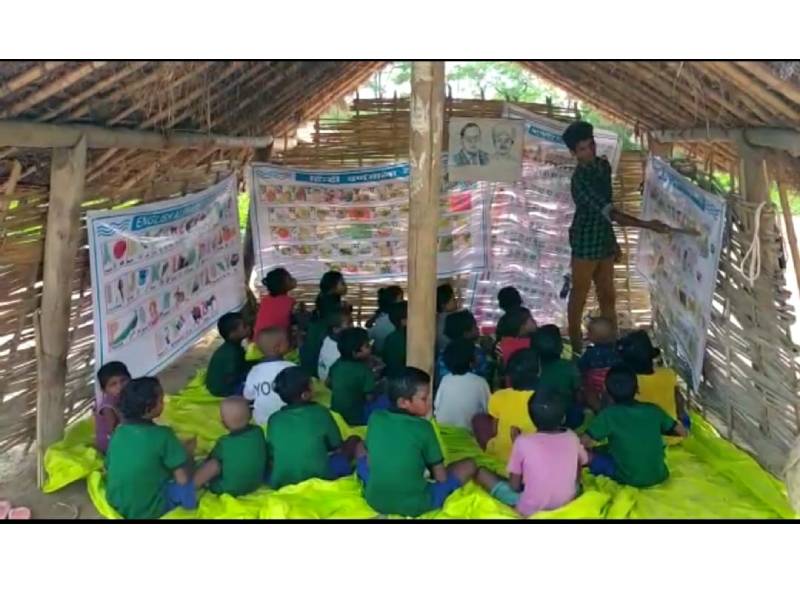 While there is a tribal welfare school nearby in Bayyakkapet, children from these families are scared to go there, Santhosh says. "There could be many reasons behind this. The inability to keep up, issues at home… This school is a step to address that fear among these kids," he says.
Perhaps that is why Santhosh has named the school the 'Bheem Children Happiness Centre', because "the kids should be happy if they are here". "We give them gifts every ten days, with new dresses, playthings and other goodies, for the ones who are the most happy and co-operative with learning. We have also hired a volunteer from the community to look after them. The volunteer is a tenth-class student whose studies got cut due to the lockdown. He is talking about discontinuing, but we are pushing him to go for further studies now," he said.
Data released by the United Nations Educational, Scientific and Cultural Organization (UNESCO) has shown that education of over 30 crore students in India has been affected due to the Covid-19 pandemic. In the case of primary-level students, 7.5 crore learners and 1 crore pre-primary kids have stopped going to school due to the lockdown, the report said.
But come monsoon, the school is going to face fresh challenges. With the rivers which are likely to overflow in the months of August-September, reaching the school will be a hurdle, says Santhosh. "We renovated a hut and made it into a school with just Rs 2,000. Now, we will need money to pay the volunteers, and construct a real building for the school. Perhaps, we can build a proper road for transport to and from the school. We have a lot of dreams," signed off Santhosh.
(To donate to their cause, please send to Santhosh Esram, ACC. 263410100056167, IFSC ANDB0002634, Andhra bank Mulugu)