Srinagar: Inside a well laid out room, a group of youngsters are rehearsing the classical version of 'Zindagi Ek Nai Jung hai' from the Anil Kapoor-starrer 'Meri Jung'. Unmindful of the prevailing situation, young boys and girls are reciting 'Sargam' and trying their hands on guitar and rabab to make the atmosphere lively.
Welcome to New Kashmir, where youngsters are breaking stereotypes to learn music for healing. Thanks to Mizrab School, music has a new address in the valley. For famous singer and instrumentalist Irfan Nabi, it was a conscious decision of converting his home into a music school to teach music to youngsters.
"We started this school almost 14 years back. There are different categories of students from almost all age groups who learn music. We train them in vocals and instruments. Our focus, however, is on folk instruments like rabab," said Irfan.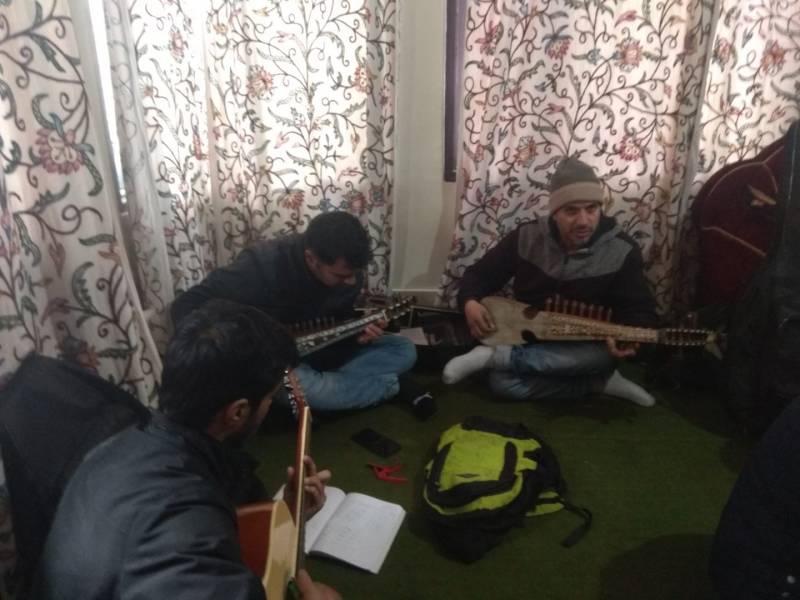 Music is still not being viewed favourably in the conservative society of Kashmir. Youngsters are, however breaking stereotypes and trying to send across a message. "I come from Humhama, and many find it strange that I am learning guitar. However, my family is broad-minded, and they have always supported my decision. They always said that you need to focus on what you do and if society says something, you should correct them as well," said Nageena Naz, an aspiring guitarist and vocalist.
More than 50 boys and girls are enrolled in the two branches of Mizrab, which is run by Irfan Nabi and Bilal Ahmad in Srinagar. Some of the students hail from the sensitive old city of Srinagar.
"You know the prevailing situation in Kashmir. Sometimes it is possible to come and sometimes it is not. It is better to focus on the music rather than taking part in other activities. We are not concerned with what is happening around," said Samir Ahmad, an aspiring vocalist.
Irfan and Bilal are credited with introducing western instruments including guitar, keyboard, drum, violin, banjo, and mandolin into Kashmir music. Besides teaching music, the duo has embarked on an arduous journey to fuse Kashmiri sufiyana music with western style and popularise it on a global platform across continents. From the United States to Australia to New Zealand to UAE, the duo has organised dozens of shows promoting Kashmiri music with western fusion.
"Music is peace. It is a form of therapy. People feel relaxed tuning into music. Everyone knows how it works. Inshallah (God willing) we will continue our musical mission. We will not stop our journey," said Irfan.
Come winter, Mizrab will take music to the next level when their students participate in the state-level concert on the banks of Dal Lake. "We are preparing for that," added Irfan, sporting a confident smile.