Hyderabad: The number of Covid-19 cases reported from Rainbow Vistas Rock Garden, a gated community in Kukatpally, has increased to three. The third person who tested positive, is 72-year-old grandmother to the infected medico, informed the GHMC officials.
Rainbow Vistas, housing over 2,500 flats, reported its first two Covid-19 cases on May 21, when a father-son duo, residents of Ruby block, were tested positive.
The father, a private employee and son, a doctor at a corporate hospital in Banjara Hills, were shifted to Gandhi Hospital. While the entire floor, where the family lived, has been declared a containment zone for 28 days.
A GHMC officer from Kukatpally zone told Newsmeter, "The young doctor was part of the Covid screening wing at the corporate hospital in Banjara Hills. According to the family, the son fell ill first, the father followed. Both were running high temperature and visited Chest Hospital where they were tested positive. The medical reports of the primary contacts revealed that the 72-year-old grandmother has been infected. She has been shifted to Gandhi hospital. All three are stable".
The health officials have also tested 10 of the medico's colleagues and thankfully all ten have been tested negative.
Following this, the resident welfare association (RWA) of Rainbow Vistas has sought details of all doctors, surgeons and other medical professionals via an online form.
The details sought from medicos include their specialisation and address. Apart from that, it also asks if they are providing consultancy services at their residence and if yes, the timings and the days that they are providing.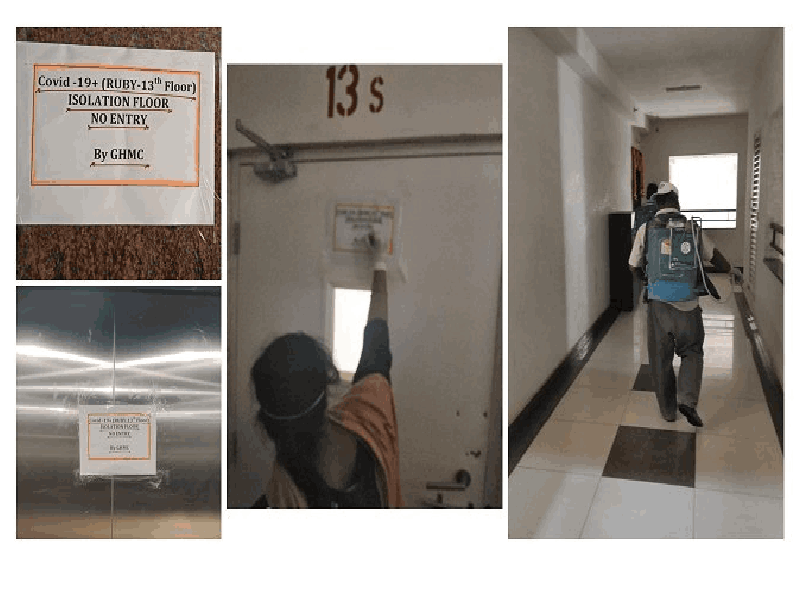 One of the residents from the society said that the government authorities have asked them to collect this information, for their record keeping and precautionary purpose. The society has assured that this information will be shared only with the government authorities.
"The government health department personnel will be doing a door-to-door visit of flats across blocks in Rainbow Vistas Rock Garden for general check-ups/enquiry of residents in the next few days. The residents have been requested to coordinate with the officials.
Meanwhile, disinfectant spraying has been completed at the podium areas. Flat owners have been asked to stay indoors and close their balconies.
As a precautionary measure, the entry and exit to the gated community has been restricted . "The Ruby block has been cordoned off, movements in the gated community have been restricted. A call on the containment zone will be taken based on the instruction of the chief secretary," added the officer.