Hyderabad: In Indervelly, one of the most backward villages in Adilabad, a nurse has become an angel in disguise. In a district lagging in most health indices, this health official is trying to pave a path for people from her community to excel in life.
For Anitha Pawar, survival has always been about ensuring one's health. The 36-year-old nurse was so preoccupied with the struggles of her family since her childhood that she had decided, then and there, to take up an occupation that would ensure that her community stays healthy. "Our family struggled like any other family in our village. Poverty was rampant. But my parents ensured that I got an education, and that's the only reason I am what I am right now," reminisces Anitha.
Anitha is the first woman from her community in the village to become a staff nurse. "It is certainly a demanding job, full of responsibilities. But it is something that I have always wanted to do in life. So the struggle itself is an enjoyable journey for me," she says. The nurse hails from Shankarthanda village near Hasnapur under Utnoor Mandal in Adilabad district.
'Poverty in life will translate into poverty of mind'
Speaking about her experiences while working as the staff nurse in Indervelly Primary Health Centre (PHC), Anitha says, "Seventy per cent of the people here belong to the tribal community. They are marginalised and they come from poor families. That is the first problem. But the bigger problem, in my opinion, is the poverty of the mind. I was also poor but I did not let that affect me in an overpowering way."
Education is the only way forward for such people, says Anitha. "We need to focus more on educating people, creating awareness that we can rise above our circumstances. It's true that life is easy for people who have money and land. That is the system's problem. But why should we let that affect us?" she asks.
In her endeavor to ensure that mothers deliver normal and healthy babies, Anitha has become the most sought-after nurse in the area. So, it is no surprise that she has handled over 1,000 deliveries till date. "It is a tense job, but the satisfaction is also hundred times more," quips Anitha.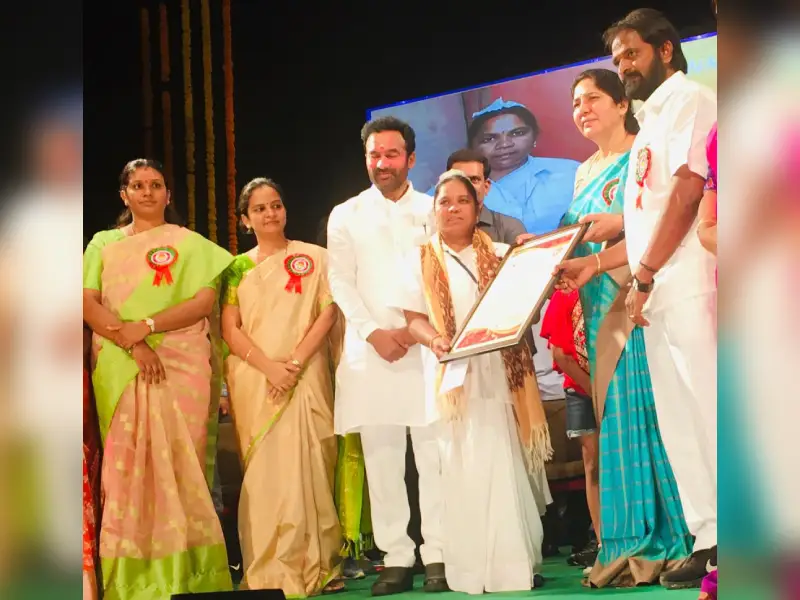 According to the National Family Health Survey-4 (NFHS) released in February 2018, 71 per cent of deliveries in Adilabad happen in hospitals which is the lowest number in comparison to the other 10 districts which were studied. Among the 10 districts, Hyderabad showed the highest at 91 per cent. Hopefully, the contributions of health officials like Anitha will go a long way towards transforming the lives of the people in the village, as well as the district.
On this women's day, Anitha Pawar was one among the 20 women who were recognised by the state of Telangana for their achievements.