Hyderabad: In 2018, black spots on national highway killed 54,046 commuters. Three states of the south, Tamil Nadu, Karnataka and Telangana have been identified to have the highest number of black spots, but the deaths were more in Uttar Pradesh.
A black spot is an area where road accidents have historically been concentrated.
According to a report of the Ministry of Road Transport and Highway (MoRTH), Uttar Pradesh has 104 black spots, the highest in the country, followed by Tamil Nadu (102), Karnataka (86) and Telangana (76).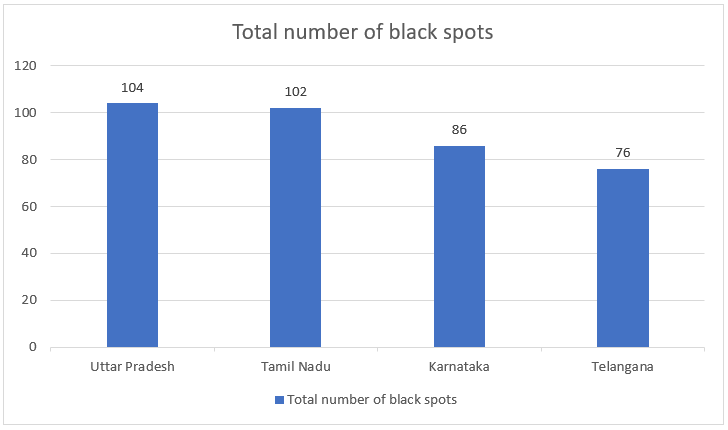 By contrast, national highways passing through Andhra Pradesh have nine black spots.
The national figure for deaths at black spots was 52,075 in 2016, which rose to 53,181 the next year. The rise in deaths at black spots points to the need for efforts to reduce deaths on Indian roads.
| | |
| --- | --- |
| Years | Total Number of persons killed on National Highways/Expressway in the country |
| 2016 | 52,075 |
| 2017 | 53,181 |
| 2018 | 54,046 |
Between 2015 and 2017, a total of 20,925 people were killed in highway mishaps in Telangana. In Tamil Nadu, the number was 49,017, while road accidents during the period left 32,598 people dead.
Of the black spots on Telangana's Highways, 26 are under the jurisdiction of the state PWD, while the remaining are maintained by the National Highway Authority of India. Kerala has 33 black spots where 12,614 died in three years, said the ministry data. Arunachal Pradesh and Mizoram have the least number of black spots in the country.
As per the MoRTH report, road accidents occur due to a host of reasons such as use of mobile phone, driving under the influence of alcohol or drugs, overloading, poor light condition, jumping signals, overspeeding, neglect of civic bodies, weather condition, driving on wrong side, defects in roads, fault of cyclists, fault of pedestrians and many more.
MoRTH defines black spot on national highways as "a road stretch of about 500 m in length in which either five road accidents (involving fatalities/grievous injuries) took place during last three calendar years or ten fatalities took place during last three calendar years".
Stressing that black spot management is crucial to road safety, MoRTH has decided to take up an "Integrated Road Accident Database" project with funding from the World Bank. The project aims at gathering and analysing accident data to prepare a comprehensive policy and take steps to curb road accidents on national highways in the country.