Hyderabad: Thunderstorms accompanied by lightning is likely to occur in isolated places of Telangana for the next five days, the Indian Meteorological Department (IMD) said on 30 July. It also predicted light to moderate rain and thundershowers in some parts of the state for 31 July.
Mahesh Palawat, the head of Skymet, a private weather forecasting agency, said: "The trough is extending from East Up to Telangana will extend to Rayalaseema. which means the state will receive good rains and a few intense spells. From 1 August, the rains will decrease and again resume two days later. There is cyclonic circle arising over south-east and south-central region of Bay of Bengal. It will reach around August 5, because of this there will be a significant increase in rain activity."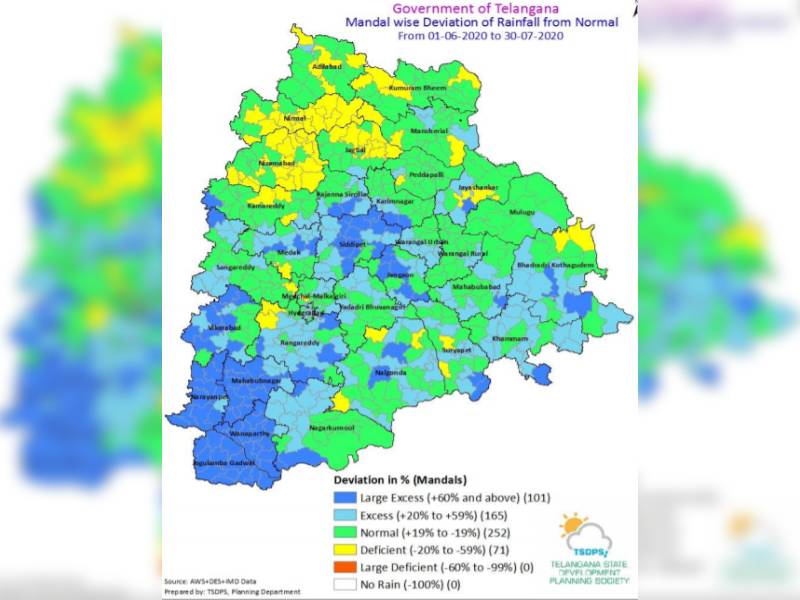 According to the Telangana State Development Planning Society, till 8:30 am on Thursday, Bibipet in Kamareddy received 70.5 mm rainfall, the highest in the state. It also said that 165 mandals of the state have received excess rain of 20 to 59 per cent while 101 mandals have received large excess of more than 60 per cent rainfall. Meanwhile, 71 mandals saw a deficit of rains till 30 July.
The IMD's weather inference for 30 July read, "The cyclonic circulation over the south-west and adjoining the west-central Bay of Bengal off south Andhra Pradesh and north Tamil Nadu coasts now lie over south coastal Andhra Pradesh and adjoining north Tamil Nadu between 3.1 and 5.8 km above mean sea level tilting southwestwards with height. The trough from the above cyclonic circulation to west Vidarbha across south coastal Andhra Pradesh and Telangana at 1.5 km above mean sea level has become less marked."