Hyderabad : In revelation of sorts, top brass in the Telangana party is alleged of grabbing an expensive piece of land in Westland Meadows in Narsingi falling under Ranga Reddy district. The lay out contains more than 300 plots.
A case has been registered after Westend Meadown's resident welfare association lodged a complaint with the Narsingi police falling under Cyberabad Commissionerate.
Speaking to Newsmeter, Mr. Kiran Chandra Kalluri, President of WEMPOWA, said, " On June 9th morning, at about 8 am, I received a call from our security that there was a large group of people who had invaded the layout along with a truck carving a container looking like a room. They assaulted and threatened the security at the gate and also damaged the CCTV Cameras. The gang confiscated the mobiles of the security personnel, however one of them managed to inform me".
He further added, " On inquiry we came to know that one Pathi Naveen, Bollam Ganesh, Surender and Sampath Kumar and their henchmen are behind the act. We also learnt that one K Naveen and few others were directly involved in damaging the CCTV camera's. They have placed the container in plot no D 62 and D 73 along with placing a sign board saying the land belongs to Begari Bollam Siddiah in Survey no 106 & 109".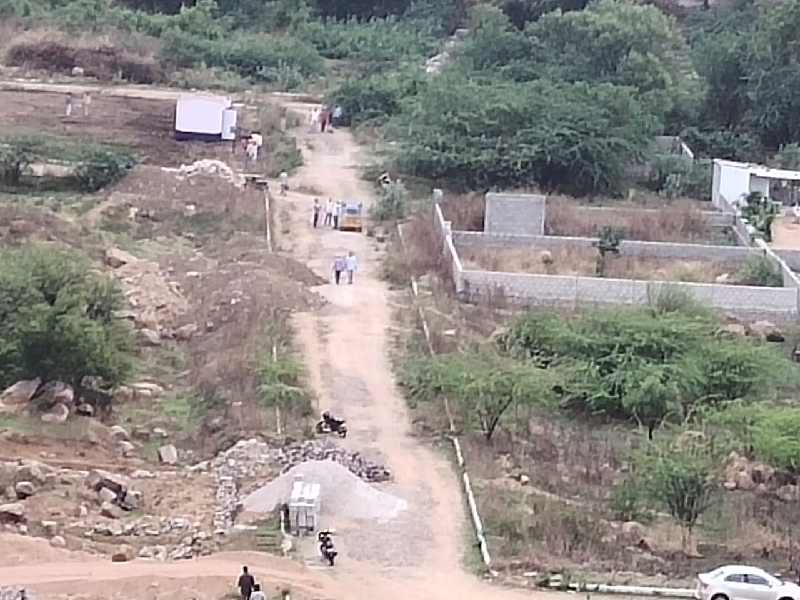 The approved layout was formed and plots were purchased between 2003 and 2009.Since then the plot owners physically possessed the land. Kiran explained, " In 2002, Ms. S Eshwari amma holding tenants rights , sold the land to one Venkateshwar Rao and Ravindranath Reddy. The duo developed the layout and sold the plots between 2005 and 2008, the land prices currently vary between Rs 60 and 100 Crores. In 2016, one Begari Bollam Siddiah enters the scene with two orders given by the Revenue district officer, dismissing the tenant rights given to Eshwari Amma. Following this, the joint collector directed the RDO to conduct a survey and include their names in the records".
It is to note when the plot owners are in possession of the land, notices should be given prior to conducting a survey . " Against the survey ordered, the plot owners approached the High court , an interim stay order was passed".
He further added "The attempt to grab land happened even after the plot owners obtained a stay over from the High court. The HC had suspended the orders of RDO Rajendra Nagar with regard to the same survey nos. Top brass of the Telangana government is said to be behind the attempt, we are awaiting for the investigation to complete ".
In the complaint filed before the Narsingi Police, the RWA complained that the land grabbers are blocking plot owners from constructing a compound wall particularly in the D-block of the layout.