Electricians turned dacoits who gave Cyberabad police a run arrested, materials worth Rs. 55L seized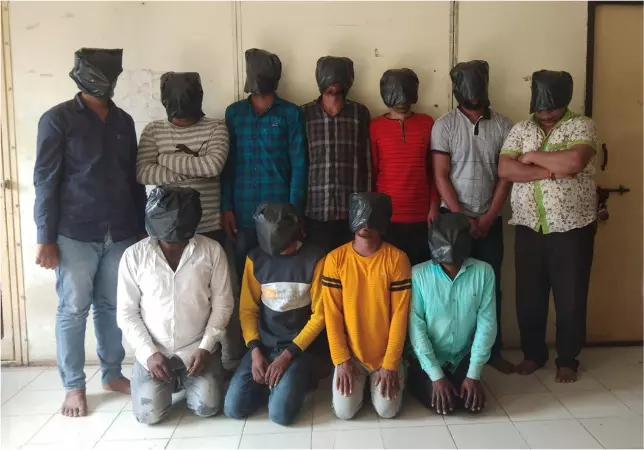 Hyderabad: Nine dacoits who had committed a series of dacoities and property offences in the limits of Cyberabad commissionerate were arrested and stolen goods and firearms worth Rs. 55 lakhs seized from them.
On the night of 12 January, the Dundigal police, assisted by the Cyberabad team and police officers from Medchal, SOT Balanagar, and SOT Shamshabad stations arrested the nine accused. Two persons who received the stolen goods were also arrested.

The arrested persons have been identified as Pradeep Kushwaha (27), Kuldeep (23), Madhav (29), Dharmender Singh (32), Nihal Singh (22), Shailendra Singh (22), Sanjay (21), Dharmendra Kumar (26), Satybhan Singh (23), Manish Kumar (25), and Govula Vijay Kumar (35). Six of them are from Rajasthan, four from Agra, Uttar Pradesh, while one of them is from Ranga Reddy district.

According to the police, all of the accused work as electricians. They had earlier worked in Delhi where they got acquainted with each other. In 2019, they came to Hyderabad to work in newly-constructed buildings. They used to steal materials from the work sites and in June had stolen wire bundles from DE Company and sold them. They had then returned to their native places.

On 6 January, on the instructions of the gang leader, Pradeep Kushwaha, the gang members returned to Hyderabad. According to their plan, they conducted recce of nearby areas like Shankerpally, Mokila, Kondakal, Narsing, Mallampet, and RC Puram under the guise of looking for employment at construction sites. Later, at night, they returned to the construction sites with pistols, sticks, and ropes. They threatened the security guards, tie them with ropes, and stole materials. Then they sold the stolen goods to electrical shops and scrap dealers in Kondapur.

On 10 January, Rangappagari Kumar Goud (22) who worked as a security guard at Praneeth Pranav Leaf villas in Mallampet filed a complaint claiming that in the intervening night of 9 and 10 January he had found security guards Pavan Kumar and Anand tied up with ropes. Unknown persons had assaulted the guards and stolen materials worth Rs. 24 Lakhs. The complainant further stated that he could identify the accused persons. A case was registered at Dundigal police station.

On Wednesday, the police arrested nine persons involved in the dacoity and two who had received the stolen goods.