Eluru mystery disease: Doctors worried as discharged patients again suffer seizure attacks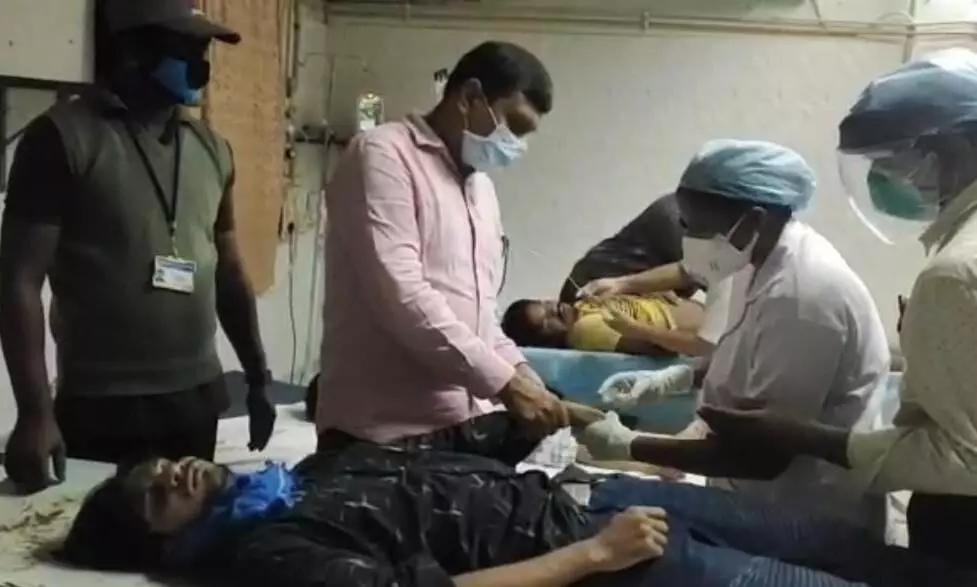 Vijayawada: Six more persons were readmitted to the Eluru Government Hospital after they suffered another seizure attack at home.Earlier, they were discharged after treatment from the hospital on Monday. However, they were rushed back to the hospital after they suffered another seizure attack. They are currently under observation.
The mystery disease has affected over 500 people since Saturday evening. Most of them have symptoms of seizures and loss of consciousness. The recovery was also quick with most of them discharged from the hospital in a couple of hours. At present 99 people were undergoing treatment in Eluru and Vijayawada.
From Tuesday evening till Wednesday morning, the hospital received just four patients, of whom two had seizures and two complained of giddiness. About 40 people are undergoing treatment and they would be discharged by afternoon.

The preliminary report by the All India Institute of Medical Sciences (AIIMS), New Delhi, has found traces of heavy metals like lead and nickel in the blood samples of some of the patients. Officials said scientists have been asked to track the source of contamination of drinking water if any.

Health Minister A K Krishna Srinivas said Eluru receives drinking water from two canals and officials will find out if there is any contamination at any point.

What has been done so far?

62 medical teams deployed, all residents being monitored real-time

25 ambulances deployed in Eluru

-2 rounds of household surveys concluded

No abnormalities found in the water samples or air, i.e, no traces of lead or pesticides found.

Vegetables, fruits, soil, and all other probable sources being examined.

Traces of Lead and Nickel found in 25 blood samples out of 45 analyzed by AIIMS Delhi

Lead, pesticides along with other probable sources being looked at.

While lead and pesticides continue to be concentrated upon, investigations pertaining to other pathogens are also being carried out.

Mass Convulsions and the subsequent decrease of lead content in the blood of patients after being admitted indicate that this is a case of acute exposure and not chronic exposure. This basically means that at this point in time it seems like a 1-time spurt.

What we know about the illness

1. It is not communicable in nature.

2. It is mild in nature.

3. There is only a single episode of epileptic seizure and revised episodes have not been observed in most of the cases.

4. The event is not limited to the Eluru Municipal area and cases have been reported from Eluru rural Mandal and Denduluru Mandal also, where the source of water supply is not through Municipal Corporation.

5. 1-2 members of a family are affected.

6. Few houses in a locality are affected.

7. No Age group is found to be more prone.

8. People consuming Mineral water on a regular basis have also been affected.