`Home they brought warrior dead': Chittoor resident Lance Naik Sai Teja among 13 slain in chopper crash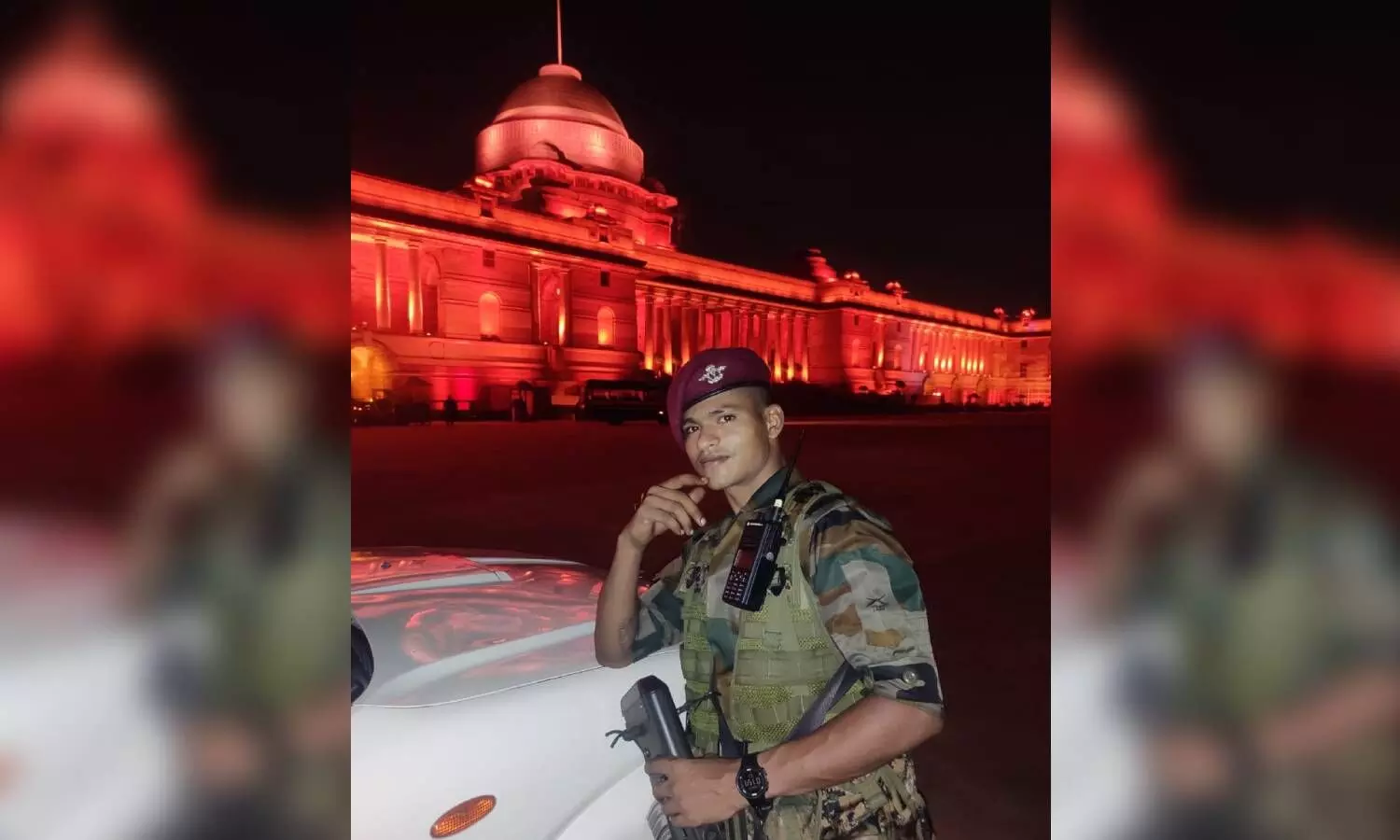 Chittoor: Lance Naik Sai Teja, serving as Personal Security Officer (PSO) to Chief of Defence Staff General Bipin Rawat died was among 13 people killed in the helicopter crash at Coonoor in Tamil Nadu. The aircraft was on its way from Sulur IAF base in Coimbatore to Defence Staff College in Wellington.
Hailing from Yeguva Ragada-Chittoor district of Andhra Pradesh, Sai Teja, 27, is survived by a wife and 2 children. His brother is also in the Indian army. His parents are farmers at Madanapalle- Kuru Bala Kota In Chittoor district. Naik Sai Teja joined in the Indian Army in 2012.
In an official statement Andhra Pradesh Police told NewsMeter, "Lance Naik Sai Teja, belongs to Regada village of Kurabalakota Mandal. He joined the Indian army as sepoy in 2012. He was survived by his parents, who are agriculturists, wife and 2 children ( boy and girl of 4years and 2 years respectively). He joined as SPO to General Rawat about 7 months back. He belongs to Kuraba by community. His brother Mahesh Babu is a serving soldier and is working in Himachal Pradesh". The family has received the confirmation and further details about arrival of the mortal remains are awaited. We are in touch with the district administration and family members as well. Superintendent of Police Chittoor has deployed a team at his house.

Indian Air Force has issued a list of names of General Rawat's staff who were also on-board the crashed chopper. Apart from CDS General Rawat and his wife Madhulika Rawat, Brigadier LS Lidder, Lieutenant Colonel Harjinder Singh, Naik Gursewak Singh, Naik Jitendra Kumar, Lance NaikVivek Kumar, L/NK B Sai Teja, and Hav Satpal are among those on board the aircraft. The IAF has ordered an inquiry into the accident.
"With deep regret, it has now been ascertained that Gen Bipin Rawat, Mrs. Madhulika Rawat, and 11 other persons on board have died in the unfortunate accident," tweeted Indian Air Force. CDS Bipin Rawat was en route to give a lecture at Defence Service Staff College in Wellington at 2:45 pm.
While a court of inquiry has been ordered, the government is likely to make a statement in Parliament on Thursday on the crash of the IAF's Mi-17V5 helicopter carrying CDS Rawat, his wife, and other military personnel.