Hyd private schools demand Rs 1L donation from new entrants towards 'COVID loss', parents aghast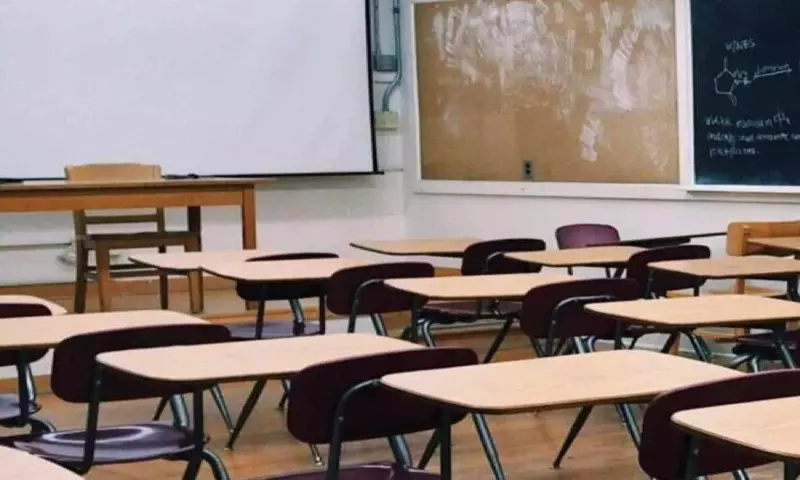 Hyderabad: Some private schools in Hyderabad are forcing parents to shell-out Rs 1 lakh for new admissions towards donation citing COVID loss. Parents are being asked to make cash payments and not given receipts. Schools say the money will help them recoup the losses suffered due to COVID pandemic.
This has come as a shock to many parents who are desperate to admit their kids in schools. NewsMeter spoke to parents who faced this unpleasant situation.
"We were looking for schools around Uppal, LB Nagar, Ramanthapur, Habsiguda, and Secunderabad area for our two kids (one in LKG and another 6th standard). When I visited a school in Uppal, I came across an unpleasant situation. We were taken back when the school counselor told us to pay Rs 2000 each for assessing our two children. Since the elder one was to be admitted in 6th grade, we paid through Gpay," said a parent.

However, he refused to pay the fee for assessing the second child. "What kind of assessment they wanted to do for a kid who is yet to go to school. The biggest surprise was when the counselor told us to pay additional Rs 1 lakh in cash apart from regular fees. She even said that they would not give any receipt," he said.

The parent said post-assessment, they were taken to the Principal's room for discussing studying methodologies and school facilities, etc. "Before we left, we were told that in case we agree to admit our kids, we need to pay the first installment, book fees, and registration fees. It was over and above Rs 1 lakh per child," he said.
The parent said they were repeatedly called by the school to pay the fee. "Finally one day, I told them why there is no transparency and declined the offer. Immediately I got a call from the principal asking for the reason. I made it very clear that the campus and facilities are good but not the fee structure. I was very particular about the additional Rs one lakh and hung up," he said.

Tabitha (name changed), another parent said they were scouting for a school when they encountered an unpleasant situation. "We met the management of Silver Oaks International School at Bachupally. The lady at the desk while explaining the fee structure told us that new entrants have to pay Rs 1 lakh in cash. This is besides the tuition fee and transport charges. The donation is irrespective of any class, when asked the lady cited COVID pandemic loss. When we walked out of the room, I overheard other parents complaining about the same. If the schools have suffered loss, the parents are equally hit by the pandemic" she said.

Activist Vijay Gopal said collecting donations is strictly prohibited under section 32 of the right to education Act. "Earlier, Hyderabad police filed FIRs against four schools. Unless parents speak out, this menace will not end. I will move to court if the parents are ready to support me. Secondly, I request parents to go ahead with the admission. I assure them that they will get their money back in a few months. Further, parents need to know that no school can threaten children of action in the name of transfer certificate," he said.
NewsMeter reached out to the district officer for school education, but the response is awaited.