Telangana sets new record, becomes 2nd state to administer highest jabs of COVID vaccines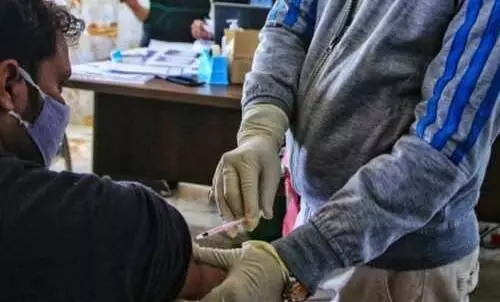 Hyderabad: Telangana has become the second state in the country to administer highest number of COVID vaccines to health workers.Around 69,625 health care workers have been vaccinated in the state since January 16. Only Karnataka is ahead of Telangana in vaccinating 80,686 healthcare workers.
The central government has praised Telangana Medical Health Department for effectively managing the vaccination programme.
On January 19, around 894 sessions were conducted in the state in which 51,997 people were vaccinated.Around 71 percent of the beneficiaries have been vaccinated in the state in the first four days.

Telangana reported 51 cases of adverse effects following immunization (AEFI) on January 19. Of whom three required hospitalization and are stable.On the first day, 3962 (92%) people were vaccinated in 140 centers and 11 were found with AEFI. On January 18, 13665 (80%) people were vaccinated in 335 centers and 15 people were developed AEFI symptoms.
To start with, only 30 beneficiaries were given the vaccine per session. It was increased to 100 beneficiaries per session on January 19.The state has also announced that on January 20, no COVID vaccination will be conducted in the state. It will resume on Thursday.
In the country, around 1,77,368 beneficiaries were vaccinated till January 19. The cumulative number of healthcare workers vaccinated against COVID19 has touched 6,31,417 (till 6 pm on Tuesday) through 11,660 sessions, as per the provisional report.
Around 3,800 sessions were held since the start of COVID vaccination drive in the country on January 16. A total of nine beneficiaries, who developed AEFI, required hospitalization.
In Andhra Pradesh, a total of 58,495 healthcare workers have been vaccinated till January 19.