There should not be change in language behavior: KCR advises Mayor Vijaya Laxmi and deputy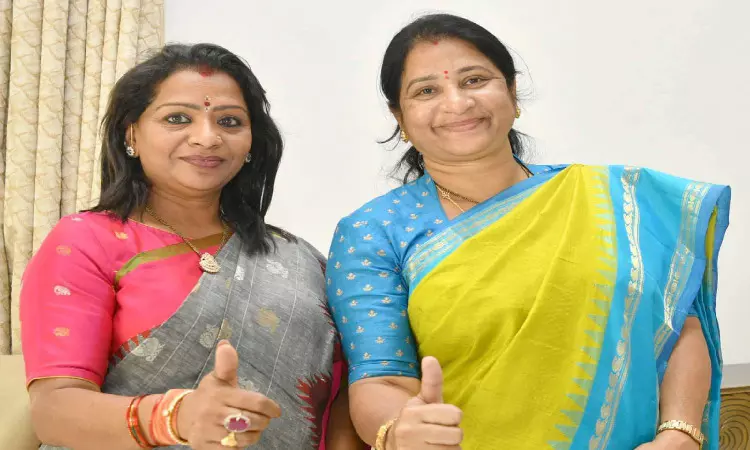 Hyderabad: The first stop of the newly elected Hyderabad Mayor and her deputy was at Telangana Chief Minister K Chandrashekar Rao's residence.

Mayor Gadwal Vijaya Laxmi representing Banjara Hills division and her Deputy Mothe Srilatha Reddy from Tarnaka ward, were elected with high majority and by the support of the AIMIM Corporators.

CM KCR asked them to enhance the image of Hyderabad. "Among crores of the people, only a handful get the chance to become public representatives. But, what is more important is, how to utilise the opportunity .These are the times where even if you are good, charges are levelled against you. If you give even a small chance, you will get a bad name. Hence, act with caution," the CM advised.

Patience, composure and simplicity were the three words of advice to the newly elected. "There should not be any change in the attire, language or behaviour. If you indulge in unnecessary and irrelevant talk there is no gain but you may land yourself up in trouble. Hence speak carefully. Don't discriminate against people who come to you on the basis of their caste or religion. Comfort them and take care of them. Give them the due respect. Help them as much as possible. Don't tell lies. Make a committed effort to solve the problems," the CM said.

Quoting a song, he asked the two to listen to Goreti Venkanna's song, 'Galli Chinnadi Garibolla Katha Peddadi (street is narrow but the problem of poor is big).'

The state head reiterated that Hyderabad is the only place where one find Sindhi Colony, Gujarati Galli, Parsi Gutta. The City is also a home to Bengalis, Malayalees, Maharashtrians, Marwaris, and Kayasthas. "Hyderabad is like Mini India and the future of it lies on the newly elected Corporators and Mayors" KCR added and advised them to visit the slums and give ear to the poor.