Minors killed Bandlaguda man after theft went wrong; body found in suicide at PVNR Expressway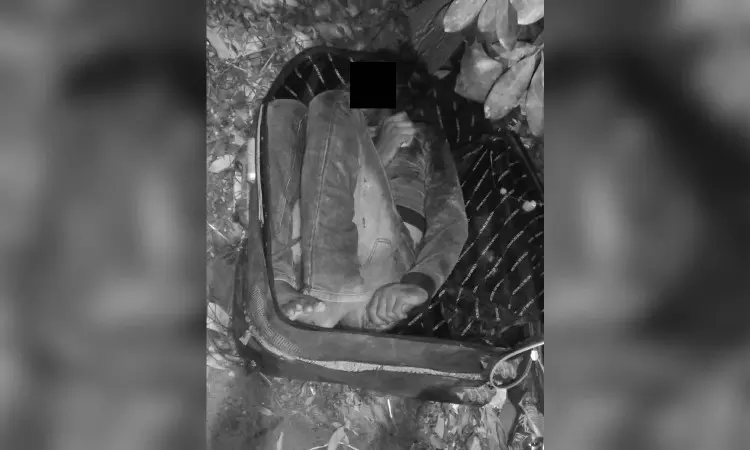 Hyderabad: The Cyberabad Police arrested two persons, both minors, on Monday, in the sensational murder case where a body was found stuffed in a suitcase at pillar no 222 PVNR Expressway at Rajendranagar. The deceased was identified as Mohammed Riyaz. The deceased and the accused were inhabitants of Ghouse Nagar, Bandlaguda, Chandrayangutta. Three other accused - Sohail, Irfan and Tayyaba, mother of Irfan - are said to be absconding.
The police said that the deceased and the accused were auto drivers by profession and were friends. They used to consume alcohol regularly and in that inebriated state used to quarrel with each other.

The accused planned to kill Mohammed Riyaz after an attempt to commit theft went wrong. The others were supposed to pay Riyaz for the operation but when that did not materialise Riyaz verbally abused them, which became the point of incitement for others to kill Riyaz.

So as per their plan, the accused, went to Sohail's house where a quarrel broke out regarding the money. One of the accused picked up a boulder and brought it down on Riyaz's head causing severe injuries. He was also beaten up with a stick and he died on the spot. After committing the offense, they packed the body in a suitcase and cleaned the house. Later, the accused took the body in a suitcase, along with the blood-stained boulder, sticks, and blankets, in Riyaz's auto and went to an open place near Pahadi Shareef where they threw the evidence away. Later, they took the suitcase and dumped it near pillar No. 222 at Rajendranagar beside a public toilet.

In the course of the investigation, the police apprehended the accused and during interrogation, they confessed to the crime. The boulders, sticks, and blankets used at the scene of the crime were also recovered.