Touch me not: Facing starvation, sex workers in Hyd resume work with masks, gloves, and added stigmas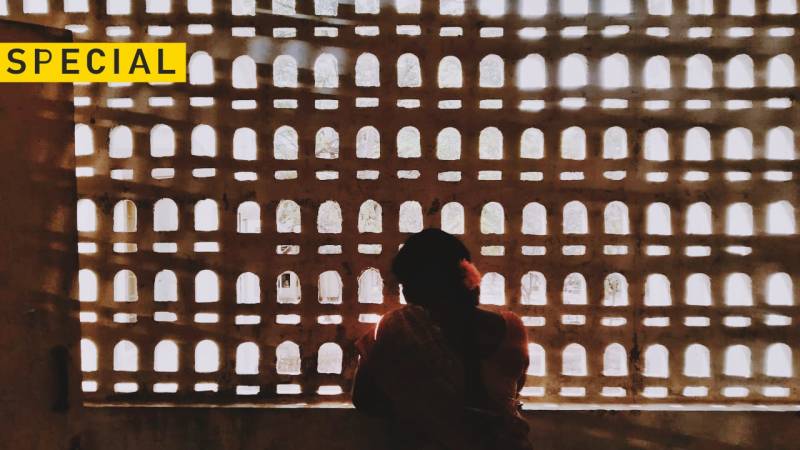 Hyderabad: Twenty-five-year-old Sama is aggravated by the low network bars on her phone, mostly because her one-bedroom house in Markaz street is too camouflaged for even the highest mobile network towers. The network bars, ever since the pandemic induced lockdown in March, escalate between two to three, which is similar to the number of clients she has been able to get ever since.
A sex worker by profession, Sama is what they call a street-based sex worker, who heads out to the junctions of Dabeerpura, Charminar, and Rhythu Bazar to scout for business. She has been in the profession ever since her divorce a few years ago, mostly to fulfill the demands of her three middle-school children.
The scant network bars in her runted 3G phone have hit her children harder, as they are now unable to participate in online classes.
With almost zero income, Sama is unable to keep up with the physical, social, and technological changes around her. Unable to give her children much-needed education and surviving on dry ration, Sama is one of the many sex workers disgruntled by the Covid-19 pandemic because they went out of the business. Their work is centered around touch and that is not possible under social distancing norms.
The devil of hunger
The open streets Sama was used to were barricaded when the central government declared a nationwide lockdown on March 24. Her clients, which dwindled between five to ten on a good day, came down to zero overnight, leaving her without any source of income.
Ameen, Mariyam, Ramdani Devi, Swaroopa, and several other Hyderabad based sex workers have the same stories to tell. Hunger for food overshadowed the hunger for freedom to work.
It was only through aid from NGOs that these women were able to survive the first few weeks. One such Falaknuma based NGO, Leprosy Control and Health Society (LCHS), actively organized ration distribution drives for close to 600 women associated with them. Speaking to Newsmeter, D Meena, Project Manager at the NGO said, "Post March, we soon realized the trouble they were experiencing in accessing food grains and rations, especially the ones who do not own a ration card. With the help of other organizations such as Adlife, Al-Saba, and Kasturba Gandhi Trust, we provided them with a few kilos of dry ration once every few weeks."
Meena further added that they also conducted drives to send rations to the home-based sex workers.
While most women associated with LCHS have ration cards, they faced difficulty in accessing food grains. Those with Jan Dhan Accounts also received 500 rupees from the government.
However, Ameen, who actively works in the Charminar area, added that this was close to nothing. "Expecting us to survive in today's world with mere 500 rupees or such low amounts of the ration is nothing short of blasphemy. We can only cook dry ration if we have the money to refill cylinders. More so, most of us have children to feed. Distributing 5 kilos of rice among three people (her and her children) and making it to last a month is expecting a little too much from us," she said.
Economic hit and the stigma of business
A business based on touch in a world restricted of touch received its due amount of flak. As Priyanka Tripathi and Chhandita Das write in Economic and Political Weekly, this business of touch will receive a combined impact of patriarchy, poverty, and social discrimination after (and during) the Covid-19 pandemic.
The social stigma of touch rendered these women jobless as the lockdown came into existence. Refusal from clients became a driving force of mental depression and hopelessness for many women. "We continuously tried to contact our regular clients, as they were the only ones we had faith in us. If not the police, the fear of getting infected hindered us from working with new clients. But the older ones only called back scantly," said Ramdani Devi, a home-based sex worker at Gachibowli.
Much like the others, Ramdani Devi's income has now reduced to 1/4th of what she was able to earn in February. She further added that even now she does not want to engage with new clients as she is worried about her children contracting the virus.
President of the All India Network of Sex Workers (AINSW), Kusum Naagar, said that migrant laborers were regular clients of sex workers. "However, when the pandemic hit and reverse migration began, a good amount of their customers went back home," she said.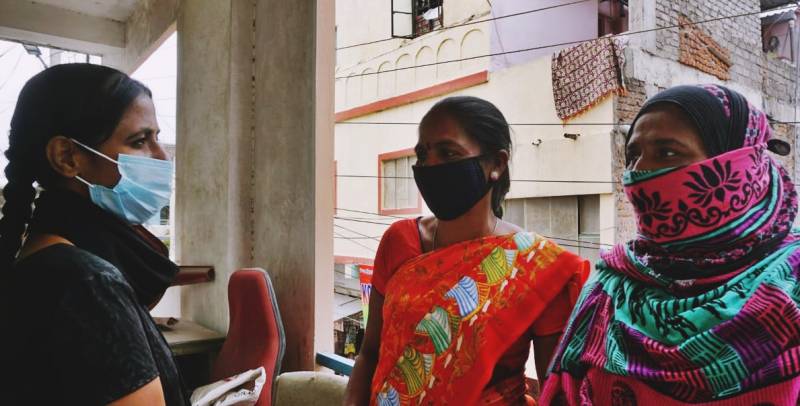 Sama, Ramdani Devi, and Meena
Impact on health
During the two months of stringent lockdown, officials at the LCHS were unable to conduct the regular health checkups of the sex workers associated with them. "Once every three months, we conduct a viral load test to check the presence of HIV among women. However, the usual hospital we go to refused due to a large number of COVID-19 cases," Meena said.
Kusum added that this was the case nationally. A few sex workers added that they underwent several ailments during the lockdown, some resembling COVID as well.
Speaking on the relationship between HIV and COVID, sexual health experts based in Hyderabad, Dr. Anusha Pilli said, "While the areas that these two ailments affect are different, HIV compromises the pre-existent immunity in a person. As we know, COVID-19 increases the risk of fatality in a person undergoing co-morbidity."
LCHS also lost one sex worker associated with them to COVID. However, after a gradual opening up of the city, they were able to take the sex workers to a local government-run health center for check-ups. As LCHS is connected with the Telangana State Aids Control Society (TSACS) and National Aids Control Organisation, they also received aid from them.
Officials at TSACS said after a brief suspension, they were able to provide HIV tests, condoms, and other health-based requirements to NGOs associated with them.
Behavioral change post the pandemic
Through LCHS, and several organizations that work to ensure behavioral change amongst sex workers, many in the city have adapted to newer ways of functioning.
"Due to a very real threat of the virus, we now make sure to get temperature checks before we proceed to engage with our client. During the act, we wear masks and gloves, and try to limit touch," Ameena said.
However, Kusum added that hysteria of COVID had also seeped in a few sex workers. "We received calls from several states where women were sanitizing their entire bodies to make sure they didn't get the virus. Since the kind of sanitizer usually available in hotels and brothels is cheap, it can have a potentially harmful impact on their skin. However, we informed them that it is better to rinse themselves with soap, rather than using a chemical on their skin," she said.
Asma further added that as long as the danger of the virus remains, she will continue to engage with trusted clients only. "I work to earn money for my children and provide them a safe life, as long as possible. I will try not to put myself in a situation wherein my children face the risk of infection," she added.
This story has been published as part of the Internews Information Saves Lives: Rapid Response Fund project to NewsMeter.
Also read: From a provincial capital to a modern metropolis, how 1908 Musi floods changed Hyderabad