Fact Check: TTD did NOT send irrelevant religious publicity material with Saptagiri to subscribers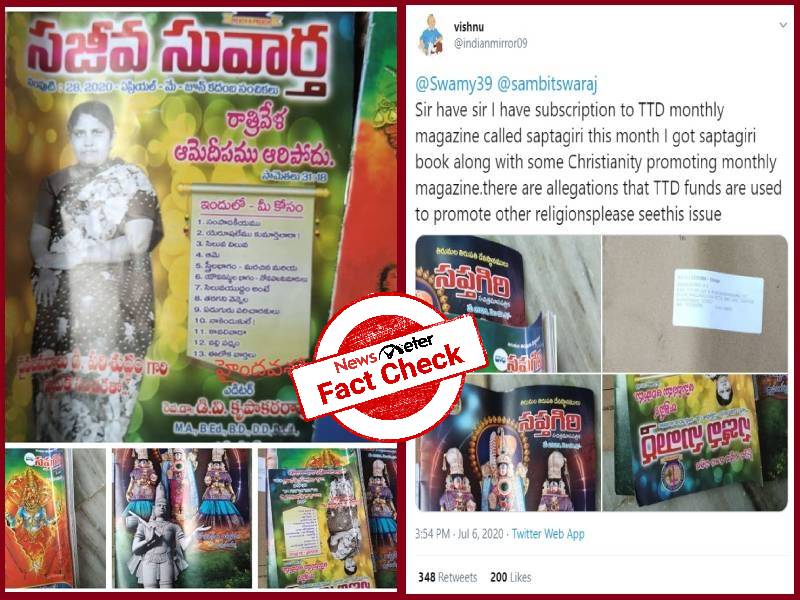 Hyderabad: Being a prestigious temple trust in Andhra Pradesh, Tirumala Tirupati Devasthanams in Tirumala is mired in controversies. Recently, distribution of booklets belonging to other religions inserted in the TTD official monthly magazine, Sapthagiri, to devotees of Guntur has kicked up another controversy in the name of TTD.
Many have shared pictures of the magazine, Saptagiri, and also other magazine named, Sajiva Suvartha. According to the viral claims, personnel belonging to another religion working in the TTD have planted these books on purpose.
This claim has been shared many times on Facebook.
The subscribers of Saptagiri magazine who got the booklets promoting another religion have also shared the pictures of the magazines stating "Sir, I have a subscription to TTD monthly magazine Saptagiri. This month, I got Saptagiri book along with a booklet promoting Christianity. There are allegations that the TTD funds were used to promote other religions. Please see this issue.
Others also commented that "Is it true that TTD gives Saptagiri monthly to post office and they paste addresses and send by Book Post? TTD pays Rs 1.05/issue in addition to postal charges? Insertion of Xtian magazine would well have taken place in PO. Please clarify @yvsubbareddymp"
Fact Check:
The claim that TTD sent irrelevant religious publicity material with Saptagiri to subscribers is FALSE.
When observed the address on the envelope shared by the user, we can see that the subscriber lives in Guntur. When searched other posts, no address could be found.
According to the reports published, after this incident came to light, Saptagiri magazine in-charge, Chief Editor Rajagopalan, stated that there was no scope for packing any print material other than Saptagiri in the office. After the printing of the magazine, the staff hand over the copies of Saptagiri and Bala Saptagiri and the envelopes (separately) to the postal staff who place the magazine in the envelope and send the parcels in their mail van to the head post office from where the devotional monthly is dispatched by post to the subscribers.
https://www.thehansindia.com/andhra-pradesh/row-over-supply-of-other-religious-material-along-with-sapthagiri-ttd-denies-any-role-632178
According to them, the issue seems to be pertaining to Guntur district alone and subscribers from other places did not receive any such magazines. The TTD staff even made random phone calls to some subscribers to find out if they too had received such irrelevant religious publicity material, but fortunately, there was a negative response. Though it was believed to be a solitary incident, the officials lodged a police complaint as it involved the institution's reputation.
https://www.thehindu.com/news/national/andhra-pradesh/ttd-takes-serious-view-of-propaganda-against-it/article32006550.ece
https://www.sakshi.com/video/news/ttd-sapthagiri-magazine-controversy-1299770
Hence, the claim that the Tirumala Tirupati Devasthanams has sent irrelevant religious publicity material along with Saptagiri magazine with malicious intentions is FALSE. This was a solitary incident done intentionally by some miscreants to degrade the TTD's reputation.
Claim Review :
TTD send irrelevant religious publicity material with Saptagiri to subscribers
Claimed By :
Social Media Users