Fact Check: Tweets with a Chinese name apologising for Galwan valley face-off are parody accounts
A tweet apparently from Chinese girls apologizing to the Indians for the Galwan Valley war has been shared by Facebook page named Hindoo Go Seva Samithi, claiming that the tweet was real. The tweet read that "Chinese people were sharing that 180 Chinese soldiers were killed, including 3 commanders. China is a fascist country, China doesn't care for its citizens, every Chinese knows that Galwan Valley is Indian territory, Xinping just wants to fool us in the name of nationalism."
/p>
It was shared by others too.
Another tweet is in circulation with the name of Mo Chou Hong Kong. It states: "I am ashamed of being Chinese. Xi is a dictator. He only wants to rule. He never thinks about people. I am fighting for #FreeHongKong movement. Please support me in my fight against Chinese dictatorship."
Fact Check:
The above claims are FALSE. These Twitter accounts do not belong to Chinese girls.
When we checked the Twitter handle @wungchungbhonsda, the description of the handle says that 'If china can set a narrative then why we can't ? . parody .' This explanation shows that it is a PARODY account. Most of the tweets on this handle talk about India.
Another account named Mo Chou Hong Kong, whose handle is taken down by Twitter now had a picture of Chinese actress Shuang Zheng.
That handle seems to have changed the name to Mo Chou recently from @BeingSunanda2.
Along with these tweets, many other parody handles of Trump, Ivanka Trump, Shinzo Abe, Boris Johnson have come into light with the claim that they are lending support to India with the title 'Stand with India'.
I STAND WITH INDIA 🇮🇳 👍

? lvanka Trump (@lvankaaT)

<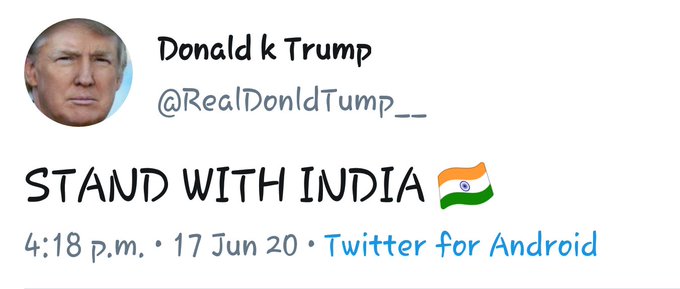 Both the accounts are parody accounts created by miscreants. So, the above claims are FALSE.
Claim Review :
Tweets with a Chinese name apologizing for Galwan valley face-off
Claimed By :
Social Media Users