Hyderabad: An Army officer and two soldiers were killed on 16 July during a violent face-off between Indian and Chinese soldiers in Ladakh's Galwan Valley. As the whole country mourns the death of the bravehearts, many videos allegedly showing the standoff between the two countries have gone viral on social media.
Another video viral in WhatsApp:
[video width="398" height="224" mp4="https://newsmeter.in/wp-content/uploads/2020/06/WhatsApp-Video-2020-06-18-at-07.22.54.mp4"][/video]
Fact Check:
The videos are NOT from the recent standoff between India and China.
NewsMeter extracted keyframes from the video and did a Google reverse image search. We found that the videos have been on the Internet for more than three years.
The first video is from a border scuffle between Indian and Chinese troops at the Pangong Tso lake in Ladakh that took place on 19 August 2017.
https://www.hindustantimes.com/india-news/did-indian-chinese-soldiers-pelt-stones-at-each-other-in-ladakh-on-aug-15-video-surfaces/story-7gg9kLGoXYgMaSPYi7SPFJ.html
https://www.indiatoday.in/india/story/video-shows-india-china-clash-pangong-lake-ladakh-1030445-2017-08-20
https://theprint.in/report/visuals-show-india-china-clash-at-ladakh-was-serious-troops-injured/7015/
We also found other videos with the same visuals claiming to show the Pakistani army after Operation Walidad.
We searched using the keywords 'Pakistan army wounded Operation Walidad' and found several results from November 2011. A website, Military.com, had shared the video with a description that read, "Pakistan Army Eid in South Waziristan - Pakistani soldiers recovering after battling the Taliban. They don't look to be in great shape. Hopefully, the Taliban fighters look worse."
https://www.military.com/video/operations-and-strategy/afghanistan-conflict/pakistani-army-licks-wounds-from-taliban/1283760394001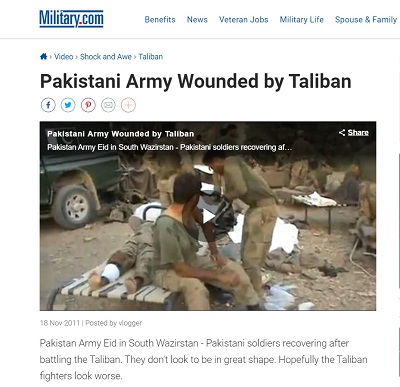 According to reports published in the Tribune and the Hindustan Times, on 20 June 2011, the Pakistan Army, Frontier Corps, and the Pakistan Air Force had launched a joint operation to evict terrorists from their stronghold of Walidad in Mohmand Agency. Three soldiers of the paramilitary Frontier Corps and 25 militants were killed during the operation.
https://tribune.com.pk/story/192120/checkpost-attack-7-killed-in-mohmand-agency/
https://www.hindustantimes.com/world/pak-military-operation-kills-25-taliban-men-four-soldiers/story-Arj2wyCTVOCq2JEzhP41hN.html
Hence, the claim that viral videos show the recent standoff between China and India is FALSE.
Claim Review :
Viral videos show recent standoff between China, India
Claimed By :
Social Media Users