Fact Check: Video claiming Pakistani cricketer Yasir Shah's death in Karachi flight crash is false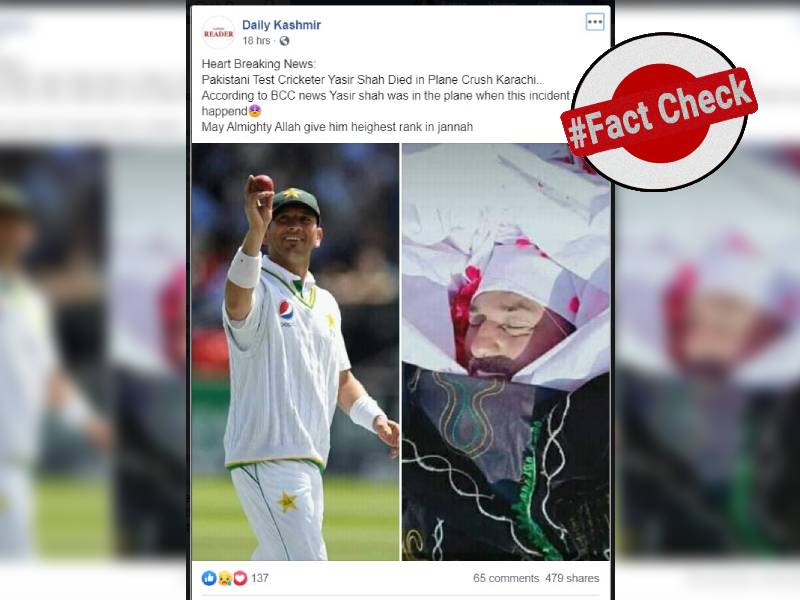 Pakistan International Airlines flight from Lahore to Karachi, with 91 passengers and eight crew members on board, crashed in a residential area near the Karachi airport on Friday, just a minute before landing. At least 97 passengers, out of 99 on board, are confirmed to have died in the crash.
News that Pakistani cricketer, Yasir Shah, was also killed in the crash is going viral on social media. Some photographs along with the claim "Heart Breaking News: Pakistani test cricketer Yasir Shah died in plane crash Karachi.. According to BCC News, Yasir Shah was in the plane when the incident happened. May Almighty Allah give him highest rank in Jannat"
This news has been shared virally in Twitter as well as Facebook.
Fact Check:
This claim is FALSE.
This viral claim is NOT confirmed by Pakistani officials till now. When the passenger list was checked for confirmation, we found that there is no name of Yasir Shah in the list.
https://www.dawn.com/news/1558947
According to a report published by a website named crictraker.com, looking at the death rumours surfacing on Twitter, Yasir Shah himself decided to clear the air. He took to his official Twitter handle and told his fans that he is safe at home and wasn't on the PIA flight travelling to Karachi. He also paid tribute to the people who lost their lives and expressed solidarity to their families during this tough time. However, he deleted the tweet soon after and is yet to come up with a new tweet.
"Tnx almighty God, I m safe in my home, and we will pray for all those we lost in plane crash may Allah give them Jannat Ul Firdos," the tweet read.
https://www.crictracker.com/rumours-of-yasir-shahs-death-in-plane-crash-surface-on-social-media-cricketer-himself-clarifies/
The reasons of the deletion of the tweet are unknown but the image of tweet by him is doing rounds in twitter.
Boom and Latestly published fact check articles reporting that the claim is false.
https://www.boomlive.in/fake-news/no-cricketer-yasir-shah-did-not-die-in-pakistan-plane-crash-8213
Even though the claim is viral on the social media, PCB is yet to respond.
Hence, the viral claim is FALSE and that being shared has a doctored image.
Claim Review :
Video claiming Pakistani cricketer Yasir Shahs death in Karachi flight crash
Claimed By :
Social Media Users