Fashion, Medtech, clean energy: 47 women entrepreneurs graduate from Telangana's We-Hub'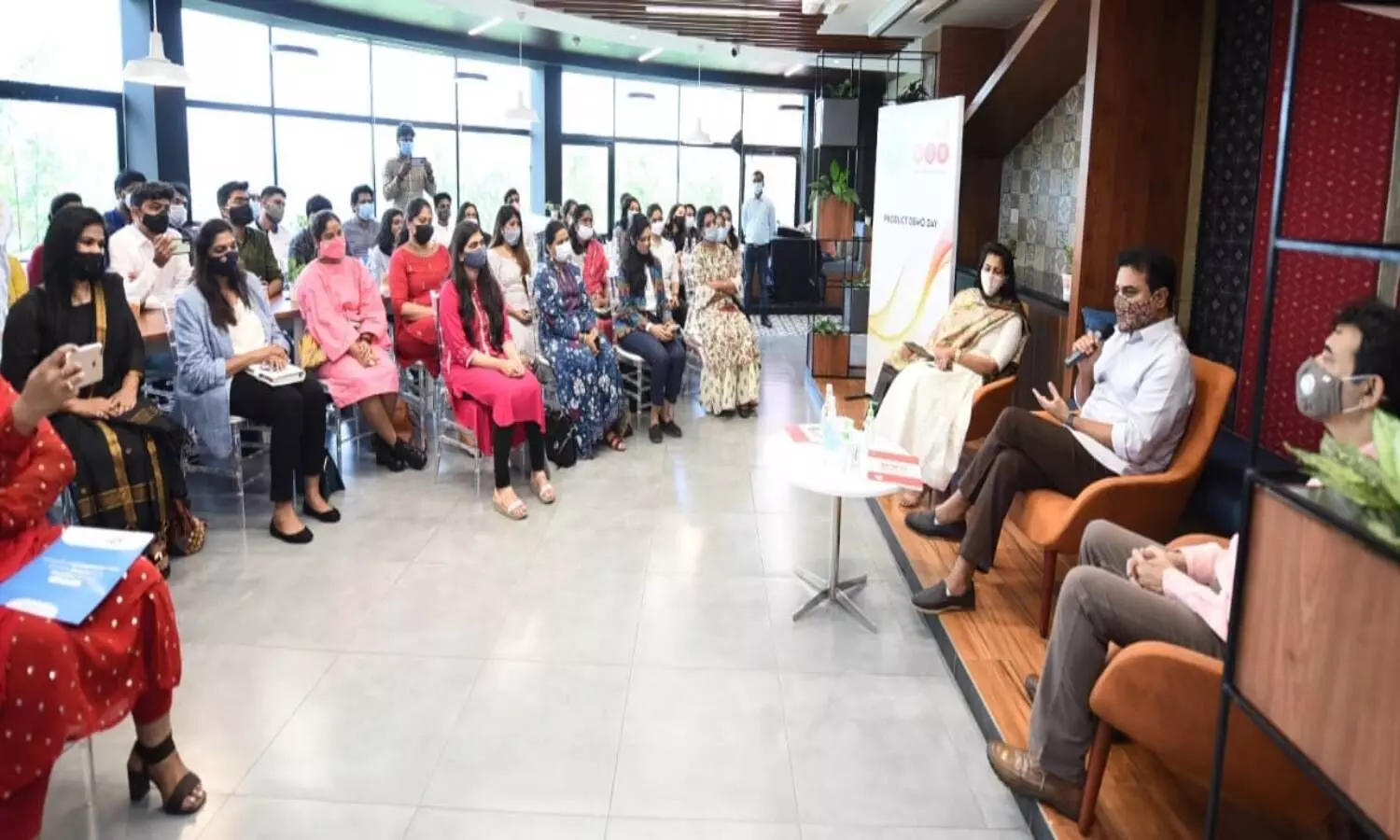 Hyderabad: Women power was in full display on Wednesday when 47 budding entrepreneurs graduated from the Telangana government-led `We-Hub.

From Medtech to fashion and from clean energy to EdTech, women-led startups completed their six months cohort with `WE Hub'.
"About 47 startups have successfully graduated from WE-Hub and have witnessed some interesting and astounding startup ideas. We Hub does not have Telangana or Hyderabad-based entrepreneurs only, but it has some startups from other states too. This is a testimony to the efforts being done at WE-Hub," said KT Rama Rao, IT Minister, Telangana.

KTR hoped that the first women-led unicorn will come from Hyderabad and especially from WE Hub.
He assured all help to connect the startups with the industry. He said the state government would be the first customer for startups incorporated in Telangana.
"The ability to dream big is what sets an entrepreneur apart from others. We now have an opportunity to come out with products for the 1.3 billion population of our country. You must take advantage of it," he said.
The women entrepreneurs graduated from five different programmes which include incubation second cohort. WDC Acceleration Cohort is a 4-month programme designed in partnership with Western Digital Corporation that focuses on investment readiness of the startups wherein 8 women-led startups graduated. Upsurge pre-incubation cohort is a 12-week programme wherein 10 startups graduated.
Principal Secretary Jayesh Ranjan, while congratulating the entrepreneurs, advised them to choose their line of activity, identify the existing need and pain points and find solutions to address those points.
Three new programmes:
WE Hub has launched three new programmes for students and tech-based startups.
Under Greater 50 percent, an initiative of FICCI FLO to provide mentoring and business development support for women entrepreneurs, WE Hub in association with the women's wing of FICCI will roll out a pre­incubation programme to incubate 100 aspiring women entrepreneurs and an incubation programme for 20 established startups across India.
WE Alpha seeks to serve as a springboard for girl students to take up entrepreneurship. WE Hub in collaboration with five technical educational institutions in Telangana has devised the programme to support 50 students.
WE Hub in a release said the girls in STEM programme is for aspiring women entrepreneurs looking for opportunities in the fields of data science, Artificial Intelligence (AI), and allied domains.
For the programme, WE Hub in collaboration with WiDS (Women in Data Science), Stanford University will run a cohort of 100 school students from Bengaluru, Jammu and Kashmir, Mumbai, Hyderabad, and Kerala.