Hyderabad: NewsMeter received a verification request for a WhatsApp forward which comprises an image of a burning cable car along with a claim that the accident occurred today at Mansa Devi temple in Haridwar.
The text translated from Telugu reads: "Fire broke out today in Jhula ropeway of Mansa Devi temple in Haridwar due to short circuit. It is heartbreaking that all the people inside the ropeway were burnt alive."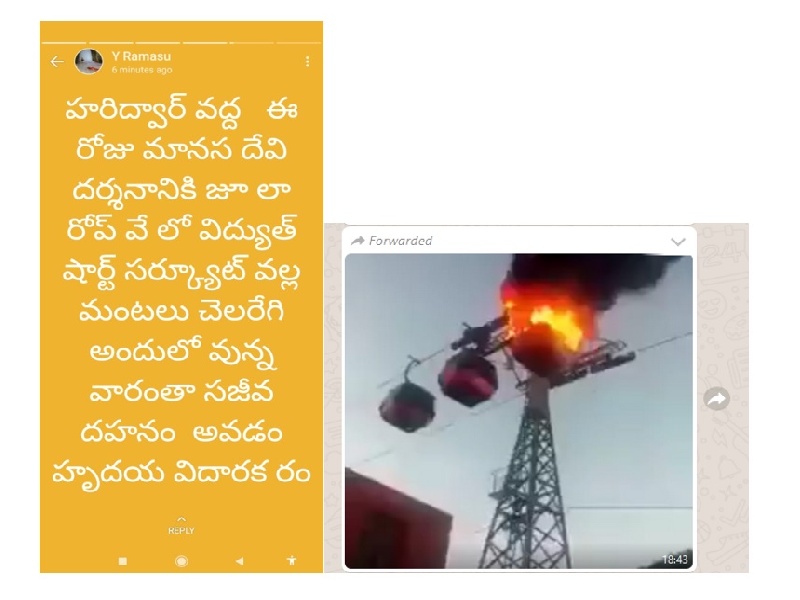 Fact check:
The claim is FALSE. The picture in WhatsApp forward is a screenshot from a video of a cable car fire accident that happened in Palestine in 2015.
Relevant keyword search hasn't resulted in any reports of such an incident. So we performed Reverse image search on Google which led us to a news report by Metro.uk published on March 9, 2015. The article features a video from which the screenshot was taken and identifies the incident as a cable car accident that happened in Palestine.
The article features the actual footage of the incident and states that this accident occurred while shooting a TV show called 'Abu-Sharik visits cable cars'.
"The blaze broke out after a production assistant on the program 'Abu-Sharik visits cable cars', used a firecracker without seeking permission. The firecracker caused the fire, sparking concerns that it would crash to the ground. In the video, passengers can be seen clambering onto the carriage behind to ensure their safety, while later images revealed that they were successfully pulled to safety," reads the article
This incident was also reported by the news website 'JerusalemOnline' headlined 'Horror in Jericho: Cable car caught on fire' on Mar 4, 2015.
With a keyword search of 'Jericho cable car fire' on YouTube Newsmeter came across an original video uploaded by a YouTube channel Ten News on Mar 12, 2015.
Interestingly the same false claim was viral in July last year and fact-checked by Alt News, Boomlive, and others.
So the image in WhatsApp forward claiming to be related to the fire accident of Jhula ropeway from Haridwar is FALSE.
Claim Review :
image of cable car fire accident is from Haridwar
Claimed By :
social media users