Fact Check: Story of Muslim man who adopted orphan sisters, married them off according to Hindu rituals is FALSE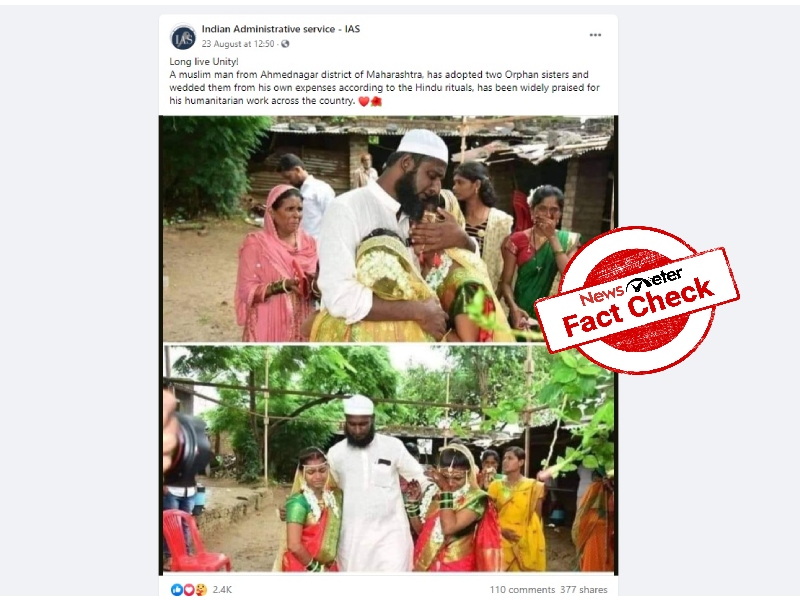 Hyderabad: A Twitter user shared the heart-warming photos and tweeted, "A Muslim man from Ahmednagar district of Maharashtra, has adopted two orphan sisters and wedded them from his own expenses according to the Hindu rituals. He has been widely praised for his humanitarian work across the country (sic)."
The photos went viral on Twitter and Facebook.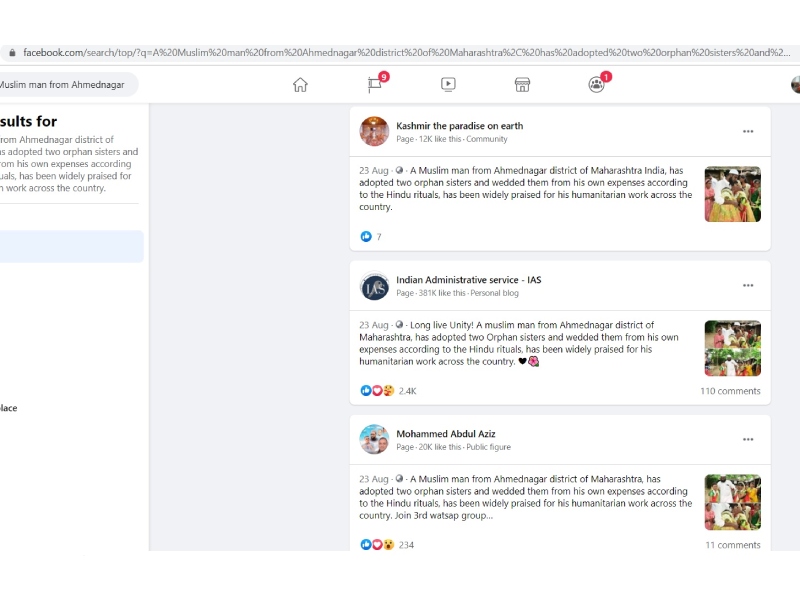 Fact Check:
The claim that 'Bababhai Pathan' from Ahmednagar in Maharashtra has adopted two orphan girls and married them off according to Hindu rituals is FALSE.
The two girls are Gauri and Savari and they are not orphans. The girls' family lives across the street from Bababhai Pathan's home and their mother thinks of him as her own brother.
Popular Marathi blogger Sameer Gaikwad shared this news first on Facebook. The post, when translated in English, reads, "The uncle's role was performed by Baba Bhai Pathan at the wedding of the Bhusare family's two daughters in Bodhegaon district Ahmednagar. The mother of the two girls ties rakhi to Baba Bhai every year because she doesn't have a brother. Baba Bhai Pathan played the role of the brother and the uncle (at the wedding)."
NewsMeter performed a Google reverse image search and found that the same news has been published on local websites. According to the Maharashtra Times, Savita Bhusari's husband left her and their two daughters several years ago. When the time came to get them married, Pathan stepped in and assumed the role of the uncle.
Zee 24 Taas also published a video, explaining the facts about the incident. In the video, we can see Savita explaining that since both her parents and brother are dead and there was no one to help her, Pathan stood behind her and performed her brother's duties.
This claim was also debunked by Opindia and boomlive.
Therefore, the claim that a Muslim man, Bababhai Pathan, adopted two orphan girls and got them married according to the Hindu rituals is FALSE.
Claim Review :
Story of Muslim man who adopted orphan sisters, married them off according to Hindu rituals
Claimed By :
social media users