FACT CHECK: Viral picture of people eating food off banana leaves is from Kerala, not New Zealand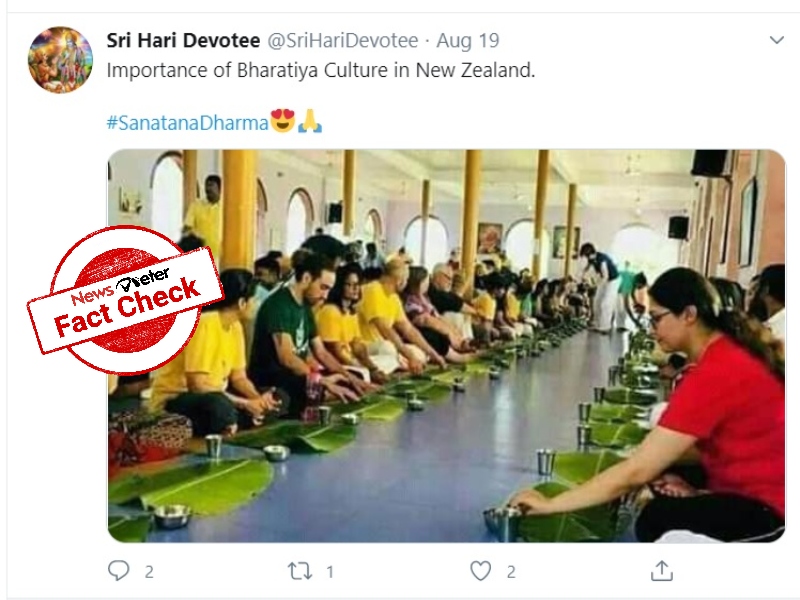 Hyderabad: A photo of people sitting on floor and eating food off banana leaves has been shared on social media. Users claim that this photo shows that Indian culture is becoming popular in New Zealand.
A twitter user posted the picture with the claim: "Importance of Bharatiya Culture in New Zealand #SanatanaDharma".
Click here to view archive
A user had shared it on a Facebook group,'Bharat Land of Gods' on August 19, 2020. He wrote that the image was from New Zealand.
FACT CHECK:
The claim is FALSE. NewsMeter performed a reverse image search and found a blog 'Happy Yoga Travels' where a similar image was displayed under the title "MY YOGA VACATION AT SIVANANDA ASHRAM IN KERALA, INDIA".
We then searched for Sivananda Ashram in Kerala and found its website. The Sivananda Yoga Vedanta Dhanwantari Ashram is a yoga ashram near Thiruvananthapuram, Kerala that is run by The International Sivananda Yoga Vedanta Centres.
A similar image of people sitting on a blue floor eating food off the banana leaves on the 'Yoga Vacation' page was found on the website. Below is a comparison of the viral image and the image from Sivananda Ashram Kerala. The yellow pillars, speakers, blue flooring, and window are extremely similar in both pictures which prove that the viral picture was taken in the Kerala Ashram.
A similar picture posted in Feb 2013 with all the same interior details was found on Trip Advisor which mentioned that the picture is of Sivananda Yoga Vedanta Dhanwantari Ashram, Trivandrum.
Therefore, it is clear that the claim of the picture being from New Zealand is false.
Claim Review :
Picture of people eating food off banana leaves is from New Zealand
Claimed By :
social media users