Hyderabad: As India celebrated its 74th Independence Day on 15 August 2020, photos of the national flag being hoisted in different parts of the country were widely circulated on social media. One of them was from Lal Chowk, Srinagar, where the national flag was seen atop the Ghanta Ghar.
BJP members Kapil Mishra, Kirron Kher, and Jamyang Namgyal were among many who posted the photo on social media. "Tiranga at Lal Chowk", read Mishra's tweet.
Many media organizations like News Nation and Dainik Jagran also posted the same photo. "At the Lal Chowk which used to witness terrible violence for hoisting the Tricolor, today our Tricolor waves with pride at the same Lal Chowk," read a report by the News Nation.
Archived claim can be found here.
Fact check :
The photo of the Tricolour hoisted at the Ghanta Ghar in Srinagar's Lal Chowk is FAKE.
NewsMeter performed a reverse image search and found an old picture from 2010. The national flag had been morphed into the old image. Mubasshir Mushtaq, a freelance journalist, had published the photo in 2010 in his blog. In a tweet, he told Kapil Mishra that he took the photograph on 22 June 2010.
NewsMeter confirmed that the same vehicle and signboards on the right and a man walking at the center can be seen in both the morphed and the original pictures, thus indicating that it is the same picture.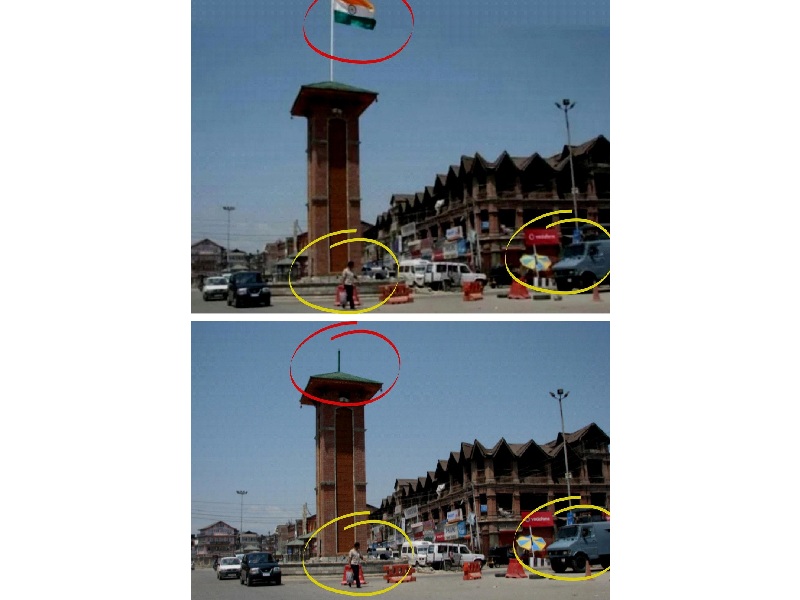 A comparison between the viral image and an image of Lal Chowk from 15 August 2020 shared by India Today's local correspondent also clearly shows that the viral image is not a recent photo. The image on the left is from 15 August 2020.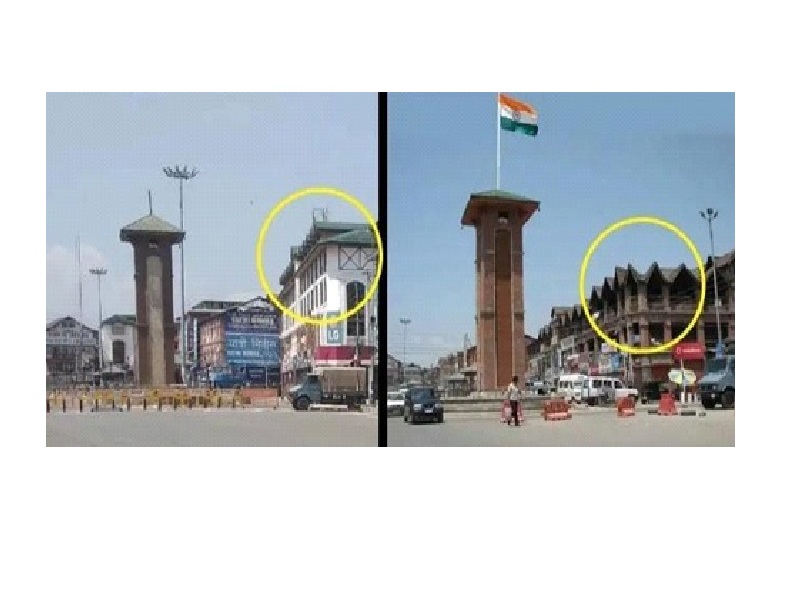 India Today's photojournalist in Srinagar, Tariq Ahmad Lone, confirmed that there was no flag hoisted at Lal Chowk on Independence Day this year. "I visited Lal Chowk today morning. There is no flag hoisted atop its clock tower. Complete restrictions are imposed in Srinagar and other parts of Kashmir valley today," Tariq said.
Hence, the viral image showing the Indian national flag flying atop Lal Chowk in Srinagar is FALSE.
Claim Review :
Image of Tricolour at Srinagars Lal Chowk
Claimed By :
social media users