Hyderabad: COVID-19 patients who have fully recovered are being encouraged to donate plasma to help other patients. The plasma must be collected from recovered patients only if they are eligible to donate blood. Hyderabad doctors have reported that plasma treatment has been successful in some patients.
Amidst this, a list of plasma donors has gone viral on WhatsApp. The list contains the phone numbers and blood type of more than 25 people who are willing to donate plasma for COVID treatment.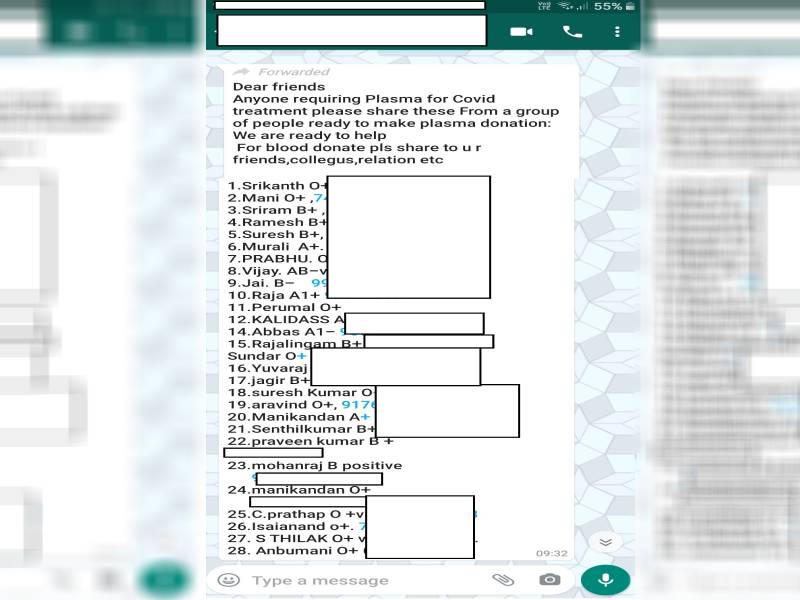 Fact Check:
The above claim is FALSE.
NewsMeter performed a search using some keywords and found a website, medium.com, that had the same list but was titled 'List of Blood Donors in Chennai'. The list was published in November 2017.
A Facebook page, Hyderabad blood donors, had also shared the list with some minor differences in February 2017. The list contained 62 phone numbers. However, there was no mention of plasma donors.
The same list with some additions was shared on a blog, https://chityala4u.blogspot.com/, in June 2017 showing details of blood donors.
When NewsMeter tried to contact the persons on the list, most of the numbers were no longer operational. Also, when we searched on Truecaller, most of the numbers listed showed Tamil Nadu as the location.
A fact-check article by Altnews.in published in June 2020 confirmed that it was a list of blood donors that was created four years ago.
According to several reports, plasma from a recovered COVID-19 patient can only be used to treat coronavirus. A normal person's plasma cannot be used as it will not contain COVID-19 antibodies.
Therefore, the list of plasma donors that is going viral on WhatsApp is, in fact, an old list of blood donors and is NOT related to the present COVID-19 pandemic.
Claim Review :
Viral list of plasma donors
Claimed By :
Social Media Users