Hyderabad: The rising number of COVID-19 cases has put a strain on the healthcare infrastructure in the country. There have been reports of patients waiting for hours to find a bed in hospitals. Amidst this, a video of monkeys running amok allegedly in a Hyderabad hospital has gone viral on WhatsApp.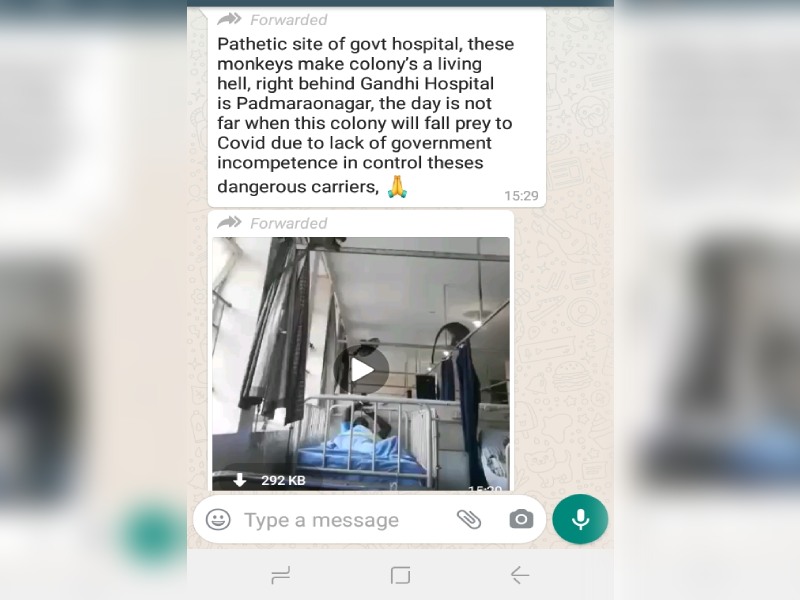 The message that accompanies the video claims to show the pathetic condition of government hospitals. "Right behind Gandhi Hospital is Padmarao Nagar. The day is not far when this colony will fall prey to Covid due to lack of government incompetence in controlling these dangerous carriers," the message reads.
Fact Check:
There are a few hospitals in Padmarao Nagar but the largest hospital in the area is Gandhi Hospital. Also, no other hospital in the area is admitting COVID-19 patients.
NewsMeter extracted keyframes from the video and performed a reverse image search on Google and Yandex. The search results showed that the video is from South Africa and NOT India.
According to reports, "Monkeys that were displaced after a hospital was built in the forest in South Africa have invaded the hospital. It was reported that the monkeys stole food from patients."
A fact-check article published by AFP South Africa said the video , was shot inside the RK Khan Hospital ward, a large government-run facility in Durban. It is not one of the nine hospitals designated to treat patients infected with the novel coronavirus in the country.
News of the invading monkeys first made headlines in February 2019. Local media published the video and news coverage prompted former health minister Dr. Aaron Motsoaledi to set up a task team to keep away the intruders.
According to the report of Daily mail.co.uk, An aggressive troop of vervet monkeys began targeting the RK Khan Hospital in Durban, entering through open windows. They terrorized patients and stole food from them, The sick patients were forced to hide under their bed covers. The viral video shows monkeys running along curtain rails above the beds and scampering along the floor, leaving patients in despair.
The same video had also gone viral with another claim: 'Monkeys in a hospital in India with COVID-19 patients'. This claim was debunked by Factly.com confirming that the viral video is from the RK Khan Hospital in Durban, South Africa, and was shot in 2019.
Hence, the video of monkeys invading a hospital ward is a 2019 video from the RK Khan Hospital in Durban, South Africa. It is neither related to India nor the COVID-19 pandemic. The above claim is FALSE.
Claim Review :
Video of monkeys invading is from Gandhi Hospital
Claimed By :
Social Media Users