Hyderabad: Times of India's Facebook page shared a video showing a man diving from the terrace of a building into a water-logged street. It claimed that the video was taken in Karachi, Pakistan. "Karachi Rains: When roads became diving pools for citizens. Several such videos of major water-logging from the capital city are being shared on social media," reads the claim.
This post was later updated and corrected.
Below is a screenshot of the old post: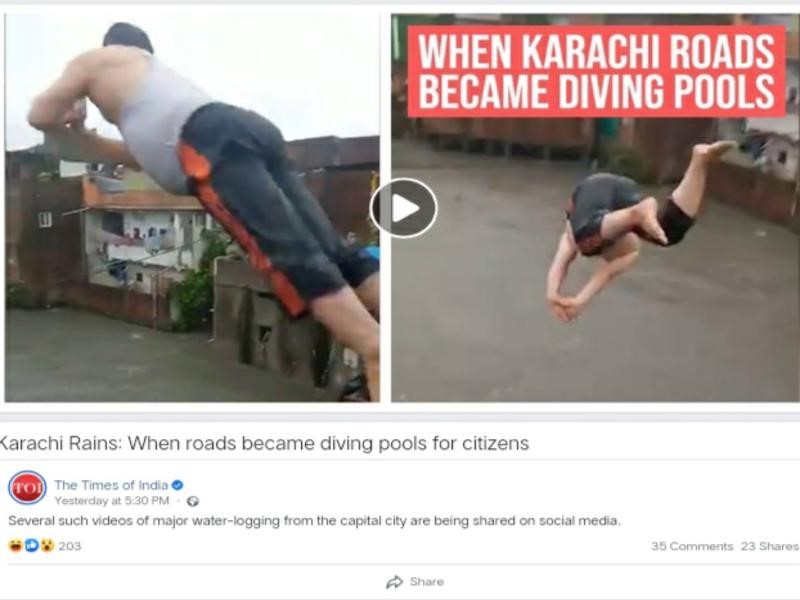 (updated page)
Archived claim can be found here.
Another news outlet, News18, also aired the video with the same claim. The news anchor reported that after heavy rainfall in Pakistan's Karachi, a video of a shocking stunt by a man became viral. This video is now deleted; click here to view the archive.
FACT CHECK:

The claim that this video is from Karachi is false.
Newsmeter checked the comments on the Facebook page of Times of India and found that many users denied the claim. One such post reads, "A man jumped from a building into floodwater in MP's Indore to rescue a teenager. News18 India broadcast a video of the incident claiming it took place in Karachi, Pakistan, and criticized Imran Khan's government."
https://www.facebook.com/watch/?v=2425904874381311
Newsmeter found a tweet by Shahnawaz Ansari which shows the video being aired on News 18. He wrote that News18 ran a three-day-old video of his brother's friend "Bhura Bhai" from Indore and said it's from Pakistan.
"This is a video of 3 days ago in Indore, in which a friend of my Bhura Bhai is jumping from the roof into the rainwater. NEWS18 India has run the news by describing this video of Bhura Bhai as Karachi Pakistan. @RoflGandhi_ https://t.co/y6Wo2JsW0z," reads the English translation of the tweet.
ये 3 दिन पहले की इंदौर की वीडियो है, जिसमे मेरे जानने वाले भाई के एक दोस्त "भूरा भाई" बारिश के पानी छत कूदकर गोता लगा रहे हैं।

देश की गोदी मीडिया NEWS18 इंडिया ने भूरा भाई की इस वीडियो को, कराची पाकिस्तान का बताकर न्यूज़ चला दी है।@RoflGandhi_ pic.twitter.com/y6Wo2JsW0z

— Shahnawaz Ansari (@shanu_sab) August 26, 2020
Times of India corrected the news on their Facebook page and clarified that the video was from Indore. "A video reportedly from Indore shows a man dive onto a heavily waterlogged street from a multi-story building. (This article has been updated with factual information as an earlier version carried some information which was false.)".
BOOM reached out to Ansari who identified the man in the video as Zafar alias 'Bhura Bhai', a resident of Indore. Ansari provided BOOM with a video of Zafar wherein the latter can be seen clarifying that the video was recorded in Indore.
Furthermore, Alt News spoke with Ansari and "Bhura Bhai". "That's me in the video News18 aired as scenes from Pakistan. I had jumped into the water after we heard that a teenaged boy was drowning. But he was already rescued by the municipal corporation by the time I plunged into the water," said Bhura Bhai.
He also provided them the original footage of the clip aired by News18.
The incident took place in Sikandrabad Colony and a mosque's minaret is visible in the video. Jafar informed that the mosque is Sikandrabad Masjid located in the same colony. When checked on Google Maps, the mosque is barely 50 meters from Sikandrabad Colony.
Therefore, it is clear that the video was taken in Indore, not Karachi, Pakistan. The claim is false.