Fact Check: PMO did not disable YouTube comments on 'Mann ki Baat' to avoid backlash from NEET-JEE aspirants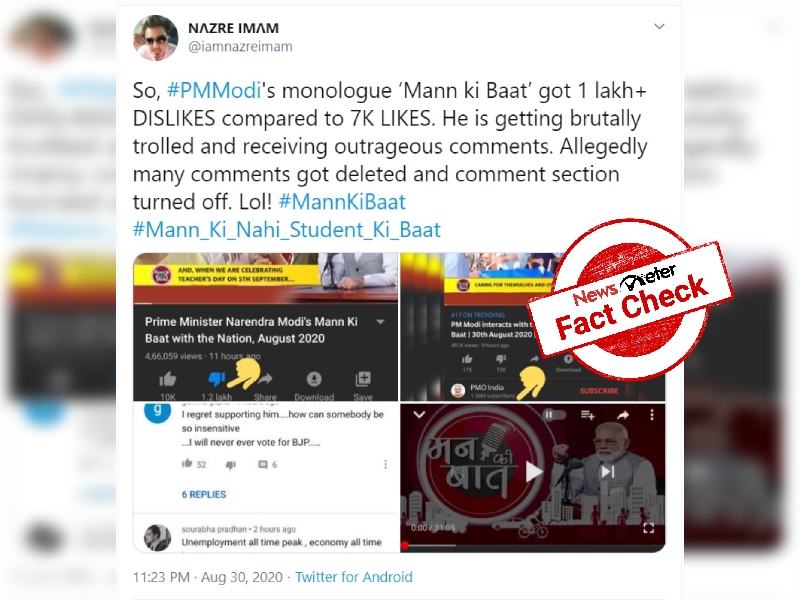 Hyderabad: The 68th episode of Prime Minister Narendra Modi's 'Mann ki Baat' which aired on 30 August has garnered quite a lot of attention on social media. From the time it went live on the PMO's official YouTube channel, some users claimed that the channel had disabled the comment section to avoid backlash from NEET, JEE aspirants.
This comes amid the government's decision to conduct the NEET, JEE in September. Many people have requested the government to postpone the exams as the COVID-19 cases are on the rise in the country.
The co-founder of Alt News had tweeted claiming that the comments were turned off because the Prime Minister did not want to hear negative comments from students who were unhappy with the Centre's decision to conduct the exams.
A YouTube video had also claimed that the PMO's YouTube channel had disabled the comments.
Another Twitter user, who shared a similar claim along with four images, wrote, "So, #PMModi's#PMModi's monologue ''Mann ki Baat'' got 1 lakh+ DISLIKES compared to 7K LIKES. He is getting brutally trolled and receiving outrageous comments. Allegedly many comments got deleted and the comment section turned off. Lol! #MannKiBaat #Mann_Ki_Nahi_Student_Ki_Baat."
Fact Check:
The comments section and the community tab on PMO's YouTube channel are ALWAYS disabled, even during YouTube live. This is NOT a recent development.
One of the images shared by Nazim Reiman on Twitter shows the PMO's YouTube channel while the other shows the Bharatiya Janata Party's YouTube channel. In the latter, the comments section is on while in the PMO's channel it is always switched off. The user made false claims by showing two different images from two different YouTube channels.
According to YouTube's policy update of January 2020, any content that has been posted on YouTube and marked "Made For Kids" cannot activate the comments section. YouTube made this change to comply with the Children's Online Privacy Protection Act (COPPA) that forbids companies from collecting data associated with children under the age of 13 without the parents' consent. This is ONE of the reasons that the comments are disabled on PMO's YouTube channel is that the videos are marked "Made For Kids".
Opindia and Facthunt have also debunked these claims.
Hence, the claim that the PMO's YouTube channel disabled the comments on the 68th episode of 'Mann ki Baat' to avoid backlash from JEE, NEET aspirants is FALSE.
Claim Review :
PMO YouTube comments on Mann ki Baat to avoid backlash from NEET-JEE aspirants
Claimed By :
social media users