Amaravati: A toxic gas leak at the LG Polymers plant in Visakhapatnam in the early hours of Thursday, 7 May, has killed at least eleven people. According to official sources, eight, including two children, were brought dead. Satellite images from Google earth give a bird's eye view of the villages affected by the tragic incident. The red line in the map indicates villages within a 1km radius, while yellow lines show villages within a 2km radius and blue line within a 3km radius.
According to the Vizag district administration, 20 villages within a 5km radius of the plant have been affected by the gas leak. Over 7,500 people have been asked to vacate their homes. People within the 5km radius started vomiting and suffered from breathing problems and some also complained of rashes on their bodies and irritation in their eyes
The city woke up to heart-wrenching scenes on Thursday. Hundreds of people fell unconscious while trying to flee the area after the leak from the LG Polymers plant. Children, women, and men could be seen unconscious on the streets.
#VizagGasLeakage radius map.

Map Legend:

🔴 Radius= 1 km
🟡 Radius= 2 kms
🔵 Radius= 3 kms

Note*: This map is to help identify the radius only and does not tell the actual Impact zones. https://t.co/E1415Ovsyu pic.twitter.com/3qK4eNpNlj

— Pradeep Goud Macharla 🌍 (@Macharlazz) May 7, 2020
Meanwhile, officials have confirmed that the chemical that leaked from the plant was styrene. The spread of styrene monomer vapours in the air depends on the wind speed and officials are working to neutralise the air with chemicals such as 4-tert-Butylcatechol (TBC), a senior official of the department of factories said on Thursday.
"Officials are using inhibitors to neutralise the vapours and they are reducing gradually. However, it has not been arrested fully. They are using neutralisers such as TBC (4-tert-Butylcatechol (TBC)," the joint chief inspector of factories, Visakhapatnam, J. Siva Sankar Reddy, told a news agency.
"The spread may be two or three-kilometers wide. Right now we cannot exactly determine the area of the spread because it will depend on the wind speed. High wind speed will mean the spread will be more," the official added.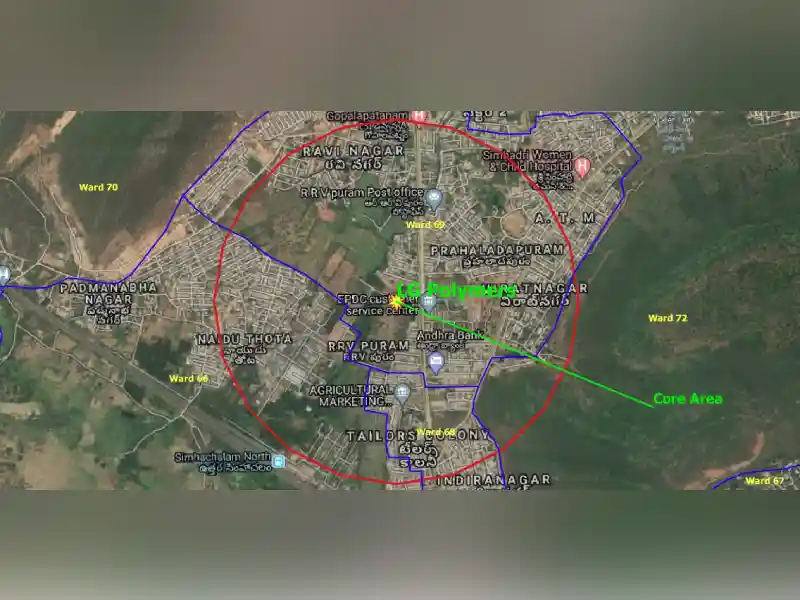 A special chemical accident team from the National Disaster Response Force has been deployed for search and evacuation work, assisting local people, and administration on site.
Styrene, chemically known as ethylbenzene, is a synthetic chemical that evaporates easily and has the texture of a colourless liquid. This chemical is commonly used in the manufacture of plastic products used in food packaging, rubber, plastic, insulation, fiberglass, pipes, and automobile parts.
The harmful effects of styrene monomer include severe irritation to eyes and mucous membranes, as well as gastrointestinal effects. Exposure to styrene can also affect the central nervous system, cause headaches, fatigue, weakness, and depression.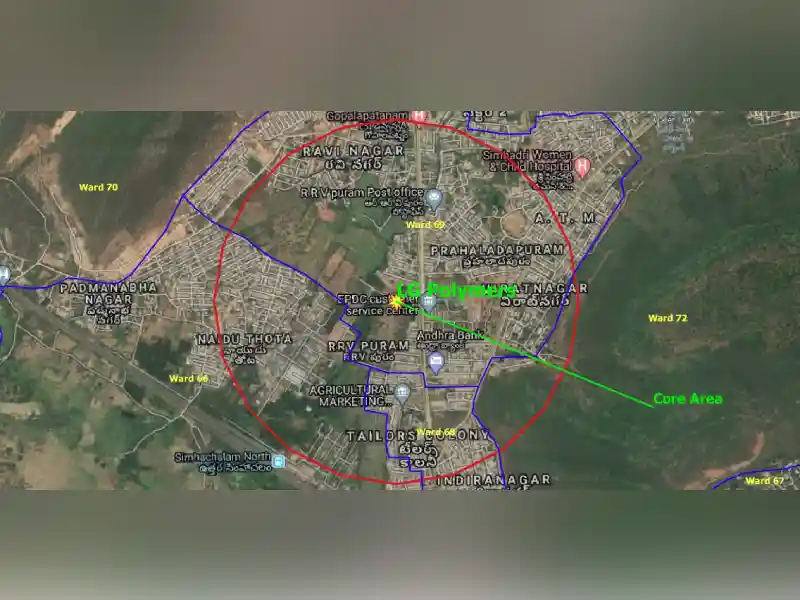 G. Srijana, the commissioner of Greater Visakhapatnam Municipal Corporation (GVMC), said, "According to the primary report, polyvinyl chloride gas (or may be Styrene) leaked from the LG Polymers plant at around 2:30 a.m. on Thursday. Hundreds of people have inhaled the toxic gas and fallen unconscious or have breathing issues."
The commissioner added, "The GVMC is trying to minimise the effect by blowing water through most blowers. Public address systems have been pressed into service asking people to use wet masks."