Hyderabad: The groundnut harvest season has started and now farmers will have to hire labourers and pay them Rs. 4,000 to Rs. 5,000 to harvest the groundnuts. Raju Mupparapu, an innovator from Warangal district, has come up with an invention that will help farmers save money and time. He has invented a solar-powered groundnut cutter. "It takes almost two days for one man to harvest groundnuts in a one-acre area. But this machine can do it in six hours," he said.
Raju has assembled a cycle rim, belt, an iron frame, 20W DC motor, 12v battery, and 10W solar power panel to make this machine at a cost of only Rs. 4,000. The motor attached to the belt rotates the cycle rim. When the groundnut plant is placed over the rotating rim, the blades separate the groundnuts from the plants within seconds. "I noticed that there are a number of machines available in the market but they are quite costly. So, I thought of making something simple," he said.
The 30-year-old is a BSc. graduate from Gopalapuram village in Warangal. He spent three months making the machine. "I showed it to the farmers in my village and they liked it. They suggested a few modifications. I will probably start selling the machine by June, which will be the next harvest season."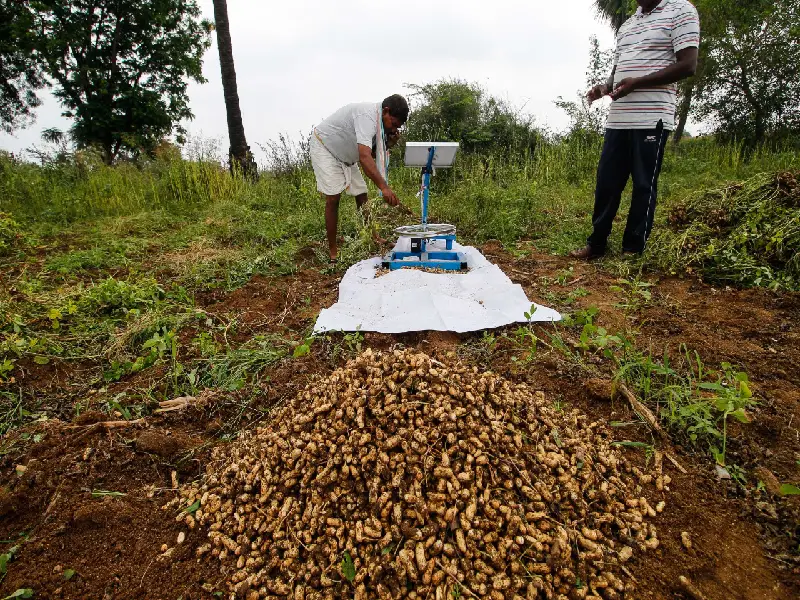 Raju has several inventions to his credit. His street light sensors are installed in 80-gram panchayats of Warangal urban district. "The street light sensors can automatically detect when it's day and night and can accordingly switch on or off the street lights. The collector helped set up the sensors in 80-gram panchayat, while I set up sensors in 30-gram panchayats." He has also made solar-powered mobile battery stand which were set up in some gardens of Warangal.