Hyderabad: Several users on WhatsApp are receiving messages congratulating them as a lucky beneficiary of alleged Palliative Compensation Funds announced by the World Health Organisation (WHO) and United Nations (UN). The message also instructs users to send their personal and financial details to receive the money.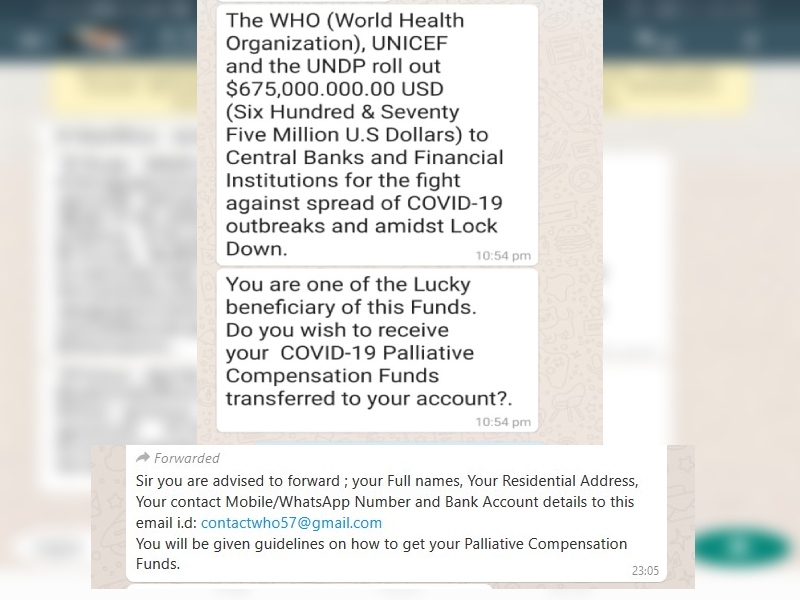 Fact Check:
Both claims about Palliative Compensatory Funds and release of USD 6.7 billion by the UN in response to COVID- 19 are FALSE.
Upon keyword search, we could not find any announcement related to the Palliative Compensation Fund released by the WHO or UN in response COVID- 19.
We searched further about the alleged USD 6.7 billion rolled out by the UN and came across an official announcement made by the United Nations on May 7, 2020 on its official website.
The UN website stated that "The $6.7 billion Global Humanitarian Response Plan calls for swift and determined action to stave off the most debilitating effects of the pandemic in 63 low and middle-income countries."
Same was reported in The Hindu and Economic Times.
So the USD 6.7 billion was not actually released by the UN, but it was just an appeal to raise 6.7 billion USD to help 63 vulnerable countries in this COVID- 19 pandemic. Also, there is no mention of monetary aid to central banks and financial institutions in the official announcement.
These types of messages come under cyber financial fraud because they manipulate users and persuade them to disclose sensitive information like bank details and personal information.
So, WhatsApp message offering money under alleged palliative funds released by the UN and WHO is FALSE.
Claim Review :
WhatsApp message offering money under alleged Palliative Funds by UN and WHO
Claimed By :
WhatsApp Message